Conor Lamb's Win Sets Off Debate Inside Democratic Party
Conor Lamb's win in Pennsylvania's 18th Congressional District has set off an inevitable debate inside the Democratic Party about how to approach the upcoming midterm elections.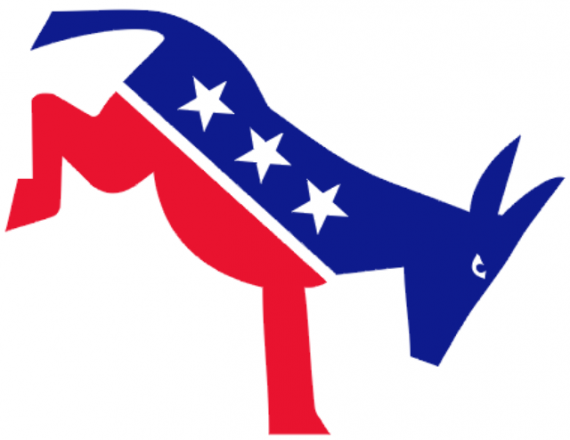 Conor Lamb's apparent victory in Pennsylvania's 18th Congressional District has set off something of a debate inside the Democratic Party about how to approach the 2018 midterm elections:
Conor Lamb's triumph in Trump country is being heralded by conservative Democrats as a major victory in their ongoing turf battle with the far left — and an object lesson on the kind of candidates the party needs to promote and win to take the House in November.

The 33-year-old Marine veteran opposed abortion (while backing abortion rights), described a $15 minimum wage as "high" and ran an ad showing him taking target practice with a machine gun — none of which sit well with the ascendant Democratic base.

"He didn't run on an identity politics, one-size fits all message," said Rep. Kurt Schrader (D-Ore.), co-chairman of the Blue Dog PAC, the fundraising arm for the conservative Democratic coalition. "He ran on the Blue Dog message."

For the Blue Dogs, Lamb's successful center-left campaign is proof that the Democratic Party's "big tent" mentality is still a winning electoral strategy, despite an aggressive push from liberals for candidates that more closely adhere to the progressive purity made popular by the likes of Sens. Bernie Sanders (I-Vt.) and Elizabeth Warren (D-Mass.).

But while liberals have praised Lamb's win in Pennsylvania, they've also been quick to caution that his message shouldn't be copied by Democrats across the House map.

The scramble by both moderates and liberals to ascribe broader meaning to Lamb's victory is just the latest volley in the ideological battle that has been raging within the party since the 2016 presidential primary.

Centrists want party leaders to take notice of Lamb's upset with an eye toward bolstering similar candidates in upcoming races where moderates are running in primaries against more liberal challengers.

Blue Dogs still feel burned by the party's decision to abandon one of their own — Rep. Dan Lipinski of Illinois, a co-chair of the coalition and one of the most conservative Democrats in the caucus. The Democratic Congressional Campaign Committee has refused to endorse the seven-term congressman, who opposes abortion rights and voted against Obamacare, as he struggles to fend off a progressive challenger.

"There's a huge contradiction here," Rep. Gerry Connolly of Virginia, a moderate Democrat who is not a Blue Dog, said of the DCCC's embrace of Lamb while snubbing Lipinski. "If we are seen as enforcers of rigid orthodoxy, then our party will be a lot less attractive [to voters]."

The two sides will square off in Lipinski's primary Tuesday, but that's just the start. Blue Dog-backed candidates are running against candidates from the liberal wing in several Republican-leaning districts across the country, from Nebraska to Pennsylvania to New Jersey.

Moderate Democrats say the upset in Pennsylvania shows it's obvious Lamb's playbook is what other candidates should mimic in those districts. "This is not a new thought," said Connolly. "That's exactly what we did in '06 and '08," when Democrats won and kept the majority.

(…)

But some liberals have also been quick to claim Lamb's upset as a triumph of their own, saying the populist undercurrents in his campaign — most notably hammering Republicans over entitlement reform and the tax bill — is exactly the message that will propel Democrats to victory this fall.

"Conor Lamb basically did no harm on economic issues," said Adam Green, a leader of the Progressive Change Campaign Committee.

"Regardless of how progressive one thinks he is," Green continued, "if Democrats can win in the district that Trump won by [20] points, there is zero excuse for running on corporate or conservative values in the dozens of districts that Hillary Clinton won or that Trump barely won."

Green said his group and others aren't shying away from taking on moderate Democrats in upcoming primaries, especially in districts that lean Republican.
In many respects, of course, this is just a continuation of the debate that has been going on inside the Democratic Party since the Hillary Clinton lost the Presidential election in 2016. In fact,  one could say it's a debate that which finds its roots in the 2016 primary battle between Hillary Clinton and Bernie Sanders. On the one side, we have the Democratic establishment which, notwithstanding the extent to which the party has moved to the left in recent years on issues such as single-payer health care and other issues, largely remains the same center-left coalition that the Democratic Party has been since Bill Clinton won the party's nomination in 1992 and began the process of pushing the party away from many of the more liberal positions that had become party orthodoxy since the Nixon Era. On the other side, there is the so-called "progressive" wing of the party, which is embodied in politicians such as Elizabeth Warren, California Senator Kamala Harris, and which was highly energized by the relative success of Sanders' surprisingly strong showing in the battle for the Democratic nomination two years ago. Stuck in the middle are people like Lamb, who is the closest example of the Blue Dog Democrats that the party relied upon to propel their big wins in 2006 and 2008 that led to them taking over, and then solidifying, control of Congress albeit for only a brief period of time.
While I don't really have a dog in this fight since I'm not a Democrat, it strikes me that both sides of this argument, or all three of them if you want to throw the Lamb-esque "Blue Dogs" into the equation, are missing the trees for the forest, to turn a metaphor around. They all seemed to be so focused on the "big picture" that they are missing the real point of what a victory like Lamb's represents, which is ironic since its one that is closely associated with one of their most successful leaders in recent memory. I'm referring, of course, to the idea that "all politics is local," an idea that is most closely associated with the late Speaker of the House Tip O'Neill, who presided over a Democratic caucus that is far more diverse ideologically than the one that exists in the House today and who also managed to reach across the aisle and work with a Republican President who he often would criticize quite bitterly in political speeches.
The wisdom of O'Neill's observation would seem to be self-evidence, but it's one that seemingly has to be retaught inside both parties every ten years or so when one side of the party's coalition or the other becomes more dominant than the other. It is, in its essence a recognition of the fact that we are a diverse pluralistic nation of some 310 million people and that there simply isn't a "one size fits all" political ideology that works the same all across the country. What appeals to voters in California and Massachusetts isn't going to appeal to voters in Virginia, Ohio, or farm states such as Iowa, and the same goes in reverse. As with every successful (or unsuccessful) campaign, there are many reasons that the race in the 18th District turned out the way that it did, but one of the main reasons it happened is because Lamb was able to successfully push back against the efforts by the Saccone campaign and its supporters to make him out to be some kind hard-left liberal. Of course, this isn't to say that he ran as a conservative as many Republicans were foolishly claiming earlier this week, but it does mean that he ran a campaign that recognized the realities of the District he was running in. Among other things, that meant not being over the top in his criticism of President Trump and his policies given the fact that he was running in a district that Trump had won by 20 points just sixteen months earlier.
If Democrats are going to win back the House (or the Senate) in 2018, they are going to need to follow the Lamb example and keep Tip O'Neill's advice in mind. This means that the so-called "progressive" wing of the party is going to have to accept the fact that their ideology can't win in the districts and states where the party is going to need to win if it's going to take control of either the House or the Senate, or perhaps both. For the party "establishment," it's going to mean that perhaps they need to step aside in some races and let candidates run the race that best suits the location where they're running rather than being forced to adhere to a national agenda that doesn't play well back home. That includes allowing them to distance themselves from Nancy Pelosi and other members of the party leadership who have proven to be as good at driving out Republican voters as they have pleasing Democrats. It also means that their candidates are going to need more than just an "anti-Trump" message, especially in districts and states similar to Pennsylvania's 18th District.
As things stand, the political ground continues to look very good for Democrats as we get closer to November. President Trump's job approval remains highly negative, and the Generic Congressional Ballot continues to favor Democrats. However, the polls late in the 2016 Presidential election also seemed to show that Hillary Clinton was headed for an easy win. There's still plenty of time for things to turn around and for races to tighten. On the House side, that could mean that while the Democrats gain seats, they fall short of the gain that they need to regain control of that body. On the Senate side, the fact that the 2018 map is still highly favorable for Republicans could mean that Republicans keep their majority and possibly even gain a seat or two thanks to victories over Democratic incumbents running in red states such as Montana, North Dakota, Indiana, or Missouri. If that happens, then many of the party faithful are going to be heavily disappointed, and it's going to be a long two years until the 2020 Presidential election.