Democrat Holds Slight Lead In Congressional District Trump Won By 20 Points
Tomorrow's Special Election in Pennsylvania isn't looking good for Republicans, even if their candidate manages to eke out a win.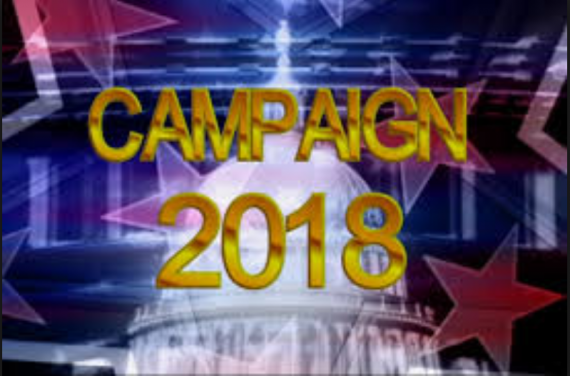 Tomorrow there will be a Special Election in Pennsylvania's 18th Congressional District to replace former Congressman Tim Murphy, a Republican who resigned in October after reports came to light that he pressured a woman he was having an affair with to have an abortion. The race pits Republican Rick Saccone against Democratic nominee Carter Lamb. Ordinarily, this election would likely not be garnering much national attention, but with the midterms coming up in less than eight months the race has become a national focus, and that's likely to be even more the case as the week goes on in the wake of a new poll showing the Democratic candidate with a narrow lead in a race that the GOP should be winning easily:
Democrat Conor Lamb heads into the final day of the special congressional election in western Pennsylvania with the lead, according to a new public poll released Monday.

Monmouth University used three different turnout models ahead of Tuesday's special election —and Lamb has the advantage in all three of them.

Lamb is squaring off against Republican Rick Saccone, a state legislator and Air Force veteran in a traditionally blue-collar district that backed President Donald Trump by 20 points in 2016. They're competing to replace GOP Rep. Tim Murphy, who resigned in October.

Lamb leads Saccone, 51 percent to 45 percent, the poll shows — using a turnout model that mirrors a Democratic surge that's appeared in other special elections throughout the last year. Three percent of likely voters are undecided, and 1 percent would support another candidate.

A Monmouth poll released in mid-February, using the same model, found Saccone with a slight edge, 49 percent to 46 percent.

The poll suggests Lamb can win even if that Democratic surge falls short, however. In a more-restrictive turnout model — designed to mirror a lower-turnout electorate that typically votes in midterm elections — Lamb has a slim, 2-point lead, 49 percent to 47 percent. A higher-turnout scenario, more similar to a presidential election, produces a 7-point Lamb lead, 51 percent to 44 percent.

"When added to a potential Democratic surge that has been building for weeks, Lamb appears to have picked off enough Republican-leaning voters to take a lead going into this contest's final weekend," said Monmouth University pollster Patrick Murray. "It would mark an extraordinary swing from Trump's nearly 20-point victory here in 2016 if he could hold on to win."

Lamb, a former federal prosecutor, is running as a centrist Democrat. He has called for new leadership in both parties and said he would oppose Nancy Pelosi as leader.

Saccone has frustrated national Republicans with his lackluster fundraising, which has forced outside groups like Congressional Leadership Fund and the National Republican Congressional Committee to dump more than $10 million into the district.

Republicans used that money to accuse Lamb of being aligned with Pelosi and to attack his tenure as a federal prosecutor.

End Citizens United and VoteVets, both progressive groups, gave Lamb some cover on TV ads, totaling $600,000.

Despite the barrage of attack ads, Lamb's negatives haven't ticked up significantly over the past few weeks, according to the poll. A majority of likely voters, 53 percent, have a favorable impression of Lamb, compared to 33 percent who view him unfavorably. Last month, Lamb's image rating stood at 49 percent favorable, versus 31 percent unfavorable.

Fewer voters, 47 percent, have a favorable opinion of Saccone, and 43 percent view him unfavorably.
As noted above, President Trump won this district by more than 20 points in 2016, so the mere fact that the race is so close is highly unusual to say the least. Other recent polls have shown the race as being similarly close. For example, a Gravis poll taken at the beginning of March showed Saccone with a two-point lead in the race while an Emerson poll showed Lamb leading by three points. This is a big change from polling taken in February and January that showed Saccone with a comfortable lead that was more consistent with the Republican nature of the district, but it's worth noting that those polls were taken before outside money began pouring into the race and before the race became the focus of national attention. Taken together, all of this bodes well for Lamb in tomorrow's vote and would seem to at least guarantee that Saccone will vastly underperform President Trump even if he does manage to pull off a victory.
In many ways, what we are seeing here is consistent with the series of Special Elections that took place last year, mostly made necessary by the fact that President Trump had tapped Members of Congress to be Cabinet Secretaries. While Republicans have won each of those elections for the House of Representatives, they have done so by significantly smaller margins than the previous Republican officeholder or by President Trump in the 2016 Presidential Election. The year was capped off in December with the surprise win of Democratic nominee Doug Jones over Republican nominee Roy Moore in the race to replace Jeff Sessions in the United States Senate. President Trump, of course, had won the state in 2016 by nearly 30 percentage points and more than 600,000 votes. All of this has served to buoy Democratic hopes in advance of what promises to be a hard-fought election year.
As a general rule, of course, the outcome of one race for a single seat in the House of Representatives isn't going to have much of an impact on the political situation in Washington and would have only a minimal impact on the balance of power in Congress. This is even more the case given the fact that this race is for a district that most likely won't even exist in November when Pennsylvania voters return to the polls. This is due to the decision handed down in late January by the Pennsylvania Supreme Court that held the Congressional District map drawn by the Republican-controlled state legislature after the 2010 Census was unconstitutional under the Keystone State's Constitution. In its ruling, that Court had given the state legislature a deadline by which they were to have submitted redrawn district lines but the legislature and Governor failed to reach an agreement, leading the state Supreme Court created its own map. Under this map, the current 18th Congressional District is redesigned, leading to a situation where neither Saccone nor Lamb would even reside in the new 18th District in November. In any case, notwithstanding this unique situation, the race between Saccone and Lamb has garnered national attention due to the fact that it is being interpreted by both sides as something of a referendum on the Trump Presidency in advance of the midterms in November.
Assuming that this polling is accurate, then the outcome would appear to be good news for Democrats heading into the rest of the year. If Lamb manages to win, the race will be seen as something of a canary in the coal mine for Republicans already concerned about the outcome of the midterms in less than eight months time. However, even a narrow Saccone win would be something that Republicans ought to be concerned about, especially in light of the fact that Democrats have out-performed their expected performance in all six of the Special Elections that were held in 2017. A narrow Saccone win in a district that President Trump won by 20 points just sixteen months ago, and in which the former incumbent had run unopposed in each of his two most recent elections and in which he won by at least 16 points in each of the elections in that district dating back to 2002 (Source), would be properly interpreted as at least a moral victory for Democrats and a potential sign of bad things on the horizon for the GOP in November.