After Election Losses, Democrats Battle For Some Top Leadership Positions
In what seems like a replay of the primary battle between Hillary Clinton and Bernie Sanders, some top Democratic Party leadership positions may be in jeopardy.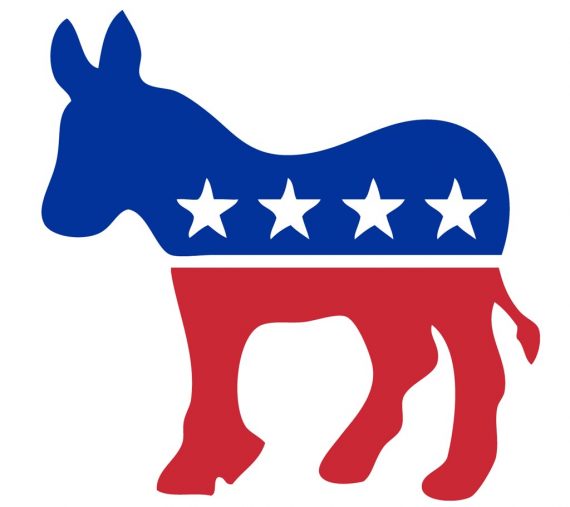 While it's true that reports of the imminent demise of the Democratic Party are greatly exaggerated, that doesn't mean there isn't a fight developing over the future direction of the Democratic Party, and we can see it developing on Capitol Hill, where the elections for Democratic leadership in Congress have been delayed until after Thanksgiving:
House Democrats decided Tuesday to delay their leadership elections until after Thanksgiving — a move that will give reeling Democrats time to nurse their wounds, and could spell trouble for longtime leader Nancy Pelosi.

House Democrats told reporters following a closed-door meeting that their choice of leadership would be selected November 30.

A group of younger Democrats has been organizing behind the scenes to review Democratic leadership in the wake of last week's results. Last Tuesday's beating at the ballot box provided fuel to Pelosi's critics inside the Democratic caucus, and they aired their concerns at Tuesday's meetings in the Capitol, but no challenger has emerged yet to run against her for leader.

Pelosi opened the meeting saying that she was open to delaying when Democrats pick their leaders, but that she had been hearing from members that they wanted their leadership selected before Thanksgiving and that the vote on timing should happen this Thursday.

Pelosi told the members inside the meeting Tuesday that she had planned to leave the decision until after Thanksgiving, but said they have to move forward now, according to a Democrat in the room.

"I don't care. I'm agnostic. I was ready to go with after Thanksgiving because I didn't want the new members to be spending all their time worrying about who they are going to vote for — for this, that or the other thing," Pelosi said. Then, many of the members were saying: 'Why are you delaying the elections?' And the press was picking that up. 'Why are you delaying the elections?' I'm not delaying it."

But there was long line of House Democrats who stood up inside the meeting looking to decide Tuesday whether they would push back their selection of leaders. Rep. Emanuel Cleaver, a senior member of the Congressional Black Caucus, pushed inside the meeting to hold a leadership vote December 1, but was shot down inside the meeting by Pelosi's allies on the Democratic leadership team.

Wounded Democrats attempted to laugh off last week's results at the opening of their meeting, watching a series of Saturday Night Live clips mocking Trump. But the meeting quickly moved to an effort by Pelosi's challengers to delay picking their leader until after Thanksgiving — a move that would spell trouble for the former House speaker.
By Monday evening, Pelosi's challengers had gathered 33 signatures to a letter seeking a thorough review of why Democrats lost so badly. The letter did not explicitly call for a challenge to Pelosi, but Ohio Rep. Tim Ryan has said he may challenge her.
Pelosi has been a member of House Democratic Leadership since she became Minority Whip in 2002 and was elevated to the position of Minority Leader in 2003 after the retirement of former Congressman Dick Gephardt. In 2007, of course, she became the first female Speaker of the House when the Democrats captured control of the House from the Republicans for the first time since the 1994 elections. She then became Minority Leader again when the GOP recaptured the House in the 2010 elections. In the years since the 2010 elections, Pelosi has made no secret of her desire to become Speaker again if her party were to recapture the House but, given the political climate of the nation and the fact that there are at this point very few competitive seats in the House of Representatives, the likelihood that control would change hands is extremely low. At this point, it's unlikely that Democrats would have a realistic chance of recapturing the House until the 2020 Census and the redistricting that will occur at that point, and perhaps not even then. Despite this, and despite the fact that Pelosi's insistence on holding on to power has meant that other ambitious Democrats have been prevented from rising in leadership, the San Francisco Democrat has been fairly effective at keeping her Caucus united amid even during volatile times. With the 2016 election behind us, and Democrats just starting to lick their wounds after suffering a defeat that few were expecting, or prepared for, it looks like her lock on control of the House Democratic Caucus may be waning:
House Democrats returned to Washington Monday searching for answers after their Election Day drubbing — and their longtime leader, Nancy Pelosi, confronted the first real stirring of discontent within the ranks since the last Democratic wipeout six years ago.

While Pelosi has years or even decades of accumulated loyalty to fall back on, anger within the Democratic Caucus over what happened last week is palpable. The California Democrat faces a possible long-shot challenge from Ohio Rep. Tim Ryan, who hails from the kind of working-class Rust Belt district in which Democrats got trounced.

And dozens of Democrats are pressuring Pelosi to postpone leadership elections scheduled for Thursday. Voting to reinstall the same set of leaders after just a few days of reflection or debate would be a mistake, they say; Democrats need to reckon with their historic loss.

"This was not my thing. I never had any intention of running for a leadership position," Ryan said in an interview Monday evening. He said he began considering it after hearing from a couple dozen members over the weekend urging him to launch a bid.

Ryan's spokesman, Michael Zetts, added that the Democrat "understands that many members are deeply concerned about the future of the Democratic Party and caucus. He watched many traditional Democrats leave our party and he is concerned that if changes aren't made we will be in the political wilderness for many years to come."

Pelosi hasn't had a serious challenge to her position as the top House Democrat since 2010, when Democrats lost control of the House in a GOP bloodbath. She has widespread support within the caucus and would be heavily favored to beat back any challenge.

"This is when we should be gathering momentum and fighting to take the House back and stop [Donald] Trump in 2018. This is not the time for us to be devouring ourselves," said retiring Rep. Steve Israel (D-N.Y.), a Pelosi ally.

(…)

A senior Democratic aide called Ryan's move "a publicity stunt," saying it's doubtful he'll actually run. Ryan paid just half of his $200,000 party dues this election cycle despite having $500,000 in cash on hand for his reelection campaign, the aide said.

Not so, a spokesman for Ryan responded.

"This is absolutely not a publicity stunt. He never had the ambition to run for leader but after last week's election results and the phone calls he had with his colleagues, he's open to the idea. He's not ruling anything out," Zetts told POLITICO.

A Democratic lawmaker backing Ryan who asked not to be named said support is building for a leadership shakeup and took issue with the criticism of Ryan's dues payments.

"This is not the time to start taking potshots," said the member, referencing Ryan's delinquent dues specifically. "We have lost election after election after election and our leadership doesn't even want to discuss it with us. They don't want to hear our concerns."

Ryan's potential candidacy comes as another group of House Democrats is seeking to postpone Thursday's leadership elections. More than 30 Democrats have signed a letter requesting a delay, said Rep. Ruben Gallego (D-Ariz.).

The members are not supporting Ryan's candidacy, though the twin efforts highlight the disquiet within Democratic ranks.

Rep. John Larson (D-Conn.) said he's in favor of delaying the elections and sent a separate letter saying so.

"Personally, I think there's growing support for this," Larson said.

Congressional Black Caucus Chairman G.K. Butterfield (D-N.C.) also told Pelosi last weekend that he thinks she should push back the leadership vote and that he still feels that way.

There is also talk inside Democratic circles about ways to loosen Pelosi and leadership's hold on power. For instance, some rank-and-file Democrats want to make the chairmanship of the Democratic Congressional Campaign Committee an elected position; currently, Pelosi appoints someone to that job on her own authority. Other options under consideration include making all leadership positions open to a Democratic Caucus vote, or allowing junior members to have representation at the leadership table.

Other members have floated the idea of a renewed push for term limits for committee leaders, something a Democratic aide said the CBC would most surely oppose. A number of black lawmakers hold ranking positions at the full committee level, and a change in policy could threaten that.

But it's unclear whether those concessions would even be enough to quiet the discord brewing in the caucus.
On the Republican side of the House, there are no doubts about the identity of leadership next year. Paul Ryan has already won re-election as Speaker in a race among Republicans where Ryan was unopposed and it is expected that there will be few if any changes in any of the other Republican leadership positions. Over in the Senate, it seems unlikely that leadership elections will be delayed or that there will be much controversy regarding in either the Republican or Democratic parties. On the GOP side of the Senate, Mitch McConnell's hold on power is as secure as its ever been both because there are quite fewer Senators who can fairly be thought to be under the influence or control of the Tea Party and McConnell has been fairly effective of controlling those who are. The same is true of the House Democratic leadership, where it was largely decided who would succeed Harry Reid soon after he announced that he was not standing for re-election. In the end, New York Democrat Chuck Schumer won those elections and has done a fairly effective job of keeping the caucus behind him in the waning months of Reid's time in office. Of course, given the smaller size of the Senate, it's not surprising that it's easier for leadership to keep members in line.
Another area where Democrats are facing change, of course, is at the top of the Democratic National Committee. Florida Congresswoman Debbie Wasserman-Schultz stepped down as head of the DNC at the start of the Democratic National Convention in July when leaks of DNC emails revealed what many Bernie Sanders supporters and Wasserman-Schultz rivals contended was undue interference on the part of her and top leadership at the DNC in the primaries to benefit Hillary Clinton. Now, a battle for control is shaping up between a veteran Democrat and a representative of the progressive wing of the party that backed Bernie Sanders and was critical of Clinton and her allies from the start:
In the wreckage of Hillary Clinton's unexpected loss, liberal lawmakers and advocacy groups have started plotting a major overhaul of the Democratic National Committee, with the aim of using the staid organization to reconnect the party with working-class voters it lost to President-elect Donald Trump.

Much of the talk since Tuesday's election has focused on selecting a new chairman, with the most frequently mentioned successor being Rep. Keith Ellison (D-Minn.), a leader of the Congressional Progressive Caucus who backed the primary bid of Sen. Bernie Sanders (I-Vt.).

On Thursday afternoon, former Vermont governor Howard Dean (D) offered his service for a second tenure as DNC chairman, saying on Twitter: "The dems need organization and focus on the young. Need a fifty State strategy and tech rehab. I am in for chairman again."

In an interview, Sanders said he is lobbying for Ellison and argued that the DNC needs to be reoriented so that it becomes less of an insiders' club "preoccupied" with raising money and more of an advocate for the concerns of the working class.

"You can't tell working people you're on their side while at the same time you're raising money from Wall Street and the billionaire class," Sanders said. "The Democratic Party has to be focused on grass-roots America and not wealthy people attending cocktail parties."

Sanders acknowledged the need for the party to continue its function as a fundraising vehicle but suggested a model akin to his presidential campaign, which raised much of its money from small-dollar donors.

"Millions of people are willing to put in 20 bucks, 30 bucks, 50 bucks if there's a party to believe in," Sanders said.

With Clinton's loss, the DNC chairman is certain to become a more visible face of the Democratic Party, and the contest to replace interim chairwoman Donna Brazile could become a wide-open affair. Had Clinton won, she would have nominated a successor, and it was expected to be someone close to her.

In a conference call Thursday night with members of the liberal grass-roots group Democracy for Action, Ellison said he would make an announcement Monday about whether he will be a candidate for DNC chairman. He said he was eager to help the party organize going forward.

"My shoelaces are tied up tight, and I'm ready to get out on that court," Ellison said.

Leaders of several progressive groups, who had been courting Clinton as a potential ally on many of their causes, have expressed anger in the aftermath of the election, arguing that the result was a repudiation of a campaign driven by the Democratic establishment.

"The Democratic establishment had their chance with this election," said Stephanie Taylor, co-founder of the Progressive Change Campaign Committee. "It's time for new leadership of the Democratic Party — younger, more diverse and more ideological — that is hungry to do things differently, like leading a movement instead of dragging people to the polls."

Taylor said her organization would be supportive of a DNC chairmanship of Ellison, whose choice, others suggested, would convey an important symbolic message during the presidency of Trump, who has proposed temporarily banning Muslims from entering the country. Ellison is a Muslim.

Neil Sroka, a spokesman for the liberal group Democracy for America, said Ellison would be "a potentially phenomenal choice" as DNC chairman, but said the organization was open to other choices, provided they weren't part of the party establishment.

"I think Tuesday night was a tremendous loss that must sit at the feet of the political establishment of a Democratic Party that preordained the primary process from the very beginning," said Sroka, whose group backed Sanders in the primaries. "The folks that enabled the loss need to step back and let the grass roots lead it."
Given the election losses, it's not surprising that there are leadership battles being threatened. This is not an uncommon development when a campaign has lost, and even more so in a cause such as this when the party went into the election expecting to win right up until the moment the polls closed and the numbers started coming in last Tuesday night. In such a situation it's inevitable that there would be finger pointing and power plays as people tried to settle on who to blame for a loss that "shouldn't have happened." Additionally, after Wasserman-Schultz resigned in July, everyone knew there would be a battle of some kind for control of the Democratic National Committee to replace her. What makes these developments among more interesting, though, is the fact that the leadership battle at the DNC, and the apparently developing battle in the House of Representatives, appear to be mirroring the primary battle between Hillary Clinton and Vermont Senator Bernie Sanders. In other words, what we're seeing play out is largely a battle between mainstream Democrats, who were largely backing Clinton from the beginning and likely would have been able to consolidate their power had she won the election, and the progressive wing of the party that gathered around Sanders and which contends to this day, with little actual evidence and arguments that seem more filled with smoke and mirrors that evidence that Democrats would have been able to win the election if Sanders had been the nominee instead of Clinton. If sheer numbers are the only rule to go by, then the mainstream Democrats, many of which are still loyal to Clinton, will likely win these battles, especially at the DNC, but as we saw during the primary, the progressives can be vocal when they want to be so it will be interesting to see how this pans out.
Another issue overhanging the vote at the Democratic National Committee is what the nature of the Chairman's job should be. Howard Dean, who was already Chairman of the DNC from 2005 through 2009, has been arguing since throwing his hat in the ring last week that the DNC leader's job is such that it's inappropriate and overly daunting for someone who holds elective office to be Chairperson of the National Committee at the same time. This seems to be both a swipe at Wasserman-Schultz, who served as DNC head at the same time as she was a Congresswoman from Florida and a swipe at Ellison, who is a Congressman from Minnesota. Be that as it may, it strikes me that Dean may have a valid point here. The party chairman's job is to be both an Administrator of the party as a whole and a cheerleader/fundraiser for the party. During national elections, the National Committee is supposed to be committed to the interests of the party as a whole rather than one particular wing of the party, or one particular politician. Someone who holds elective office has other interests in mind, including what's best for their constituents and their state, and what positions they should take to advance their own political careers. Often these two needs could conflict with each other and the party National Committees would arguably be wise to choose a Chairman whose primary loyalty is to the party, not to particular politicians.