Nancy Pelosi Beats Back Challenge For Leadership Of House Democrats
To the surprise of nobody who paid attention, Nancy Pelosi won re-election as leader of the House Democrats.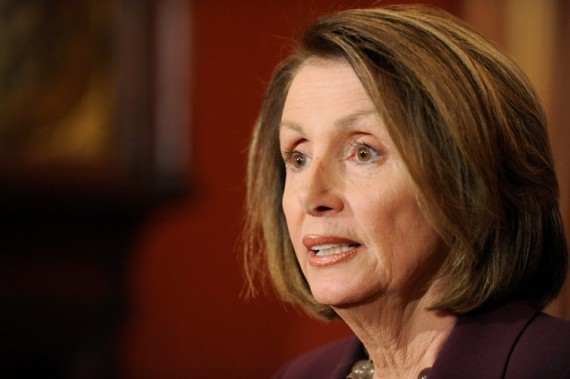 Nancy Pelosi has won re-election as leader of the House Democratic Caucus for another two years, beating back a challenge by a small cadre of younger Democrats who argued that the party needed new leadership in Congress if it was going to regain control of Congress at any point in the near future:
WASHINGTON — Representative Nancy Pelosi of California beat back a challenge Wednesday from a fellow Democrat who said the party had lost its connection to the American working class, quashing increasingly anxious calls for a change in the House leadership she has directed for 14 years.

Her victory over Representative Tim Ryan, a 43-year-old congressman from a blue-collar district anchored in Youngstown, Ohio, ensures that the party will be led in the next Congress by the established "coastal" Democrats who have increasingly defined it — Ms. Pelosi, 76, who represents San Francisco, and Senator Chuck Schumer of New York, 66, who has held various leadership posts since 2005. The vote for Ms. Pelosi was 134 to 63.

Mr. Ryan got the support of about a third of the House Democrats — a significant defection for a leader who has maintained such a tight grip on power for more than a decade that few have been willing to challenge her. In 2010, the last time she was opposed, she lost just 43 votes.

"It is obvious that the current strategy doesn't work; millions of Americans don't feel that our party represents them anymore and they've said so, loudly, in multiple elections," Representative Kyrsten Sinema, Democrat of Arizona, said in a Twitter post.

Democrats also re-elected Representative Steny H. Hoyer, 77, of Maryland as whip, the No. 2 position, as well as Representative James E. Clyburn, 76, of South Carolina, in the No. 3 spot as the assistant Democratic leader. Mr. Hoyer and Mr. Clyburn have been part of the Democratic leadership team since 2003 and 2007, respectively.

After a dismal Election Day for Democrats, the fight for Ms. Pelosi's post had become a proxy battle for the future of the party, with House Democrats agonizing over how to reconnect with the working-class voters who abandoned them.

Though he collected just a dozen or so public endorsements, Mr. Ryan mounted an unlikely challenge to Ms. Pelosi, long considered a legislative and fund-raising powerhouse. Driven by the conviction that Democrats need a new leader, he tried to harness discontent with a leadership team that has failed three times to reclaim the majority since being swept out in 2010.

Trying to quell calls to replace her, Ms. Pelosi announced her nominations last week for a handful of other positions, and proposed that three members from Illinois, Pennsylvania and New York share the leadership duties of the party's messaging committee, offering more regional diversity. She also released plans to incorporate more junior members into leadership roles, among other ideas, such as including a freshman Democrat in the leadership team's regular meetings.
Given the fact that Pelosi has been in Congress since 1987 and a member of House Democratic leadership since 2002 when she become House Minority Whip, it's not entirely surprising that Pelosi was able to beat back this challenge notwithstanding the fact that we've just completed the third consecutive election in which Democrats failed to take back control of the House. For the most part, the Democratic Caucus in the House has been far more united and deferential to leadership than Republicans have been and Pelosi seems to have done a very good job of developing her network of supporters among both long-serving members and newcomers. Pelosi was challenged by Ohio Congressman Tim Ryan, whose primary reason for running appears to have been the fact that Democrats continued to remain in the minority in Congress's largest chamber. Ryan argued that one of the primary reasons for that loss was the fact that Democrats needed "new blood" and that they had lost touch with the working-class voters that the party claimed to be fighting for, a fact made blatantly apparent by Donald Trump's victory at the Presidential level thanks in no small part to working-class voters in states such as Wisconsin, Michigan, and Pennsylvania. He also argued that House Democrats needed a leadership team that relied less on the two coasts and big cities (Pelosi represents a district in San Francisco, and her co-leaders Steny Hoyer and James Clyburn are from Maryland and South Carolina respectively.) Another obvious difference between Ryan and the rest of the leadership team, which is entirely made up of people in their 70s whereas Ryan is in his late 40s. The Democratic Party needs 'new blood,' Ryan argued, if it was going to regain control of the House anytime soon.
Ryan made a persuasive case for change in his media appearances prior to today's vote, and the fact that the vote had been continued from its original date prior to Thanksgiving was favorable to him to the extent it gave him more time to try to put together a winning coalition among a group that had likely become used to having Pelosi as their leader. At the same time, though, Ryan's argument that Pelosi should be replaced merely because the Democrats had failed to regain the leadership wasn't a very strong one for several reasons. First of all, the fact that Donald Trump won the Presidential election and that Republicans managed to maintain control of the Senate in what seemed like it was going to be a difficult year meant that the odds of Democrats making anything other than incremental gains in their membership in the House were essentially zero. Even if Hillary Clinton had won the Electoral College and gone on to the big win against Trump that many were hoping for, it was unlikely that Democrats would have won back the House. Thanks to a combination of factors including the fact that the number of truly competitive House seats has shrunk significantly in the past ten years, redistricting which has made it difficult to defeat incumbents in both parties, and the fact that members of the House are almost always re-elected, winning back the House was simply an unrealistic goal for Democrats. At this point, that's a goal that is unlikely to be achieved until after the 2020 Census and the redistricting that follows, and even then it may not happen. Given all of that, Ryan really didn't give House Democrats reason to turn their backs on a leader who had incurred a vast portfolio of favors that she could call on to put away his challenge rather handily.