Rand Paul Wins Meaningless CPAC Straw Poll: A Family Tradition
Rand Paul is carrying on a family tradition, winning the CPAC straw poll won many times by his father Ron.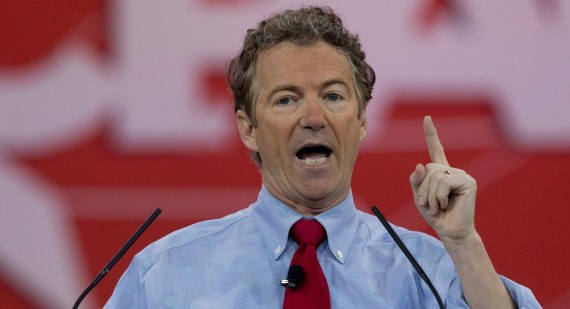 Rand Paul is carrying on a family tradition: winning the CPAC straw poll.
USA Today ("CPAC: Paul edges Walker in straw poll"):
Rand Paul won a high-profile straw poll for a third straight year Saturday, capping an annual conservative conference at which delegates argued about how to turn their ideas into a presidential victory in 2016.

The Kentucky senator carried 25.7% in the Conservative Political Action Conference poll, while Wisconsin Gov. Scott Walker finished second with 21.4% — a closer-than-expected tally in this early test of political strength among conservative Republican activists.

Sen. Ted Cruz, R-Texas, finished third with 11.5%, followed closely by retired neurosurgeon Ben Carson with 11.4%.

Former Florida governor Jeb Bush — perhaps the most criticized candidate at this conservative conclave — finished fifth at 8.3%.

Other potential presidential candidates — including Marco Rubio, Chris Christie, and Rick Perry — had less than 4% in the straw poll. Paul also won CPAC contests in 2013 and 2014.
POLITICO ("Rand Paul wins CPAC straw poll, with Scott Walker right behind"):
Kentucky Sen. Rand Paul won the presidential straw poll at this year's Conservative Political Action Conference — his third such victory in a row. But Wisconsin Gov. Scott Walker came in a strong second, reflecting a rising popularity among the GOP grassroots.

Paul earned 25.7 percent of the vote and Walker took 21.4 percent. Former Florida Gov. Jeb Bush, a favorite of the GOP establishment and donor class but not so much of the conservative base, finished fifth with 8 percent, results showed.

Paul's showing illustrates his popularity among the GOP base, but a straw poll win at CPAC, even one held just a year out from the first primaries and caucuses, is no guarantee of a presidential nomination. The event draws a strong contingent of libertarians, a group long identified with the Paul family, and although it is a barometer of Republican activist sentiment, it is not especially representative of the broader party. Supporters of certain candidates also often bus in attendees to CPAC and buy them passes in an effort to provide friendly audiences for their speeches and boost their straw poll results.
The meaninglessness of straw polls in general (notably the Iowa Straw Poll that gets so much quadrennial coverage) and the CPAC poll in particular have been a regular subject for OTB over the years. See Doug Mataconis' "Rand Paul Wins Meaningless CPAC Straw Poll" from two years ago and my "Ron Paul to Win CPAC Straw Poll Again!" from 2011 for exemplars of the genre.
To update, below is the list of winners in the history of the poll, with those that correctly predicted the Republican nominee in the next presidential election year highlighted:
1976 Ronald Reagan
1980 Ronald Reagan
1984 Ronald Reagan
1986 Jack Kemp
1987 Jack Kemp
1993 Jack Kemp
1995 Phil Gramm
1998 Steve Forbes
1999 Gary Bauer
2000 George W. Bush
2005 Rudy Giuliani
2006 George Allen
2007 Mitt Romney
2008 Mitt Romney
2009 Mitt Romney
2010 Ron Paul
2011 Ron Paul
2012 Mitt Romney
2013 Rand Paul
2014 Rand Paul
2015 Rand Paul
Thus far, the poll has been conducted 21 times.  Only in 1980, 1984, 2000, and 2012 did the winner of the poll go on to win the Republican nomination in the next cycle. None of the polls conducted in anything but an election year predicted the eventual nominee. It's too early to say definitively that Rand Paul will follow in his father's footsteps in not getting the nomination ever, much less in 2016; but I'm certainly willing to bet heavily that this will be the case. As I snarked way back in 2007, when eventual 2008 nominee John McCain came in dead last:
[I]f the contest is going to be decided by the number of college students that can be turned out with the promise of a free t-shirt and a pizza party, Brownback has a strong chance. If it's based on a willingness to pretend that you read blogs, Romney is the definite frontrunner. And, if it's based on being the only reason to give up a Saturday sitting around a cramped convention hotel surrounded by screaming teenagers, Gingrich can't be discounted.
As noted in the POLITICO essay and in several OTB postings on the subject in the past, CPAC is just wildly unrepresentative even of the Republican nominating electorate. It's overwhelmingly made up of college students and DC-based politicos. It's simply too expensive for normal people, even those deeply interested in conservative issues, to travel to DC for three days. Plus, it's monumentally boring unless you're a journalist or otherwise can use it to catch up with acquaintances.
The 2011 convention was the last one that I attended and, as the tone of my postings that year made clear, I had long since grown cynical about the experience. It's essentially the same tired speeches year after year. The best ones simply rehash the greatest hits of the early 1980s and the worst ones are an embarrassment.  As Steven Taylor, who didn't attend the event that year (or, so far as I'm aware, any other CPAC) rightly noted, it's essentially a Star Trek convention for political geeks:
Ultimately these types of meetings allow like minded people to gather for an event that is as much social as it is anything else.  One gets to see friends and acquaintances that one might otherwise not get to see as well as to encounter celebrities (at least as defined by the specific group), peruse merchandise of especial enticement to the group, and to hear talks on issues of interest.  Yes, it is possible that attendees will learn something new, but on balance these types of things tend to be more pep rally than education events.

All of this is just fine, but the fact that so many people are taking an event like CPAC so seriously strikes me as yet another example of the problem of the conservative movement at the moment.  Just as it treats talk radio and cable new hosts as if they are intellectual guides of the movement (rather than entertainers) many are treating CPAC as a serious gathering of thinkers (rather than a combo social gathering and pep rally).

Nothing wrong with pep rallies or social gatherings, but let's treat things for what they are.  The seemingly yearly treatment of CPAC as if it is profoundly important is a bit farcical.  I just wonder if it isn't a symptom of a broader set of problems for conservatives.
That Rand Paul and Scott Walker, neither of whom could plausibly win the presidency, are the favorite sons of CPAC is rather damning. The good news for Republicans, however, is that, if the history of non-election-year CPAC straw polls is any indication, they're almost certainly not going to get the nomination.