Republicans Seek Way Forward By Talking To Guy Who Lost The Last Election
Some Republicans apparently think the key to their future lies in the past.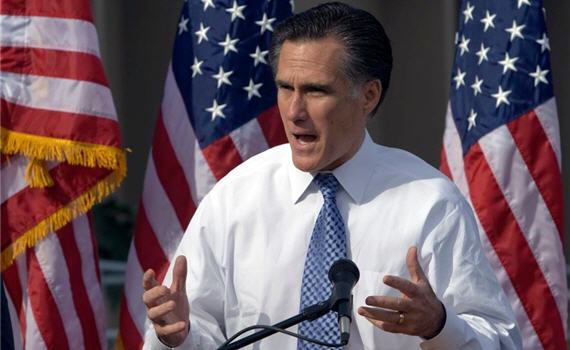 Mitt Romney is holding another one of his annual retreats for donors and supporters, and there are a lot of Republican heavyweights attending:
PARK CITY, Utah — The official topic of the conference, emblazoned on materials handed out to guests gathered here at a luxury Norwegian-inspired resort, was "The Future of American Leadership."
But the unofficial theme was made clear not long into breakfast on Friday, when a guest asked Senator Rand Paul of Kentucky the question on everyone's mind: Is Hillary beatable?

Leading lights of an anxious Republican establishment have journeyed to Utah's Deer Valley this weekend for the third annual retreat organized by Mitt Romney, who has sought to transform the rump of his presidential campaign into a kingmaking force for his largely leaderless and divided party.
Part right-leaning "ideas festival" and part Romney political family reunion, the event featured early-morning yoga sessions, late-night cocktails, and a lecture on teamwork and fortitude by Peyton Manning, the Denver Broncos quarterback.

With military tensions escalating abroad — and just days after the unceremonious unseating of Representative Eric Cantor of Virginia, the House majority leader — a mix of old Republican blood (former Secretary of State George P. Shultz) and new (Mia Love, a Utah congressional candidate) gathered to diagnose the party's difficulties.

"This is the place where I believe the future of the party is really going to come out of," said Anthony Scaramucci, a New York hedge fund manager and former Romney fund-raising bundler. "This is the Republican Party's Bell Labs. This is our R & D division."

(…)

In the donors' wake came many of the party's potential nominees for 2016, appearing to relish the opportunity to mingle with leading fund-raisers.

There was Mr. Paul, who met privately with 20 or so donors Friday night, preaching the importance of broadening the party's tent. ("Interesting because he's different," as one guest put it, although Mr. Paul's foreign policy views leave the party's more hawkish donors uneasy.) There was Representative Paul D. Ryan of Wisconsin, Mr. Romney's erstwhile running mate — some say his heir — leading an early-morning skeet-shooting outing.

Gov. Chris Christie of New Jersey, his political future now resting partly in the hands of a federal prosecutor, huddled with a handful of top Romney bundlers late Friday evening, and was scheduled to speak on Saturday morning.

"I think there is a thing called a Romney Republican," said Spencer J. Zwick, who ran Mr. Romney's fund-raising efforts in 2012 and whose private equity firm sponsored the conference. (All his firm's investors were invited to attend.) "We are almost two years after the election — how many other people could bring all these people together?"

That was in many ways the point: With a year and half to go before the Republican primaries begin, the party has no unifying candidate or leader. Battles between mainstream Republicans and more conservative activists, which seemed to be on the wane, erupted anew this week with the defeat of Mr. Cantor, who is popular with big donors and who had tried to straddle the fault line between the Tea Party and business wings.

The remnants of Mr. Romney's campaign apparatus are a trove of money and power for any contender capable of seizing them. During the 2012 race, a "super PAC" run by former Romney aides, the Republican National Committee and the Romney campaign itself spent a combined billion dollars, much of it raised from Wall Street, the real estate world, and oil and gas companies.
And, perhaps inevitably, there's even talk about Romney himself running again:
"Somebody here needs to start a 'Draft-Mitt' movement," Joe Scarborough, the MSNBC host, told guests on Thursday, according to someone who was there. Another said Mr. Scarborough compared Mr. Romney to Winston Churchill, who lost his seat in Parliament before returning to power at the outbreak of World War II, when his warnings about Nazi appeasement proved prescient.

Mr. Bush and Mr. Christie did not run, Mr. Scarborough added, "This is the only person who can fill the stage."

The next day, Mr. Romney — cheerful and tieless — talked down the idea of a third presidential bid.

"I think people make a lot of compliments to make us all feel good, and it's very nice and heartening to have people say such generous things. But I am not running, and they know it," Mr. Romney told reporters, adding that politics was a little like dating: "The unavailable is always the most attractive, right?"
Obviously, the people that are gathering in Utah this week isn't part of the Tea Party crowd, these are by and large the business and "establishment" Republican who backed Romney in 2008 and 2012, and who would appear most likely to back either Jeb Bush and Chris Christie in 2016. As we've seen before, though, the doubts about whether or not Bush will actually run and the questions about whether Christie would play well on a national stage have led some to suggest that Romney should make another try for the White House. He's denied any interest in doing so, and it seems incredibly unlikely, but the people who backed him the last two times, and who are gathered in Utah this weekend, are going to be looking for someone to back in 2016 if Bush and Christie fizzle out.
Even if Romney never runs again, though, the fact that he's jumped back into politics like this is interesting. After he lost in 2012, his public comments made it sound as though he wasn't very interested in being politically active in the future. Indeed, in the immediate aftermath of the election, just weeks after his loss, the logical conclusion seemed to be that Romney would end up having had almost no impact on the direction of his party. That may well eventually be the case, but it does appear that Romney has taken on the role of Republican elder statesman, no doubt in some part due to the urging of friends, donors, and supporters who had backed his two previous campaigns and the concerns that many mainstream Republicans about a lack of alternative to the Tea Party and other hard-right forces in the GOP. While I question the wisdom of rallying around a guy who has lost in both of his entries onto the national political stage, it does seem like Mitt Romney will be playing some kind of role in politics for a longer period than anyone anticipated.