Rick Scott's Primary Win Sets Up Highly Anticipated Race Against Bill Nelson
As expected, Rick Scott easily won the GOP nomination for Senate in Florida, setting up one of the most highly anticipated Senate races of the year.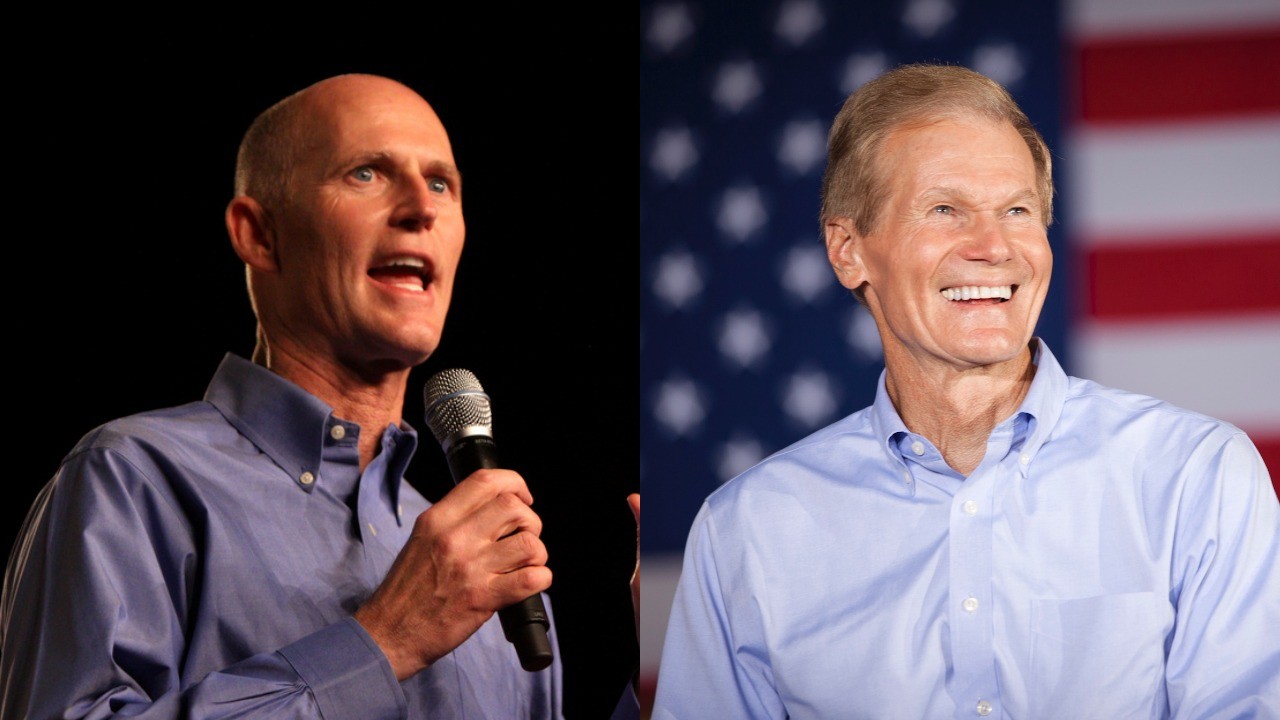 In addition to primaries for Governor in both the Republican and Democratic parties, yesterday Florida also saw a primary for the Republican nomination to take on Bill Nelson, who has represented the Sunshine State in the Senate since 2000 and before that served as member of the House of Representatives since 1978, in a race that promises to be one of the most expensive and closely fought races in the country. In that race, as expected, Florida Governor Rick Scott, who is term-limited, easily won the Republican nomination:
Sen. Bill Nelson (D-Fla.) is set to face off against Florida Gov. Rick Scott (R) in what is expected to be one of the most closely watched – and expensive – Senate races of 2018.

Scott, a two-term governor, easily secured the Republican nomination to challenge Nelson on Tuesday, with The Associated Press projecting he won 89 percent of the vote. He faced only nominal primary opposition from perennial candidate Rocky De La Fuente, who is on the ballot in several states.

Nelson was uncontested for the Democratic Senate nomination.

Republicans have set their sights on taking out Nelson, a longtime lawmaker who has served in the Senate since 2001.

Scott has wasted no time in mounting an aggressive campaign against the senior Florida senator, spending millions in the state's notoriously expensive media markets to air attack ads.

Nelson has been far outspent by Scott, a wealthy health care executive, who has already dropped more than $20 million of his personal funds on his Senate bid.

So far, the Florida governor has dropped more than $27.7 million on the race.

Nelson, on the other hand, has spent just over $6 million, according to recent federal filings, leading to concerns he is being too complacent.

Both candidates have been dogged by unflattering headlines in recent weeks. Scott has faced questions about potential conflicts of interest arising from his investments, and accusations of favoring political donors for contracts and jobs.

For his part, Nelson has continued to face questions about a comment made to the Tampa Bay Times earlier this month suggesting that Russian hackers had penetrated voting systems throughout Florida.

To date, Nelson has provided no evidence for that claim and Scott's campaign has demanded clarity on the remark.

(…)

Democrats have insisted that Nelson is poised to step up his campaign game after the primary. And outside groups have already dropped tens of millions of dollars to boost Nelson.

Senate Majority PAC, the super PAC aligned with Senate Democratic leadership, and its affiliated nonprofit Majority Forward have already spent $13.75 million in the race, according to ad-buying sources. SMP has also reserved an additional $23 million in airtime this fall.

Also likely to factor into the race between Nelson and Scott this fall is President Trump, who encouraged the Florida governor to seek Nelson's Senate seat early last year and repeatedly offered his endorsement in the race.
As Fox News notes, this win sets up what is likely to be one of the most high-profile races of the fall. Given the narrow balance of power in the Senate, this is a race that will likely garner a significant amount of attention because of the parties involved, the implications the race will likely have for the battle for Senate control, and what the race could tell us about what the political battleground could be like two years from now when President Trump will no doubt seek to repeat what was a narrow victory to become the first Republican since George W. Bush in 2004 to win the state in a Presidential election. In other words, while the ideological contrast won't be as sharp as the Sunshine State's race for Governor, it does set up a race between two of the most dominant politicians in state politics over the past twenty years.
On the one side, there's Bill Nelson, who served in the Florida legislature dating back to the early 1970s before being elected to Congress in 1979. Nelson was first elected to the Senate in 2000, and easily won re-election in 2006, and then again in 2012. Scott, on the other hand, came to the Governor's Mansion after a narrow win over Democratic nominee Alex Sink in 2010 and was re-elected, again narrowly, in a race against former Governor Charlie Crist in 2014. Two years later, President Trump managed to pull off a win in the Sunshine State with a majority of over 100,000 votes in a state that Barack Obama had won in both 2008 and 2012. All of this makes the match-up between Scott and Nelson in the fall likely to be one of the most expensive and most closely watched races in the country throughout this year's midterm cycle.
Throughout his time in office, Scott has often been a controversial leader, and as his narrow re-election win in 2014 showed, not exactly an overly popular political figure in Florida. Nonetheless, he has benefited from the strong economy in the state and has proven to be quite politically adept in adjusting to changing political winds. The most recent example of that can be seen in his response to the February 14th shooting at Marjory Stoneman Douglas High School and the strong push for some form of gun control legislation that many of the student survivors of that tragedy came to Tallahassee to champion. That effort resulted in the passage of significant gun control legislation that included provisions such as raising the minimum age to purchase any weapon from 18 to 21, the banning of bump stocks that allow semi-automatic weapons to mimic the behavior of fully-automatic weapons, and provisions that make it somewhat easier to get guns away from people with diagnosed mental illnesses. Scott has also broken with many of his fellow Republicans in opposing efforts by the Federal Government to authorize off-shore drilling along Florida's Atlantic and Gulf of Mexico coasts. Due to that, what has otherwise been a successful eight years in office for the term-limited Governor, access to a wide-ranging fundraising network, and a personal fortune that helped him in both 2010 and 2014 seem to guarantee that Scott will be the most formidable of all the candidates that Nelson has faced in his Senate career. Add into this the fact that, as he has shown in each of his two wins for the Governor's Mansion, Scott is willing to pour his own fortune into a campaign alongside whatever he raises from campaign donors, and it's easy to see why this is going to be a close race and why Nelson is in trouble in a way he really has not been since being elected to the Senate 18 years ago.
Because of this, all of the major analyst firms have the Nelson-Scott race listed as a "toss-up," although it will be interesting to see what impact, if any, the Florida Governor's race has on this race and what impact this race might have on the Governor's race. In any case, the current polling reflects the "toss-up" status of the race so far. The two most recent polls in the race, one from Florida Atlantic University and the other from Mason-Dixon, show Scott leading Nelson by six points and three points respectively. Other recent polling dating back well into the earlier part of the year shows a similar outcome, with Nelson and Scott trading the lead depending on the time of year or the poll in question. Taking all of this into account, RealClearPolitics currently gives Scott (45.7%) a 1.5 point lead over Nelson (44.2%), a figure which essentially means that the race is currently basically a statistical dead heat.
The national implications of this race are, of course, easy to see. As we sit here today, Republicans have a slim majority in the Senate that, with the death of John McCain,  is down to 50-49. That number will return to 51-49 when Arizona's Governor names McCain's successor, of course, but that's still a very tight majority even taking into account the fact that there are far more potentially vulnerable Democratic seats than they are vulnerable Republican seats. On the Republican side, the vulnerable seats can be found in Nevada, Arizona, and, potentially Tennessee. On the Democratic side, though, the vulnerabilities exist in several states that Donald Trump won in 2016 and where Republicans have been gaining strength for years now, including Montana, North Dakota, Indiana, Missouri, and now Florida. If Republicans can flip even a handful of these states, then they will offset whatever losses they might suffer elsewhere and, potentially, could even defy the odds and increase their majority in the Senate to something slightly more comfortable like 52-48 or even 53-47.  For that reason alone, this Florida race will be interesting to watch.