Roy Moore Trails In First Post-Announcement Poll
In the first poll since he entered the race, Roy Moore finds himself in third place in the race for the 2020 Republican Nomination for Senate in Alabama.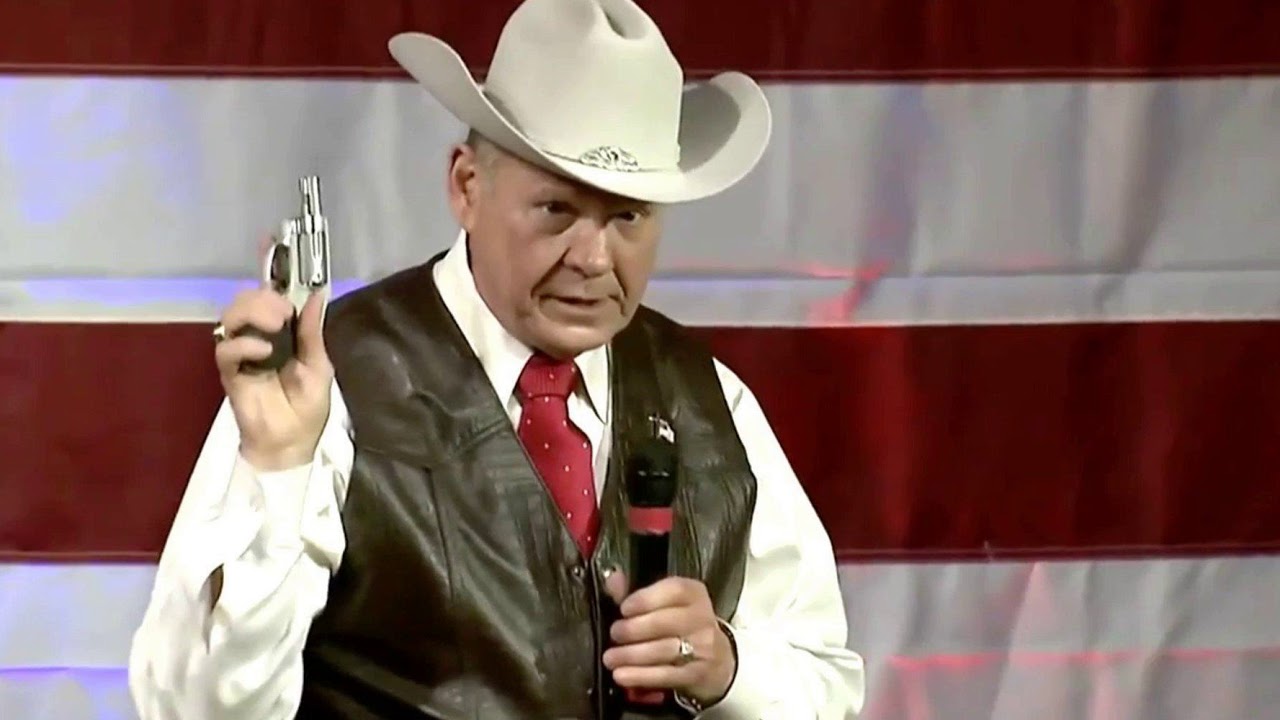 It's been just about a week since former Alabama Chief Justice Roy Moore, who lost the 2017 Special Election to succeed Jeff Sessions in the Senate to Democrat Doug Jones, entered the race for the GOP nomination in 2020. If the first poll since Moore's entry is any indication, he's going to have his work cut out for him:
Alabama Republicans are showing little appetite for giving former state Supreme Court Chief Justice Roy Moore another shot at winning a U.S. Senate seat, two years after he blew what should have been a gimme election in the ruby-red state after being embroiled in a sordid personal scandal.

A new survey from the Alabama-based polling firm Cygnal shows Moore taking just 13 percent of the vote in the Republican primary. He trails former Auburn University football coach Tommy Tuberville, who leads with 29 percent, and Rep. Bradley Byrne (R), who has 21 percent.

Alabama Secretary of State John Merrill (R), who launched his campaign Tuesday, begins with 12 percent of the vote. State Rep. Arnold Mooney (R) takes 2 percent, and 22 percent of voters say they are undecided.

Almost two-thirds of Republican voters say they have an unfavorable impression of Moore, while just 28 percent see him in a favorable light. Nearly a third of Republican voters, 31 percent, say they would consider voting for Sen. Doug Jones (D) in November if Moore captures the Senate nomination.

Tuberville, who coached Auburn's football team from 1999 until 2008, is the best-known Republican candidate in the field. More than half, 56 percent, of Republican primary voters say they have a favorable impression of the coach, and just 17 percent see him unfavorably.

Tuberville's early strength among Republican voters is high, especially because the Republican electorate is so heavily tilted toward Auburn's in-state rival, the University of Alabama. More than half, 53 percent, of Alabama Republicans said they were Crimson Tide fans, while just 23 percent back the Auburn Tigers. Tuberville's Tigers beat Alabama six consecutive times during his run as head coach.
This poll is a contrast to one taken roughly two months ago when Moore was still mulling a second bid for the Senate, that showed him leading the rest of the GOP field albeit not sufficiently to avoid a runoff election. It also comes in the wake another recent poll that showed Moore with 18% of the vote, putting him in second place behind Tuberville, with Congressman Bradley Byrne in third place at 16% and the rest of the candidates under the double-digit line. It's also worth noting that 22% of respondents remain undecided in the new poll, suggesting that the race, which is of course in its very early stages, is still wide open.
Nonetheless, this initial highly negative reaction to Moore's entry into the race should give comfort to Republicans concerned that the situation in Alabama could have an impact on the battle for control of the Senate. As I've noted in the past, the GOP already faces the danger of losing seats in Colorado and Arizona, which means that flipping Alabama back to the Republican Party is a high priority goal. Ordinarily, it would seem that this would be an easy task, especially in a Presidential election year. This is a state that President Trump won overwhelmingly in 2016, a feat he is likely to repeat in 2020. This means that it is going to be difficult if not impossible for Doug Jones to hold on to his seat given the fact that Trump will be at the top of the ticket. The only thing that would potentially change that would be if Moore somehow managed to win the nomination again. In that case, we'd be likely to see a significant number of Republican voters cross over and support Jones, perhaps enough for him to pull off another probable win. If the nominee is anyone other than Moore, then Jones is going to instantly become the most vulnerable Senate Democrat in the 2020 field.