The Paranoid Wing Of The Tea Party
The tinfoil hat crowd has made its way back into the mainstream.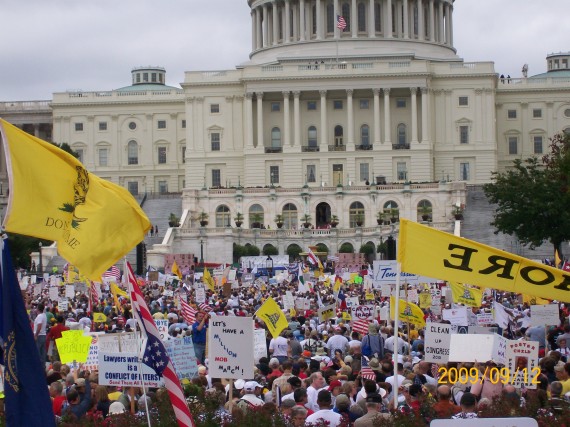 For some reason, various Tea Party groups across the nation have taken it upon themselves to take up a new cause, and it reads like something straight out of a John Birch Society conspiracy pamphlet:
Across the country, activists with ties to the Tea Party are railing against all sorts of local and state efforts to control sprawl and conserve energy. They brand government action for things like expanding public transportation routes and preserving open space as part of a United Nations-led conspiracy to deny property rights and herd citizens toward cities.

They are showing up at planning meetings to denounce bike lanes on public streets and smart meters on home appliances — efforts they equate to a big-government blueprint against individual rights.

"Down the road, this data will be used against you," warned one speaker at a recent Roanoke County, Va., Board of Supervisors meeting who turned out with dozens of people opposed to the county's paying $1,200 in dues to a nonprofit that consults on sustainability issues.

Local officials say they would dismiss such notions except that the growing and often heated protests are having an effect.

In Maine, the Tea Party-backed Republican governor canceled a project to ease congestion along the Route 1 corridor after protesters complained it was part of the United Nations plot. Similar opposition helped doom a high-speed train line in Florida. And more than a dozen cities, towns and counties, under new pressure, have cut off financing for a program that offers expertise on how to measure and cut carbon emissions.

"It sounds a little on the weird side, but we've found we ignore it at our own peril," said George Homewood, a vice president of the American Planning Association's chapter in Virginia.

The protests date to 1992 when the United Nations passed a sweeping, but nonbinding, 100-plus-page resolution called Agenda 21 that was designed to encourage nations to use fewer resources and conserve open land by steering development to already dense areas. They have gained momentum in the past two years because of the emergence of the Tea Party movement, harnessing its suspicion about government power and belief that man-made global warming is a hoax.

In January, the Republican Party adopted its own resolution against what it called "the destructive and insidious nature" of Agenda 21. And Newt Gingrich took aim at it during a Republican debate in November.

Tom DeWeese, the founder of the American Policy Center, a Warrenton, Va.-based foundation that advocates limited government, says he has been a leader in the opposition to Agenda 21 since 1992. Until a few years ago, he had few followers beyond a handful of farmers and ranchers in rural areas. Now, he is a regular speaker at Tea Party events.

Membership is rising, Mr. DeWeese said, because what he sees as tangible Agenda 21-inspired controls on water and energy use are intruding into everyday life. "People may be acting out at some of these meetings, and I do not condone that. But their elected representatives are not listening and they are frustrated."

Fox News has also helped spread the message. In June, after President Obama signed an executive order creating a White House Rural Council to "enhance federal engagement with rural communities," Fox programs linked the order to Agenda 21. A Fox commentator, Eric Bolling, said the council sounded "eerily similar to a U.N. plan called Agenda 21, where a centralized planning agency would be responsible for oversight into all areas of our lives. A one world order."
This reminds me of Dan Maes, last year's Republican candidate for Governor who said at one point that Denver's plan to increase the number of bicycle lanes on city streets was part of some United Nations plot.
Maes ended up coming in third behind the eventual winner John Hickenlooper and Tom Tancredo, who entered the race as a third party candidate shortly after Maes made those bizarre comments. Nonetheless, it points to an element of the Tea Party movement that I've noticed from the beginning.  While It certainly cannot be said to be true of everyone who choose to identify themselves with the movement, there is clearly a certain element that isn't all that much different from the same paranoid wing of conservatism that William F. Buckley Jr. worked hard to bar from the conservative coalition back in the 1950s.
He succeeded back then, but those people never really went away. Groups like the Birch Society stuck around in the shadows of American politics, as did others, including magazines like The Spotlight, whose mailing list Ron Paul used in the 19 90s to sell subscriptions to a newsletter that became increasingly obsessed with odd conspiracy theories. The 90s saw this movement revive itself in the form of the militias, the people who believed that black helicopters laden with United Nations troops were just over the horizon, and the various insane conspiracy theories that grew around the Clinton Presidency. It was the ideology and movement that gave birth, in at least some sense, to Timothy McVeigh and Terry Nicholas and the deaths of 168 people in Oklahoma City in 1995. And now it's found a home back inside the conservative movement that had once shunned it.
There are plenty of legitimate issues to debate when it comes to development issues and the extent to which governments at all levels are attempting to control the manner in which people can use and dispose of their private property. It's a debate worth having and one that people should get involved with at the local level if they are truly concerned about it. Living in the delusion that it's some kind of United Nations plot, however, is neither helpful to any cause nor does it make people tend to think that you're a person worth listening to. If the Tea Party movement wonders why some people don't take them seriously, it's because they allow people like this in their ranks.