There's No Evidence The Death Penalty Deters Crime
There is no evidence that the Capital Punishment works.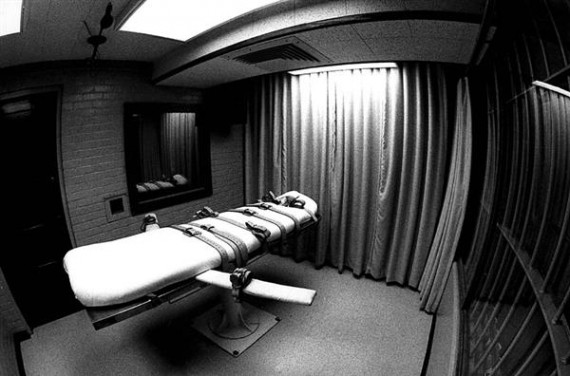 Of all the arguments in favor of capital punishment, the one that seems to have the most staying power is the idea that it is a deterrent to future crime in that the possibility of facing death makes it less likely that people will commit crimes that will or could lead to death. The idea that executing murderers has been considered gospel among death penalty advocates for decades now, and it does seem to have some elements of logic to support it. After all, why would any rational person risk their own death by committing an act that could lead to their own death? Of course, a criminal act that is likely to end up in the death of a victim or victims already poses the danger that the assailant will be killed outright or mortally wounded, so one wonders why the risk of death ten years down the road would be any more of a deterrent than the risk of death at that very moment. Nonetheless, the idea that the death penalty is a deterrent remains the argument that death penalty advocates rely upon the most, even in the face of the problem of wrongful conviction of innocent men.
It turns out, though, that there's absolutely no evidence that the death penalty deters crime:
In recent years, five U.S. states have eliminated capital punishment, and several others are currently reconsidering their policies. Advocates of the death penalty insist the moves will lead to more murders. They point to a number of studies conducted over the past couple of decades that purport to find clear evidence supporting their view. Experts happily serve up unequivocal congressional testimony, and feed their analyses to lobby groups.

The reality, unsatisfying and inconvenient as it may be, is that we simply don't know how capital punishment affects the homicide rate. That's the conclusion of the National Academy of Sciences, which typically plays the role of impartial arbiter in these social-science debates. Their expert panel recently concluded that existing research "is not informative about whether capital punishment decreases, increases, or has no effect on homicide rates," and that such studies "should not influence policy judgments about capital punishment."

The panel's conclusions largely echo those from research conducted by one of us (Justin Wolfers) jointly with Stanford University law professor John Donohue. That research replicated and probed the leading studies, finding that even minor changes in how the analyses were conducted dramatically altered the conclusions. As a result, there's "not just 'reasonable doubt' about whether there is any deterrent effect of the death penalty, but profound uncertainty," the authors wrote. Indeed, "we remain unsure even of whether" the effects "are positive or negative."
The main reason that a conclusion cannot be reached here is because there's simply no way to correlate the homicide rate, which has fluctuated many times over the years, to a single factor like whether or not a particular state has the death penalty. This makes completely sense, actually. The number of factors that could potentially influence the homicide rate itself are too numerous to list, and they could be societal, cultural, or individual in nature. Additionally, even in states that have been aggressive in the use of the death penalty like Texas and Virginia, the factors that determine whether or not a case will be considered death penalty eligible can vary from jurisdiction to jurisdiction, and convictions can vary depending on a wide variety of factors ranging from the makeup of the jury to the competence of a particular Defense Attorney. Trying to factor all of those variable, many of which are entirely subjective, in order to answer the question "Does the death penalty deter crime?" would seem to be a next-to-impossible task even for the best team of social scientists.
Moreover, as the authors go on to point out, even if we could come up with an answer to this question, that still doesn't end the discussion:
Even if one accepts the possibility that the threat of death deters some would-be murderers, that doesn't mean it's the best way to do so. Capital punishment diverts hundreds of millions of dollars from other criminal-justice interventions that may have done more to reduce homicide rates. This important point — there's an opportunity cost to spending on capital punishment — often gets overlooked

Amid all the uncertainty, the data do allow one conclusion that the National Academy should have emphasized more strongly: The death penalty isn't the dominant factor driving the fluctuations in the U.S. homicide rate. If it were, the homicide rate in the U.S. wouldn't have moved in lockstep with that of Canada, even as the two countries experimented with different death-penalty regimes (see chart). Likewise, homicide rates tend to rise and fall roughly in unison across states, even as some – – such as Texas — ramp up executions, and others have chosen not to adopt the practice (see chart).

Overall, the panel's conclusions are a welcome corrective to a debate in which politically expedient, yet imperfect, findings have attracted greater attention than those rare moments of humility when we social scientists admit what we don't know. Now that a widely respected authority has established the uncertainty about the deterrent effects of the death penalty, it's time for advocates on both sides to recognize that their beliefs are the product of faith, not data.
Paul Waldman comments that the discrediting of the deterrence argument leaves us with only one real question when it comes to capital punishment:
[I]n the end, we're left with a fundamental moral divide, one we should explore. Should the state be killing people who are convicted of crimes? Does the fact that justice can be served in one way by an execution mean that it should be served in that way, as opposed to other ways (like life in prison, a punishment which is arguably far more harsh). What kind of values are expressed by executions, and are those the values we as a society want to promote? In every other advanced democracy, they've answered "no"
I suppose if you're a person who subscribes to the "eye for an eye" school of justice, then it probably seems as though this is a very easy to question to answer; take a life, give up your own. There's just one problem with that. What does such a moral code say in the face of evidence that the death penalty is by its very nature applied in an arbitrary manner that is likely more influenced by the size of one's pocketbook, and the color of one's skin, than the question of whether or not a particular crime deserves the ultimate punishment? What does it say in the face of cases like three death penalty cases from the State of Texas alone — Cameron Todd Willingham, Claude Jones, and Carlos DeLuna — where it is now quite apparent that men were executed for crimes they didn't commit. Or how about Cory Maye, who spent ten years on Mississippi'sdeath row for a capital murder conviction tainted by racism, improper testimony from a corrupt Medical Examiner, and a case of mistaken identity by police conducting a no-knock drug raid? How about the numerous cases where eyewitness testimony put men in jail for decades, only to have DNA evidence later prove that they were innocent?
I used to support the death penalty at one time, although it was admittedly reluctant support rather than the kind of thing you see from people who hang out outside a state prison the night of an execution to cheer someone's death. Over time, though, I've come to the conclusion that the should simply shouldn't have the right to take a life, even in the case of someone who has committed a horrible, violent crime. With the advent of DNA technology and the numerous instances of innocent men who have spent time on prison and death row, combined with my own observations of the criminal justice system as an attorney, have made it clear that our judicial system is simply far too arbitrary and imperfect to be trusted to make the decision between life and death. Life in prison without the possibility of parole is hardly the luxurious life that death penalty advocates seem to think it is, and at least if we learn years later that prosecutors got a case wrong, we won't just be saying "Sorry" to a grave stone. All of this is especially true when a defendant facing a death sentence is forced to accept court-appointed counsel that lacks both the experience and the resources that a private-hired attorney would. The question of whether you live or die shouldn't depend on whether or not you're rich enough to hire Johnnie Cochran and the rest of the O.J. Simpson "Dream Team", but, far too often, it does.
If the death penalty doesn't deter crime, if we cannot eliminate the arbitrary nature of it's application, and if the possibility of mistake is far too great, then there's no justification for keeping it.