Thinking About Arguing About Politics Over Thanksgiving Dinner? Don't
Given the times we live in, you may be tempted to argue about politics tomorrow. Here's my advice --- don't do it.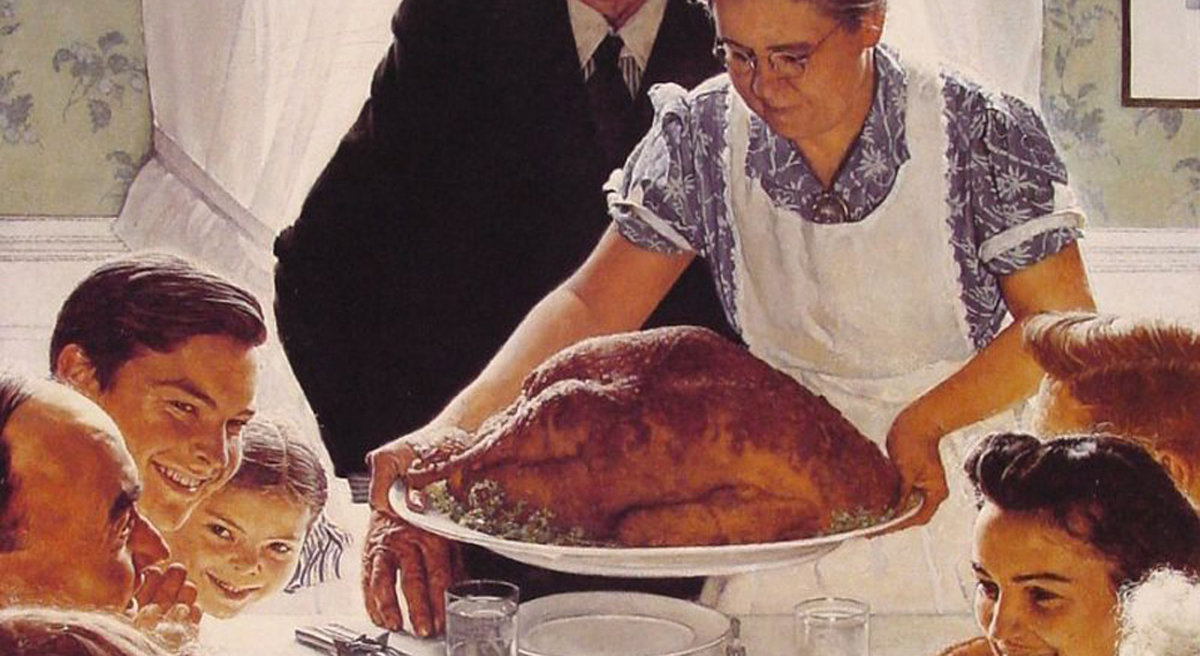 It's Thanksgiving during a time of high political controversy and drama, so of course, the media is filled with reports about political discussions at the Thanksgiving table. This isn't the first time we've come across an intersection of politics and the holidays, of course. During the early years of President Obama's second term, for example, pundits were telling us how to argue with relatives about a whole host of issues, as I documented in posts around this time in 2013, 2014, and 2015.
Back then, of course, the big topic for argument was the Affordable Care Act, but there were also people who felt it necessary to instruct us how to argue with relatives about a whole host of topics ranging from climate change and marriage equality to  immigration, Common Core, the events in Ferguson, the Israeli-Palestinian conflict, the political subtext of the Hunger Games books and movies, football, but only if you want to talk about anything other than what's actually happening on the field, and a whole host of other issues. This year the big political issue is Donald Trump, who is already a controversial subject to, and the ongoing impeachment investigation. The New York Times, FiveThirtyEight, and The Washington Post (twice) all have guides about how to talk about the impeachment with your relatives regardless of which side of the aisle you come from, and I'm sure you can find other sites that have similar advice.
On some level, I suppose, I can see why people who spend their time writing about politics would be writing about how to talk about it at Thanksgiving and, inevitably given the world that we live in, it's probably that some of these topics will come up during the course of this weekend as people gather together. As someone who reads, writes, and talks about politics and policy issues on an almost daily basis, it's certainly a topic that I'd probably be inclined to slip into quite easily and one I'd find far more interesting than, say, what's happening on some television show I don't watch or the pros and cons of Taylor Swift's ongoing disputes with Spotify. At the same time, though, I find myself agreeing with something Michael Brendan Daugherty wrote several years ago:
Our politics are taking on a religious shape. Increasingly we allow politics to form our moral identity and self-conception. We surround ourselves with an invisible community of the "elect" who share our convictions, and convince ourselves that even our closest and beloved relatives are not only wrong, but enemies of goodness itself. And so one of the best, least religious holidays in the calendar becomes a chance to deliver your uncle up as a sinner in the hands of an angry niece.

I'm as guilty of this as anyone. As a conservative raised in an argumentative and left-leaning Irish-American family, Thanksgiving and other holiday dinners did more than any professional media training to prepare me for MSNBC panels. But arguments like these, particularly when we allow politics to dominate our notions of ourselves, can leave lasting scars. And precisely because our familial relationships are so personal, the likely responses to our creamed and beaten talking points will be defensive, anxious, off-subject, or overly aggressive.

You might think you can sneak in a killer talking point about immigration reform, only to touch off a sprawling congress about the personhood of unborn children, the Vietnam War, and whether it is really sexist to describe Nancy Pelosi as a "tough broad."

Instead, what we really need are guides for gently deflecting the conversation away from politics, as our polite grandmothers once did.

Bringing up politics can be a form of self-assertion, or a way for a family member to test whether he is accepted for who he is. One of the reasons the "conservative uncle" has become the cliched oaf of the Thanksgiving dinner is precisely because he may feel, rightly or wrongly, that the country is moving away from him. He could be testing to see whether his family is ready to reject him, too. Or he could just be an oafish, self-regarding lout. Either way, it doesn't have to be that hard to show he is appreciated as a family member and human being.
Stephen Carter agrees, and reminds us that there have been times in history when our nation was far more divided than it is today and yet still managed to come together at least one day a year to give thanks. Drawing on the Thanksgiving Proclamations issues by James Madison in 1814, when the nation was dealing with its first and only foreign invasion, and Abraham Lincoln in 1864, when the nation was in the midst of a bloody Civil War, Carter makes this point:
What animates these proclamations whose bicentennial and sesquicentennial we observe this year is a belief in the necessity of gratitude for the remarkable advantages that the U.S. enjoys, and also in the importance of accepting those advantages with an appropriate humility. The institutions of which Madison wrote — the remarkable constitutional structure designed as a guarantor of liberty — has no existence outside of our constant nurture of it. The inestimable blessings of which Lincoln wrote will continue to provide sustenance for our posterity only if we work to make it so.

What does that mean in practice, as we celebrate another Thanksgiving Day? The simplest lesson is also the most obvious: if in times of invasion and Civil War, these presidents were able to call upon us to put aside our divisions and to approach our blessings with gratitude and humility, we their inheritors should do no less.

We're a divided nation in so many ways. In our responses to everything from the Affordable Care Act to Ferguson to climate change, we're constantly at one another's throats, treating those who disagree as enemies to be derided rather than fellow citizens who are part of a common project. College students are being taught to ban speakers whose messages discomfit them. Political parties, egged on by talk show hosts, are raising money through raising fears of diabolical conspiracies.

Even Lincoln, in the midst of so desperate a war, conceded that the enemy was "of our own household." This was an enemy actually being fought on the battlefield. The very day before Lincoln's proclamation of Thanksgiving, the Union had won its costly victory at the Battle of Cedar Creek, suffering more than 5,600 casualties, including some 3,400 dead. Yet Lincoln evidenced a belief that those who fought against the Union were not monsters, but wayward brothers.

We're an imperfect country, and always will be. The "distinguished favors" and "precious advantages" of which Madison spoke may not always be equally distributed, but they are what mark the nation as distinctive. We can do no greater honor to our forebears than adopting an attitude of respect and humility across our differences, as we give thanks for the remarkable project that is America.
Though coming from different political perspectives Daugherty and Carter manage to come to basically the same point. There are many issues that divide our nation, and many important issues that raise highly emotional responses in people on both sides of the aisle. We have seen two of those issues, immigration and racial tensions, unfold before our eyes again in just the past two weeks. Rather than bringing that political tension into a day meant for friends, family, and football, perhaps it would be a good idea to put politics, or at least the unending desire that human beings have to convince people that they are right no matter what, to the side and concentrate on something else. There are 365 days in the year, surely we don't need to be spending all of them arguing about political issues. So, instead of arguing with the family, spend time with them and get to know them better if you don't see them very often. Life is too short to be worrying about whether or not they agree with you about politics or not. And, yes, that's advice that goes for both sides.
All of this reminds me of an old rule in my family that there were two topics that were generally off-limits at family gatherings, politics, and religion. It came about before my time but was largely influenced, I'd imagine, by the political and cultural differences that were making their way through the country in the 1960s. Bringing up topics that were only likely to cause disagreement at a time when people are supposed to be spending time together and having fun obviously didn't seem like a good idea, and it strikes me that this is still a pretty good idea. As it stands, the NFL games and the old battles over who gets the drumsticks and whether cranberry sauce is better freshly made or in that jellied stuff that comes out of a can will be the source of enough conflict that there's really no point in adding politics in the mix, especially when you're talking about two incredibly controversial political topics.
So, my advice about arguing politics tomorrow is simple. Don't. Enjoy the holiday for what it is and, of course, root against Dallas (sorry James and Steven), maybe even consider turning off your smartphone that will be good enough.