It's Thanksgiving, So Of Course People Want You To Start Political Fights With Your Relatives
Happy Thanksgiving! Don't forget to start a political fight with your family!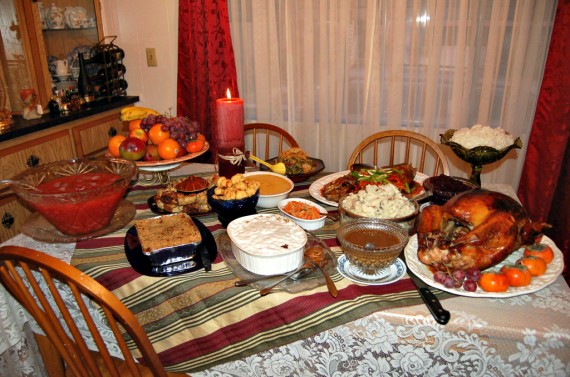 Over the past several years, it seems to have become something of a new, troublesome, Thanksgiving tradition for various political writers and advocacy groups to post articles in advance of Thanksgiving giving people guides that basically can be boiled down to "How To Ensure That Your Thanksgiving Will Be Ruined By Political Arguments." It seems to have started two years ago when the Obama Administration encouraged people to talk about the Affordable Care Act while a group tied to former New York Mayor Michael Bloomberg encouraged a family argument about gun control, a debate which seemed inadvisable at the time depending on how much alcohol people had been drinking and whether firearms would in fact be present. Last year, the effort to turn Thanksgiving into a version of Crossfire involving food and sad children expanded to include groups that encouraged discussions about climate change, marriage equality,  the outcome of the midterms, immigration, Common Core, the events in Ferguson, theIsraeli-Palestinian conflict, the political subtext of the Hunger Games books and movies, football, but only if you want to talk about anything other than what's actually happening on the field, and even the revelations about long-simmering allegations against Bill Cosby. Another writer produced a guide to talking to your Uncle who's involved in the Tea Party, while another relished a political argument with relatives, perhaps so they wouldn't have to worry about traveling for another family gathering for Christmas.
With Thanksgiving here again, it seems that this unfortunate tradition is continuing. The Democratic Party is out with a guide to talking to your Republican Uncle, thus continuing the tradition of singling out uncles. Raw Story steps in for gender equality, though, and gives you a guide to talking to your crazy Aunt. (Question: Is the Crazy Aunt married to the Crazy Uncle, or are they from different sides of the family?) Vox is back with another comprehensive guide to arguing with your relatives about vaccines, Donald Trump, Syria & ISIS, Benghazi, Black Lives Matter, and Bernie Sanders. Not to be outdone, The New York Times blog The Upshot has its own guide to holiday political discussions, as does The Washington Post's The Fix. The Wall Street Journal provides those crazy Uncles and Aunts with some ammunition to deal with their millennial nephew. If you're inclined to troll your family, Politico gives you some advice about how to be the crazy uncle at Thanksgiving. The Virginia conservative political blog Bearing Drift has a humorous but still substantive take on the issue, the Cato Institute offers advice for the libertarians, and Emily Zanotti at The American Spectator offers some ideas for solutions to inter-familial political conflict involving adult beverages, which seems to me to be the most sensible solution. If alcohol isn't your preference, ABC News has advice for avoiding political arguments at the Thanksgiving table. Finally, Maggie MK Hess at The Washington Post offers practical advice about how to answer that eternal non-political question that inevitably comes up at family gatherings regardless of the time of year, "Why Are You Still Single?."
Personally I tend to continue to hold to what I said when this weird tradition first started two years ago, and which I restated last year, namely that it's probably a bad idea to head into family gatherings, or worse gatherings of non-family members that might include co-workers or people you don't even know well, with the intention of starting, or helping to fuel, arguments about contentious political issues. For one thing, there seems to be something wrong with the idea of seeking out political arguments on a day that is supposed to be about something entirely different and, indeed, something entirely non-political. Surely, one can find a way to give thanks and appreciate family without it turning into a discussion of what's in the news, right? Hey, if all else fails you can always talk about the weather or how horrible it is that Thanksgiving's N.F.L. games will subject us to watching the Eagles and Lions playing each other to see which team can be the least embarrassing to their respective cities while the Cowboys try to resurrect a so-far disastrous season against the Panthers and the Packers play the Bears. I mean, I'm a guy who spends way too much time reading, writing, and talking about politics already, I really can't see why anyone wants to spend a holiday doing it as well, especially if its likely to lead to arguments.
Everyone's family is different, of course, and perhaps yours is one that can survive a good political argument and even thrive on one. If so, more power to you and proceed as you see appropriate. For me, though, it seems like there are better things to do with your time.
Of course, if you do end up arguing politics at the Thanksgiving table, maybe think about having a camera around. Who knows? It may end up being as funny as this: