Do Barack Obama And Mike Bloomberg Want To Ruin Family Thanksgiving Gatherings?
Guess what's coming to the dinner table.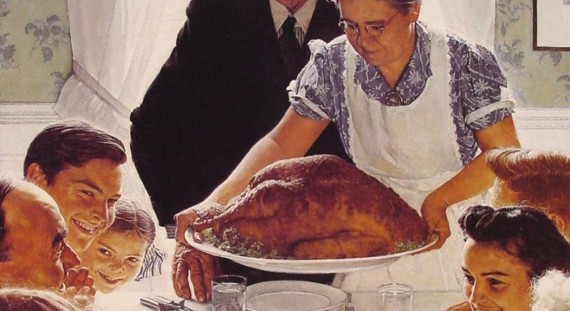 A week from now, most Americans will be gathering with family and friends for a day of turkey, stuffing, football, and giving thanks. However, if certain politicians have their way, it would also be a day to discuss controversial political topics.
First up, there's the President of the United States, who apparently wants his supporters to use the Thanksgiving holiday to tell everyone how great ObamaCare is notwithstanding its been suffering through six weeks of rather obvious problems and bad publicity. It all started with this tweet from the President's own Twitter account, which most of the time is actually a propaganda arm for Organizing for America rather than a personal account for the President:
When your loved ones get together this holiday season, remember to talk to them about health insurance. http://t.co/6omO1vDKBj #GetTalking

— Barack Obama (@BarackObama) November 19, 2013
Conor Friedersdorf had what I think is the best response to this:
Once that conversation is over perhaps you could bring up reproductive rights, immigration reform, and judicial filibusters. They're all important subjects of national concern. Why not set aside some time on Thanksgiving Day to discuss them too? Maybe just pick up the remote, turn off the football game, and ask everyone if you could have their attention while you explain how progressive public policy can improve their lives if only they do their part. They'll appreciate it!
Just in case you're unsure how to initiate this kind of conservation, some progressive group has come up with their own step-by-step plan for having "the talk," something that makes it sound like you plan on talking to your 13-year old niece about the boy she's been texting all day and whether or not she's being careful about this his intentions might be. In fact, having that kind of conversation might actually be easier than trying to convince Uncle Harry about the greatness of ObamaCare while he's trying to pay attention to the football game or asking you to pass the cranberry sauce.
But, don't worry, if you don't think that your family can handle a conversation about the Affordable Care Act, even when there is alcohol involved, New York Mayor Mike Bloomberg's gun control group has another idea:
I don't know what holiday dinners are like at Michael Bloomberg's house, but I suspect there's an awful lot of picking at food while the windbag at the head of the table lectures the assembled guests about why he's right and they're all idiots. That's the message I get from his pet Mayors Against Illegal Guns organization, which wants its loyal minions, if there are any, to sit down to their Thanksgiving feasts and immediately start fights with relatives they haven't seen in a year about gun control. All you need is a handy list of tendentious talking points—and a shitload of patience from Cousin Bob, who rebuilds old pistols for fun and just wrapped himself around half a bottle of Jack Daniels.

On the Mayors Against Illegal Guns' "Demand Action" site, the tone for a holiday frolic is set by the Talking Turkey About Guns page:

Everyone has friends and relatives with strong opinions and shaky facts. You can help set the table straight — all you need is this simple guide to Talking Turkey about guns!

The page adds:

This Thanksgiving, when talk around the table turns to politics and current events, you can help set the record straight on some of the most common myths about guns.

Cuz what everybody needs in the midst of what's likely to be family chatter, or maybe a heated argument about Obamacare for those who delve into politics over the good china, is a chipper grad student spouting five non sequitur factoids about firearms, with no larger knowledge about the subject, or even links to other information.
This should work out pretty well for those with relatives from states that are relatively in favor of gun rights, especially after the alcohol starts flowing and someone's wondering what to do with the leftover mashed potatoes.
All of this reminds me of an old rule in my family that there were two topics that were generally off limits at family gatherings, politics and religion. It came about before my time but was largely influenced, I'd imagine, by the political and cultural differences that were making their way through the country in the 1960s. Bringing up topics that were only likely to cause disagreement at a time when people are supposed to be spending time together and having fun obviously didn't seem like a good idea, and it strikes me that this is still a pretty good idea. As it stands, the NFL games that will be on next Thursday will be the source of enough conflict between fans that there's really not point in adding politics in the mix, especially when you're talking about two incredibly controversial political topics.
So, my advice is to ignore what President Obama and Mayor Bloomberg are saying and enjoy the time with your family and friends. It really isn't worth the effort to bring politics into an environment where there really ought to be a lot more to talk about.