What's The Big Deal About Retailers Opening On Thanksgiving?
It may not strike most people as "fun," but there's nothing wrong with retailers being open on Thanksgiving Day.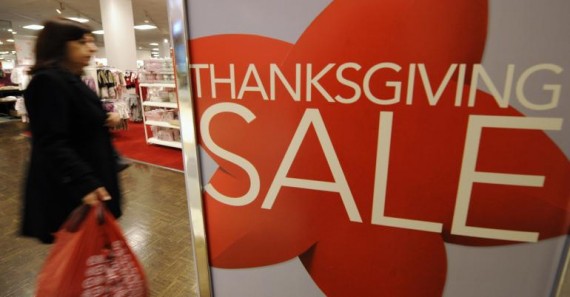 Few holiday-related business stories have garnered the attention this year that the decision by several retailers, ranging from WalMart and Target to Gap, Banana Republic, and Old Navy, to open their stores for at least part of the day tomorrow on Thanksgiving Day. To many people, most of whom are likely not even personally affected by these decisions, it seems to be an affront to a day that is supposed to be spent with family and friends watching parades, eating, and watching football. Several retailers, including companies such as Costco, have responded to the entire phenomenon by making a big deal out of their decision to close on Thanksgiving Day.
In reality, of course, the idea of earlier opening hours on Thanksgiving is really just the logical extension of the entire "Black Friday" phenomenon, which started out with retailers opening up incredibly early on the day after Thanksgiving to offer supposed "sales" on high-demand products, or even on products that nobody seemed particularly interested in until they were offered at a significantly reduced price. Year after year for awhile now, we've seen video of people waiting in lines long before these stores opened and then bunching up against the doors in the minutes before the store was officially opened. Inevitably, there would be injuries of some kind or another as store personnel would prove themselves to be incapable of crowd control. Several years ago, the hours for the start of "Black Friday" gradually started getting pushed back from the early hours of Friday itself to midnight, and then to sometime late at night such as 10pm or so. It wasn't until the last few years, though, that we started to see the phenomenon of stores opening up during putative daylight hours on Thanksgiving and this year seems to be the year when that phenomenon is catching on with retailers, much to the consternation of some.
The argument against the whole practice of opening on Thanksgiving is both easy to understand and purely emotional. Retailers shouldn't be forcing their employees to choose between their families and their jobs on a day that is supposed to be about family, the argument goes, even if it means passing up a chance of earning something far higher than their normal hourly wage. While I'm sympathetic to that argument, it's worth noting that some retailers have almost always been open for at least some time on Thanksgiving Day, specifically grocery and convenience stores that are typically open until some point in the early afternoon for the convenience of customers. Clearly, this has proven to be a smart business decision because it's something that been a practice everywhere I've lived at least since I was a teenager.  Just as obviously, those stores need to be staffed, albeit likely be a much smaller staff than on a normal day, during the hours the store is open. So, it's not as if the idea of stores being open on Thanksgiving is some kind of new phenomenon. All we're seeing now is an expansion of that concept into retailing, where the Christmas shopping season that traditionally starts on Black Friday can make or break a business for the entire year.
The people at Think Progress are, predictably, lashing out against the retailers who are open tomorrow, arguing that they are unfairly depriving their employees of the ability to spend time with their families. However, Matthew Yglesias makes an interesting counter-observation:
I remember when Christmas Day in DC when I was sitting around the house alone watching basketball because I'm Jewish, and I decided to take a halftime trip to the Safeway. The store wasn't very busy and I was bored and curious so I asked the (African-American and presumably not Jewish) woman working the register if it was a bummer to have to work on Christmas. She said, basically, no that it was a great opportunity to pick up an extra shift and earn overtime pay. That seemed like a very sensible answer.

(…)

[I]n a diverse nation with over 300 million citizens, opinions are going to vary on the pros and cons of extended business hours. How strapped for cash are you? Where does your family live? What's your relationship with them like? How sentimental are you about specific holiday rituals? People will differ. This Thanksgiving there are going to be people with jobs at the Gap who wish they weren't working Thanksgiving but feel that they'd lose their jobs if they weren't willing to take an extra shift. There are also going to be people with jobs at Radio Shack who wish they could earn some extra cash and get out from under that credit card debt. I'm not persuaded that there's a first-order question of social justice here one way or the other.
The other part of the equation, of course, is that these retailers would not be opening on Thanksgiving if they didn't think they'd get the customer traffic, and subsequent sales, to justify the cost of opening the store, which includes not just the salaries for the employees but also the additional operating costs for heat, electricity, etc. which would ordinarily be set on lower levels if the store was closed. Indeed, it seems fairly clear that the entire history of Black Friday sales beginning earlier and earlier has been a response to market demand. Otherwise, why would we consistently see such large crowds each time it happens? If shoppers show up tomorrow, then that would seem to justify that business decision that these retailers have made. If they don't, then perhaps they will have learned a lesson about how eager people are to go shopping on a day that people are typically used to staying at home (or at someone else's home) and they will react accordingly. In either case, this is how the free market works, by responding to the choices of consumers.
So, if you don't like the idea of stores being open on Thanksgiving, then the solution is to not go shopping on Thanksgiving Day. If it doesn't matter to you and you're bored enough to decide to make a trek to the mall, that's your choice as well. Whatever you decide, though, as Yglesias notes, this isn't really a "social justice" issue, it's a matter of the choices that individual make and how those choices impact the operation of businesses. So, America, go decide for yourself tomorrow. Personally, I fall into the stay at home crowd, but then I'm not very big on shopping in stores to begin with.
Photo via International Business Times