Consumers As Much To Blame For Late Deliveries As Amazon, FedEx, Or UPS
Consumers share some of the blame for the late delivery problems that last minute shoppers experienced this Christmas season.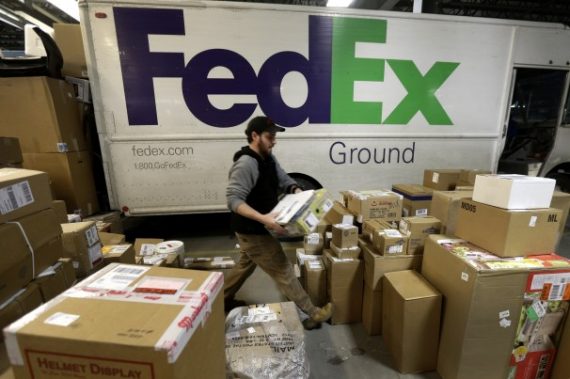 Yesterday, James Joyner wrote about the problems that Amazon, UPS, and FedEx all had in keeping promises of delivery before Christmas even for orders placed as late as Monday December 23rd. While the companies to perhaps deserve blame for a promise that they didn't live up to, and likely ought to refund shipping fees charged to the people for whom they couldn't keep their promise, Ray Hennesey argues that consumers deserve as much of the blame as retailers and delivery companies:
Both UPS and FedEx are getting excoriated for the huge delays in shipping packages this year, leading some people to have fewer gifts under the tree. Indeed, the companies clearly erred in two big ways. First, they planned poorly, failing to see the logistics challenges of this particular holiday season. Second, they overpromised, insisting they could meet deadlines even after they likely knew – or, given how loudly they preach logistics – should have known they could not meet their commitments.

But the shipping fiasco says something deeper, something more about ourselves: We are a nation that buys a lot of stuff late.

Anyone who ordered gifts in the first part of the month got them in plenty of time. The problems came for those who waited until the last minute to pull the trigger on purchases. More and more Americans are delaying their Christmas purchases, and I posit it is a trend that all businesses need to recognize. Our habits have changed, and retailers, shippers and manufacturers alike need to get used to it.
The phenomenon of last minute holiday shopping is not new, of course. Every year that I can remember featured local and national news reporting on the phenomenon of shoppers rushing about late in the Christmas shopping season trying to finish their Christmas shopping in time for the holiday. For every report we see on Black Friday in November of crowds waiting for hours in the cold to get into a story to get the latest "early bird" bargain, there are at least an equal number of reports about the crowds in malls on the weekend before Christmas and Christmas Eve trying to pick up something for a holiday that has been on the same day, December 25th, since time immemorial. Indeed, this last minute shopping is common for other days of the year as well, including everything from Valentine's Day to Mother's and Father's Day. Now that we're in the era of online shopping, the ability to put off shopping until the last minute, especially since Amazon and its shippers are willing to reassure us that the package we order less than 48 hours before Christmas will get to its intended location in time for Christmas.
Hennessey traces this consumer behavior to three factors.
First of all, as he puts it, people like to procrastinate:
We know we shouldn't put things off until the next day, but we always say we'll fix it tomorrow. The availability of one-click orders, with guaranteed (well, almost guaranteed) delivery is addictive. Shopping online has not only precluded the need to fight the great unwashed at the malls but it also has allowed us to not think about shopping until we absolutely need to.
Procrastination, of course, is a dirty human habit that extends far beyond Christmas shopping. We've all been guilty at one time or another of  putting off that important work or school project, staying inside to watch the football game instead of getting work done in the backyard, or otherwise avoiding unpleasant tasks until the last possible minute. Indeed, I'd suggest that there is scarcely a human being who hasn't procrastinated at some point in their lives. In the specific context of shopping, the reasons for putting off Christmas shopping can range from the crush of events around the Holiday Season, family and work obligations, and simply not being able to figure out what to buy certain people, to simple human laziness. Whatever the reason, though, it's certainly true that the convenience of online shopping and next-day delivery make it much, much easier to procrastinate this time of year, although as I've noted the phenomenon of the late Christmas shopper trudging around the mall on the day before Christmas trying to complete a task that, quite honestly, could have been completed before Thanksgiving.
In addition to procrastination, Hennessey also notes that, especially this time of year, many consumers put off their shopping until the last minute because of the tendency of retailers to discount prices deeper and deeper the later we get into the shopping season, a well known phenomenon, gives them an incentive to do so. Retailers discount, of course, because Christmas is typically their make-or-break sales period and they need to move inventory as best as possible. If shopping is slow early in the season, they will start to slash prices in an effort to get shoppers into the stores. Online retailers have the same inventory concerns as bricks and mortar retailers do, and they engage in the same type of discounting for the same reasons. At some point, though, it all becomes part of the same cycle. Since consumers know that retailers will likely be offering discounts as we get closer to Christmas, they wait longer and longer to make their purchases in order to get the best "deal." In that sense, the procrastination noted above is, i some sense, a completely rational response to the manner in which the Christmas shopping season generally proceeds.
Finally, Hennessy notes another phenomenon:
Over the past seven or eight years, we spend 11 months talking about how bad the economy is, how high unemployment is and how weak the consumer is. Then, once we tally sales receipts, we are surprised to hear that folks went to the stores and spent money on other people. The American consumer always surprises. There is a simple, non-cynical reason for this: We are generous. We like to give. There is something fulfilling about gift-giving, about seeing someone's eyes widen when they rip open wrapping paper and see the present they actually asked for. Some rail against heavy consumerism at Christmastime, but folks forget that we give to each other, not consume for ourselves. This generosity feeds into late-season buying because many of us make our lists, check it twice and decide at the late hour that we need to buy more, for more people in our lives. There's many an American who decides in the last week that they need to buy just one more gift.
This can be chalked up to simple human benevolence, as well as to the fact that we typically feel the need to reciprocate the gift giving of others. If a co-worker unexpectedly hands out gifts in the office on December 19th, even simple and relatively inexpensive items, most people feel some obligation to reciprocate. The same is true if an unexpected packages arrives from a family member that one hasn't usually exchanged gifts with. Then, of course, there's the seemingly endless expansion of buying some small trinket for the people who provide services to us on a regular basis throughout the year. That means more shopping, whether its at the mall or on the laptop or iPad.
There's probably no way to control any of these factors. Indeed, Conor Freidersdorf notes that the (mostly last minute) Christmas shopping rush is hardly a new phenomenon, and one that retailers and retail workers have been forced to deal with going back at least 100 years. None of this means that Amazon and its shippers are blameless, of course. Making promises that you can't keep to your customers is a big retail mistake, and one assumes that they will be more careful when the final days before Christmas roll around again next year, whether it's by making the deadline for "before Christmas guaranteed delivery" just a little bit earlier or, in the case of the shippers, hiring on more temporary workers in the days leading up to Christmas. There will be some events, of course, that nobody will be able to account for, such as weather or traffic delays that create logistical headaches, but it's obvious that there will be some lessons for the businesses involved here. Perhaps consumers will learn a lesson or two as well. Namely that putting off till the last minute what you could accomplish much earlier will sometimes lead to disappointment.