UPS and FedEx Ruin Christmas for Late Shoppers
UPS and FedEx underestimated their capacity needs and failed to deliver packages in time for Christmas.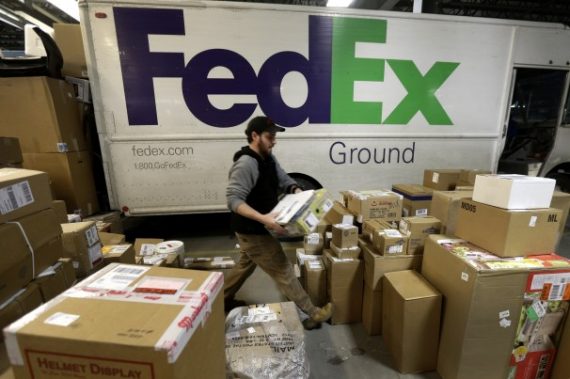 UPS and FedEx underestimated their capacity needs and failed to deliver packages in time for Christmas.
WaPo ("Santa's sleigh delayed after snags at UPS, FedEx"):
Santa's sleigh didn't make it in time for Christmas for some this year due to shipping problems at UPS and FedEx.

The delays were blamed on poor weather earlier this week in parts of the country as well as overloaded systems. The holiday shopping period this year was shorter than usual, more buying was done online and Americans' tendency to wait until the last possible second to shop probably didn't help either.

Neither company said how many packages were delayed but noted it was a small share of overall holiday shipments. While the bulk of consumers' holiday spending remains at physical stores, shopping online is increasingly popular and outstripping spending growth in stores at the mall.

[…]

Godwin said snow and ice in the Midwest last week and an ice storm that hit Dallas two-and-a-half weeks ago were partially to blame. She also said the volume of packages shipped exceeded the capacity of UPS but would not share the number of packages shipped or what the company's maximum capacity is.

UPS did not make pickups or deliveries Wednesday. Extra workers were being brought in Wednesday night to the company's hub in Louisville, Ky., to sort packages for Thursday and Friday delivery, according to Godwin.
WSJ ("Late Surge in Web Buying Blindsides UPS, Retailers"):
A surge in online shopping this holiday season left stores breaking promises to deliver packages by Christmas, suggesting that retailers and shipping companies still haven't fully figured out consumers' buying patterns in the Internet era.

Companies from Amazon.com Inc. AMZN -0.92% to Kohl's Corp. KSS +0.49% and Wal-Mart Stores Inc., WMT +0.18% having promised to deliver items before Dec. 25, missed some delivery target dates.

United Parcel Service Inc. UPS +0.48% determined late Tuesday that it wouldn't deliver some goods in time for Christmas, as a spike in last-minute shopping overwhelmed its system. "The volume of air packages in the UPS system did exceed capacity as demand was much greater than our forecast," a UPS spokeswoman said.

Consumers were reporting missing deliveries from FedEx as well, although a FedEx spokesman said the company wasn't experiencing significant delays.

[…]

Although weather, Web glitches and late deliveries from manufacturers played a part in late deliveries, the sheer unanticipated volume of holiday buying this year may have been the biggest problem, retail analysts said.

Having pushed delivery deadlines later this year, some merchants weren't ready for a jump in online orders in the last few weeks of December, said Eric Best, chief executive of Mercent Corp., which helps more than 550 retailers with online sales. "During the holidays, we reach the limits on the capacity of these retailers," he said.

At UPS, which delivers around 45% of U.S. packages, more shipments entered its air network on Monday than the 7.75 million it expected, the UPS spokeswoman said.

In notifications to some Amazon customers, UPS said there were some shipping delays because it had "not yet received the package from the shipper."

"Amazon fulfillment centers processed and tendered customer orders to delivery carriers on time for holiday delivery," said an Amazon spokeswoman Wednesday. "We are reviewing the performance of the delivery carriers."
I did virtually all of my holiday shopping online this year, mostly with Amazon, and had no issues—including with a couple of gifts I bought Sunday, which arrived on time—gift wrapped, no less—on Christmas Eve. But I certainly understand the frustration of those who relied on retailers to deliver their presents by the promised deadline.
I tweeted the story last evening with the snark, "This could never happen in the private sector." But this isn't a slam at UPS, FedEx, or even Amazon and other retailers who made promises that their contracted carriers couldn't keep. Rather, it's a reminder that massive undertakings with lots of uncontrollable variables and tight deadlines have multiple points of failure and we shouldn't be shocked when they fail. Had it been the US Postal Service, however, the outrage would be ramped up considerably.
It's quite remarkable, actually, that retailers like Amazon can turn around shipments as fast as they do, particularly during the mad rush of the Christmas season. To do so, they have to ramp up staffing to capacities not needed 50 or so weeks a year. But, to actually get the orders to the desired doorstep, they have to rely on carriers. UPS and FedEx are phenomenally good at what they do but even they don't have infinite, instant surge capacity.
To the extent that there's a problem here, it's that retailers like Amazon create unreasonable expectations. We're so accustomed to being able to order something and have it arrive, like clockwork, at our doorsteps two days later that it's completely shocking when it fails. They could, of course, reset expectations by not absolutely, positively promising to meet that deadline during the Christmas season, given that the number of orders not only surges but does so at an unknowable volume. If Amazon had a banner atop their site all month proclaiming, say, a December 19 deadline for absolutely guaranteed before-Christmas delivery, many of us would have changed our behavior accordingly.