Amazon Would Like The Key To Your House
What could possibly go wrong?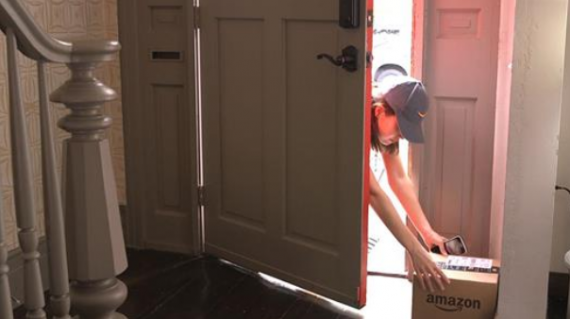 Amazon is preparing to offer a new level of delivery service that would allow delivery persons to gain access to your house so they can leave packages inside:
SEATTLE — For many online shoppers, packages often linger for distressingly long hours outside their homes, where they can be stolen or soaked by rain. Now, if customers give it permission, Amazon's couriers will unlock the front doors and drop packages inside when no one is home.

What could possibly go wrong?

The head spins with the opportunities for mischief in letting a stranger into an empty home. There are risks for couriers too — whether it's an attacking dog or an escaping cat. To allay these concerns, Amazon is asking customers to trust it — buy a package of technology including an internet-connected smart lock and an indoor security camera.

Amazon isn't the only business that believes this is the future of internet shopping, as well as other services that require home access, like dog walking and house keeping. This summer, a start-up that makes smart locks, Latch, struck a deal with Jet.com, an online shopping site owned by Walmart, to jointly pay for the installation of its locks on 1,000 apartment buildings in New York City to make deliveries easier. The arrangement offers some of the security of a doorman for people who live in buildings without them.

E-commerce companies have experimented with ways of making deliveries more secure for years. Amazon installs self-service lockers in office buildings and outside supermarkets where customers can fetch their orders, and Daimler and other carmakers have tested the delivery of goods from Amazon and other retailers to customers' car trunks.

The costs of package theft aren't known — Amazon, for example, will not say — but are probably substantial. Most people who have spent any time on a neighborhood blog, social network or email list have a sense of how prevalent such crime is. And packages sitting on front porches can also signal to anyone who walks by that the homeowners are away.

Ryan Calo, a law professor at the University of Washington who specializes in legal issues related to technology, said Amazon's new service relies on the same kind of trust homeowners commonly extend to services to which they hand over their keys. But he said those agreements often involve in-person interactions, which won't happen when homeowners allow Amazon to unlock its doors.

"It raises questions about how do you specify and police expectations when the relationship is one mediated almost entirely by technology?" Mr. Calo said.

Amazon's new service, Amazon Key, will require customers to buy a kit that starts at $250 and includes a security camera made by the company and a smart door lock made by Yale or Kwikset. When a delivery comes to a customer's door, the lock first helps Amazon verify that the driver is at the correct address at the appropriate time. It then starts recording video and unlocks the door, capturing the entire visit.

"Customers told us they really want to understand and see what's happening when deliveries are happening," said Charlie Tritschler, vice president for Amazon devices. "It gives them assurance."

Amazon is also offering the camera, called Amazon Cloud Cam, as a stand-alone product for $120, significantly less than other internet-connected cameras.

Amazon says it will guarantee protection for customers in the event a driver damages or steals something inside a home. It suggests homeowners keep pets away from front doors when deliveries are expected. If drivers can't safely make deliveries, they'll leave packages outside.

The company said Amazon Key will be available in 37 cities in the United States starting Nov. 8 and open to its Prime members, who pay $99 a year for fast shipping and other benefits. The system can also be used to grant home access to other services, such as Merry Maids, a housecleaning provider, and Rover.com, a dog-walking site.
The potential Fourth Amendment issues that Professor Calo raises in the article above are interesting, but I tend to doubt that consenting to a service such as this would have any real impact on the reasonable expectation of privacy issues that are important in deciding whether a police search was proper or not. The fact that you allow someone into your home for a specific purpose — whether it's cleaning, dog sitting, or to deliver a package — doesn't seem to me to be relevant for Fourth Amendment purposes. This is because there is clearly a marked difference between consenting to a commercial service to enter your home for a specific purpose (cleaning, dog walking, delivering a package, etc) and the contours of privacy protected by the 4th Amendment. Additionally, you can draw a distinction between a consensual entry for commercial purposes and a potential warrantless search by law enforcement. Therefore, I doubt that Amazon Key, or hiring a dog walker for that matter, has any real impact on your rights under the Fourth Amendment. That being said, there's much about this idea that is questionable,
The Washington Post's Christine Emba does a pretty good job of explaining why:
The thought processes of Silicon Valley innovators are a curious thing. Many observers have noted that the most common proposals seem to fall into the category of "things that I, a 25-year-old man, wish that I could still get my mother to do for me." But even more eyebrow-raising is the fact many of these ideas share a curious misunderstanding of the average person's hierarchy of goods — what things matter to them, and how much. It may come as a surprise to those who are willing to live in Google's parking lot and drink Soylent meal replacement instead of eating real food, but some of us care about more than just convenience.

(…)

Amazon Key is perhaps the most outre example of this phenomenon yet. Yes, I do value convenient deliveries, but I value my security more — better to strategize around postal schedules than be assaulted by a person hiding in one's home! And while I dislike rained-upon packages, I prioritize privacy enough that I'm loath to install a corporate-controlled surveillance apparatus inside my house

New technologies are often packaged as amenities we shouldn't have to live without, and any trade-offs are made to seem meager in the face of potential comfort. But there's more to life than convenience — maybe someone should let Silicon Valley know.
I tend to share Embre's skepticism about this kind of new "service." I haven't really experienced an issue with package theft myself, but I do know that it's an issue in some neighborhoods and in some parts of the country, especially given the fact that packages are typically delivered during work hours when most people aren't home and we're long past the days where you could rely on the fact that neighbors would be at home while you're away at work to intercept a package you happen to be expecting. I've also heard tales from friends and others about packages that were delivered but then weren't there when they arrived home at the end of the day, an indication that the package itself was taken by someone hoping that whatever was inside would prove to be valuable. The service Amazon is offering would seem to deal with that problem quite effectively by allowing a delivery person to get inside your house to leave the package rather than leaving it on a front porch or doorstep where it would be visible to anyone who happened to pass by your home. An added convenience is not having to worry about possible damage to a package in the event its delivered on a day when the weather is inclement or exceedingly warm or cold.
All that being said, though, there's something about allowing anonymous people into one's home that's likely to turn many people off.
In many cases, of course, some of us are already in the habit of allowing people into our homes for specific reasons while we're away at work. It's not uncommon, for example, for a contractor performing work inside the home to be given a key so that they can get work done while a homeowner is away. Additionally, if you're someone who has used something like a cleaning service or a dog walker or dog sitter, part of the job generally involves these people having access to your home while you are either away at work or on an extended vacation. For the most part, the people in these businesses can be trusted to perform their jobs without taking advantage of homeowners, something I can verify myself since I've used dog walkers in particular many times in the past. The difference between those services and what Amazon is offering, though, is that the homeowner typically knows the person who they are granting access to and, in the proper cases, has been able to check references to make sure the person in question can be trusted. Additionally, in many cases, these cleaning services and pet sitters are bonded or otherwise insured in a way that reassures homeowners that there would be some method of being compensated int he event of improper behavior. That's not really the case with regard to Amazon Key. In this case, we're being asked to grant access to a delivery person we've most likely never met and to trust that they won't do anything improper. To some extent, Amazon appears to understand this since it says the service would include a guarantee that Amazon will cover any losses due to improper behavior by a delivery person, but that may not be enough reassurance for many people. I know it probably wouldn't be enough for me.
Perhaps this will prove to be a huge success with limited problems, but for now, I'll take a pass on this convenience.
Photo via The Verge