Time To Welcome Our Amazon Delivery Drone Overlords?
Jeff Bezos's latest idea may never get off the ground, but it sure is interesting.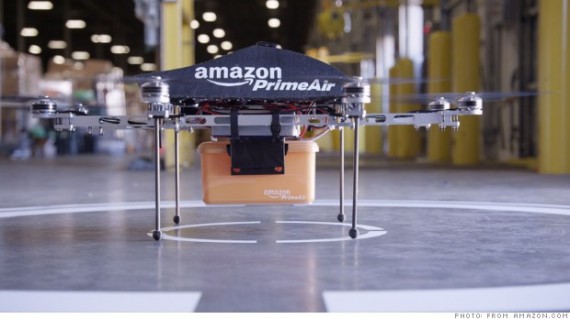 Last night, on the eve of the much vaunted Cyber Monday, the day on which Americans return to work after the long Thanksgiving Day holiday and promptly spend their day shopping online instead of work, CBS's 60 Minutes interview Jeff Bezos, the man behind Amazon. As expected, there was much discussion about the logistical innovations that the company has created which has helped it to become ever more adventurous about how quickly it can deliver products to its customers. Prior to the interview, CBS hyped the interview by stating that Bezos would be showing correspondent Steve Croft a "surprise" that the company was working and that surprise turned out to be a method to deliver at least some packages by drone:
Jeff Bezos, as always, is thinking outside the box — way, way outside.

Sunday night on "60 Minutes," Mr. Bezos, the Amazon founder, floated the notion of using drones to deliver packages. He showed Charlie Rose a video of a tiny helicopter seizing a package from a warehouse and airlifting it to a house. The drone then took off again.

Amazon has already named its future delivery system Prime Air. "I know this looks like science fiction," Mr. Bezos said. "It's not."

Still, even the hyper-optimistic Mr. Bezos cautioned that there were "years of additional work from this point." He told the show the hardest challenge would be convincing the Federal Aviation Administration that this is a good idea.

Well, the F.A.A. and everyone else. The commercial use of drones was legalized early in 2012, but there has been a good deal of outcry about drones possibly being used for surveillance. Some communities are banning local police from using drones. How receptive they would be to e-commerce applications is unclear.

An Amazon promotional page for Prime Air, however, said the delivery system was practically a done deal.

"From a technology point of view, we'll be ready to enter commercial operations as soon as the necessary regulations are in place," the company said. It said that could be two years away.

No mention was made of what would happen if you live in an apartment. Or whether you would get your money back if your neighbor shot down your delivery.

Or, as Mr. Bezos said: "The hard part here is putting in all the redundancy, all the reliability, all the systems you need to say, 'Look, this thing can't land on somebody's head while they're walking around their neighborhood.'" He later added, "That's not good."
Obviously not.
Quite predictably, and most likely deliberately, the idea of Amazon drones quickly became the talk of the Internet yesterday evening, and that conversation has continued into today. There are many people who are skeptical about the entire project. Outside of the engineering side of the issue — for example, how exactly do you ensure that a drone will be delivering to a correct address?, or how do you deal with the issues of weather or even just neighborhood kids using a low altitude, relatively slow speed for target practice with a BB gun or even just a slingshot? — there are serious legal and regulatory issues that the company would have to deal with. The FAA would have to approve the flight patterns, many of which would be taking place inside of urban and suburban areas. Local authorities would also no doubt be interested in the program or safety purposes. And, of course, there's the whole question of accidents and just how easy it would be for Amazon to obtain liability insurance for an operation like this.
Ed Morrissey, meanwhile, points out some of is the logistical and practical issues that this idea brings to mind:
First, just how many orders are delivered within 30 minutes drone flight of a fulfillment center? I live in a top 20 metropolitan center, and my Amazon orders almost all come from somewhere else via UPS.  Drones avoid traffic but don't travel all that much faster than cars do, so a 30-minute radius is not going to be far from a warehouse. Operating a drone air force for such a small slice of the market doesn't sound like a brilliant financial move, not even for a man who just bought the Washington Post. (Maybe drone delivery of the morning edition makes some sense, though.)

(…)

Plus … why is this necessary, anyway? If customers need something in 30 minutes in the dense urban areas that this would service, they go to a store to buy it. That may not be practical in exurbs or rural areas, but the drones won't be flying there, anyway.
To continue that thought, one presumes that an option to have whatever it is you might ordering on Amazon delivered by drone  within 30 minutes or so via drone would cost extra, even if you happen to be a member of Amazon Prime. Once you consider the fact that this service would likely be limited to lightweight packages — in the 60 Minutes piece Bezos makes mention of a weight limit of about five pounds — the added value of thirty minute drone delivery seems to be limited at best. This becomes especially true once you consider the fact that Amazon already offers same-day delivery, for a premium, in some metropolitan areas by utilizing courier services and recently announced a joint venture with the US Postal Service to offer limited delivery on Sundays in some areas.. While it's unclear just how popular that delivery option has become, its existence does make one wonder why delivery drones, with all their attendant issues, would even be necessary. Morrissey also goes on to suggest that the entire announcement on 60 Minutes last night was really an effort on Amazon's part to generate buzz about Amazon itself on what is supposedly the biggest online shopping date of the year. Perh
aps that's the case, but it's worth noting that Amazon has created a section on its website about this service, including the video I've embedded below. Since it isn't April Fools Day, one can only assume that this is a real idea inside the company even if it turns out to be one that doesn't ever get of the ground.
Not everyone is skeptical about the idea.John Aziz at The Week, for example, seems pretty darn excited:
The most exciting aspect of drone delivery is not the prospect of staring upward at a sky full of delivery drones, but being able to order an item and receive it in 30 minutes or less. Instead of having to get in your car and go to the store, or ordering something online and waiting a couple days or more for an item to be delivered, people will be able to receive many purchases almost immediately.

That isn't just a useful convenience for the books, batteries, cables, and gadgets that Amazon is known for selling. This kind of system could be used to quickly deliver things like medicine, hot or cold food, or even toilet paper to the elderly or disabled who can't easily travel. There is potentially a huge social good in home delivery by commercial drone.

Now, you may be worried about using such a new and potentially dangerous system to deliver an expensive item like a laptop. (What if the drone drops it?!) But items get lost or stolen in traditional shipping sometimes, too. And in the long run — and so long as the drones are rigorously tested for safety — delivery by drone may prove more secure than delivery by mail.Google's automated driverless cars are already less crash-prone than human-driven cars, for example.
Matthew Yglesias, meanwhile, sees drone delivery as a potential threat to Amazon itself:
On a business level, I think the interesting thing here is not so much the opportunity for Amazon as the threat. Suppose some robotics firm somewhere develops quadrotor drones that can reliably execute parcel delivery missions over the relevant range for a metropolitan area, and the product becomes broadly commercially available. Amazon would be facing a pretty major disaster. Suddenly every Walmart and Target and Macy's in America would be equipped with a small fleet of drones, and all the hard work Amazon's done over the past 15 years to be the leader in online ordering and fulfillment would be for naught
Ryan Cooper, meanwhile, sees the idea of drone delivery as yet another example of how technology can disrupt the economy:
From a political perspective, however, this is just yet another reminder of how the modern economy is eating its own tail. If successful, these drones would put a nontrivial number of people out of work. Where might they go? Well, services is the sector of the economy most resistant to technological displacement. But service jobs depend on people having disposable income. And that is notably scarce, especially among service employees, during prolonged spells of mass unemployment.

In other words, creeping automation is pushing people into the sector of the economy that most depends on full employment to create a self-reinforcing cycle of wage growth, but at a time when several decades of stagnation looks increasingly probable.
Yglesias's point is well taken but it strikes me that the history of the past fifteen years of Amazon's existence has been one in which it has consistently been able to outsmart its bricks and mortar competitors. First, it did so by utilizing price advantages to sell books and music at prices that traditional competitors could simply not deal with. Increasingly it has done so by providing newer and newer variations on its fast delivery options to increase the convenience of ordering something online. Even if you're not a member of Amazon Prime, for example, its still relatively easy to find a delivery option that will have your Amazon purchases in your hands far quicker than was the case when the company was founded, and far faster than you can generally get when you order something online from a traditional retailer unless you're willing to pay some pretty steep "shipping and handling" fees. This drone idea is just another example of that and, if Amazon does find a way to make it work, then it's likely going to be a long time before any of its major competitors are able to catch up to that kind of innovation, assuming that they even try.  As for Cooper's observations, it strikes me that they are something that can be applied to any technological innovation that has impacted the business world. He's correct to note that there are potential social and political consequences to such innovations, but that's something that's been true ever since the Industrial Revolution. I'm not sure it's a reason to not try to create something new and innovative.
So, will we soon live in a world where Amazon drones fly through our neighborhoods delivering packages? As Bezos himself admits, we're still a good number of years away from knowing if the idea is even going to work. However, if any company can make it work it would be Amazon, so I wouldn't dismiss the possibility at all.
Here's video of the full 60 Minutes piece from last night for those interested: