The Amazon Deal Won't Save The USPS By Itself, But It's A Start
Amazon's new deal with the USPS offers a way out of the agency's problems if only Congress would give up its last bit of control.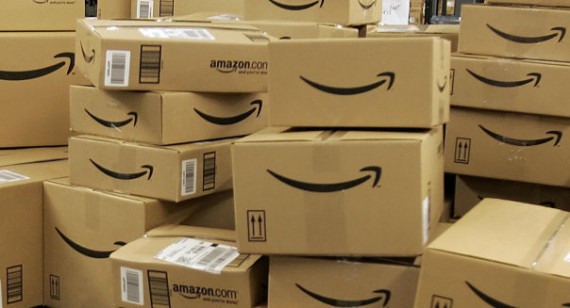 As I've discussed here several times in the past, the United States Postal Service is in serious financial trouble. Thanks in part to pension burdens placed upon it by Congress and in part by the simple fact that mail volume continues to decline as people shift to electronic correspondence and electronic bill payment, the quasi-independent agency has been losing hundreds of millions of dollars per quarter for some time now. Moreover, it is hampered in its ability to respond to these developments as any ordinary business would by the fact that it still remains under Congressional control in several significant respects. For example, when the service announced earlier this year that it intended to cut costs by eliminating Saturday delivery, Congress immediately stepped in to prevent that from happening and the plan was dropped. At the same time, of course, Congress did nothing to address any of the USPS's underlying financial problems and the losses continue.
That's why a newly announced deal with Amazon is so interesting:
WASHINGTON — The cash-short United States Postal Service, which has failed to win congressional approval to stop delivering mail on Saturdays to save money, has struck a deal with the online retailer Amazon.com to deliver the company's packages on Sundays — a first for both, with obvious advantages for each.

For the Postal Service, which lost nearly $16 billion last year, first-class mail delivery, particularly on Saturdays, is often a money loser, whereas package delivery is profitable.

The deal, announced on Sunday and taking effect immediately, in time for the holiday shopping season, gives the Postal Service a chance to take some business from United Parcel Service and FedEx, which do not deliver on Sundays. Now, some orders that would have been handled by either of those carriers for Monday delivery will go through the Postal Service and arrive on Sunday.

The Postal Service said it expected to make more such deals with other merchants, seeking a larger role in the $186 billion e-commerce market. Amazon.com would not say if it would try to arrange Sunday deliveries with other parcel carriers.

For this holiday shopping season, Sunday delivery of Amazon products will be limited to the Los Angeles and New York metropolitan areas, which in New York's case includes parts of New Jersey and Connecticut. In 2014 it is expected to expand to other cities including Dallas, Houston, New Orleans and Phoenix.

Among the primary beneficiaries of the new delivery schedule will be Amazon Prime members, who pay an annual fee for premium services including free two-day shipping for certain items, said Kelly Cheeseman, a spokeswoman for Amazon. "Now every day can be an Amazon delivery day," Ms. Cheeseman said.

Postal Service officials called the agreement an important step in diversifying its services and expanding those that make a profit. "Consumers have shown that there is a market for package deliveries seven days a week, and we are glad to be in a position to partner with Amazon on providing this service," said Patrick R. Donahoe, the postmaster general.

Neither Amazon nor the Postal Service would disclose financial arrangements or discuss the volume or revenue they expected to generate from Sunday deliveries. The Postal Service already delivers some packages on Sundays and holidays for an extra fee.

Shipping and package services have been one of the few bright spots for the beleaguered Postal Service. First-class mail, its main source of revenue, declined to almost 69 billion pieces last year from nearly 92 billion in 2008.
In many ways, this seems to be an expansion of many of new delivery services that Amazon is offering. In many parts of the country, for example, it's now theoretically possible to order a product and have it delivered the same day, typically by a local courier service rather than a carrier by USPS, UPS, or FedEx. The expansion to Sunday delivery, which is obviously conveniently timed in its initial limited roll out for the upcoming Christmas shopping season, seems to be a logical extension of that part of Amazon's business. Additionally, it's not surprising that Amazon would team up with USPS in this endeavor given the fact that the Postal Service is an operation that is in fact operating around the clock. UPS and FedEx would also seem to be logical partners here, and we may indeed see Amazon make deals with these carriers as it seeks to expand the ability to deliver packages quicker, and at times that in the past would have been unconventional.
Now, it's unlikely that this deal alone will solve all of the USPS's financial problems even after it is expanded beyond New York and Los Angeles. Additionally, it seems unlikely that Amazon would be able to offer this service nationwide even with the aide of the USPS's not inconsiderable infrastructure and transportation network. Most likely, for some time to come, this will be limited to large metropolitan areas and gradually spread out to other cities and their surrounding metro areas. More distant areas would be a much larger logistical challenge. In any event, though, whatever amount of revenue this brings into USPS's coffers would certainly be better than nothing.
Additionally, though, the deal itself would seem to suggest an entirely new avenue of business for USPS to explore, if it were permitted to do so. In addition to delivering mail across town or across the nation, USPS could become something of a courier service in the manner that these Sunday deliveries seem to imply. The number of businesses that might be open to such a service from an entity that already does an pretty good job of delivering packages around the country. In order to explore that line of business, though, USPS will need to be finally freed from the reins of Congressional control holding it back and limiting its ability to adapt the way any other business would do. It also needs to open itself up to competition, because it's only by competing against other businesses that an entity can hope to improve its own services. Until that happens, USPS will continue to be the sick man of the quasi-government agency world.
So, yes, this Amazon deal will help the USPS to the extent it brings in new revenue, but truly fixing the agency will require the kind of changes that very few people on Capitol Hill seem willing to make.