Post Office To Eliminate Most Saturday Mail Delivery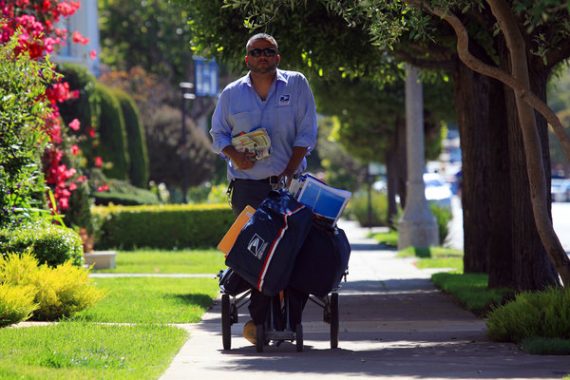 The Saturday visit from your mail carrier is about to come to an end:
WASHINGTON (AP) — The U.S. Postal Service will stop delivering mail on Saturdays but continue to deliver packages six days a week under a plan aimed at saving about $2 billion, the financially struggling agency says.

In an announcement scheduled for later Wednesday, the service is expected to say the Saturday mail cutback would begin in August.

The move accentuates one of the agency's strong points — package delivery has increased by 14 percent since 2010, officials say, while the delivery of letters and other mail has declined with the increasing use of email and other Internet use.

Under the new plan, mail would still be delivered to post office boxes on Saturdays. Post offices now open on Saturdays would remain open on Saturdays.

Over the past several years, the Postal Service has advocated shifting to a five-day delivery schedule for mail and packages — and it repeatedly but unsuccessfully appealed to Congress to approve the move. Though an independent agency, the service gets no tax dollars for its day-to-day operations but is subject to congressional control.

It was not immediately clear how the service could eliminate Saturday mail without congressional approval.
As I've said before, the fact that the USPS has to get Congressional approval to make what, in the end, is an ordinary business decision is yet another reason why we need to rethink the entire way we handle mail delivery in this country. Nations in Europe and elsewhere have quite successfully completely privatized their mail delivery services, and now have an environment where several companies compete to offer these services. While there are issues unique to the United States such as rural delivery that would need to be dealt with, there's no reason why we couldn't do the same thing here. As for Saturday mail delivery, I can't say I'm going to miss it. It'll be one less day to worry about cleaning junk mail out of the mail box.
Photo via New York Times