Black Friday Hits Britain And Other Parts Of Europe
Black Friday chaos has crossed the pond.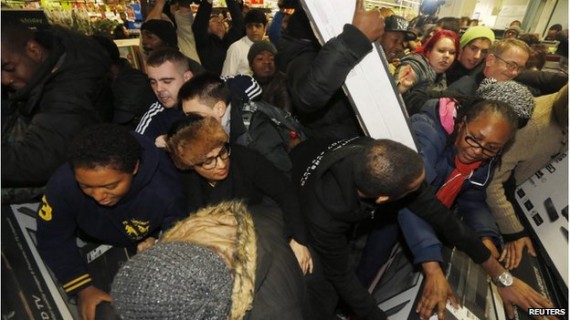 Black Friday, which has been an exclusively American phenomenon for decades, has officially jumped across the Atlantic Ocean to the United Kingdom, and even other parts of Europe:
(Reuters) – British police officers were called to stores across the country on Friday as the "Black Friday" shopping frenzy imported from the United States brought surging crowds and fights over sharply discounted goods.

For the first time, most British retailers have fully embraced "Black Friday" promotions this year, both in store and online, seeking to follow their cousins across the Atlantic and kickstart trading early in the key Christmas period.

The day after the U.S. Thanksgiving holiday, which falls on the fourth Thursday of November, is extravagantly promoted in the United States as the start of the Christmas shopping season. The surge in spending is said to make it the day when retailers finally show a profit for the year, or go "into the black".

With no national holiday in late November, people in Britain had no reason to notice the day until American online retailer Amazon brought its Black Friday sales across the Atlantic in 2010.

Last year marked the first time major UK store groups such as John Lewis [JLP.UL], Dixons and Wal-Mart's Asda participated in a serious way, and this year has seen the trend explode across a majority of the British retailsector.

A survey commissioned by Barclays found that 65 percent of British retailers that sell both online and in stores planned Black Friday promotions.

Supermarket leader Tesco, clothing retailer Marks & Spencer, and electrical retailers Dixons and Argos are doing far bigger promotions than before. Others, like No 3 grocer Sainsbury's are participating for the first time.

The trend is also emerging in continental Europe, with Spanish department store El Corte Ingles using the term "Black Friday", in English, to advertise price cuts and promotions appearing in France and Denmark.

Police were called in to control crowds that had gathered overnight in London, Manchester, Cardiff and Glasgow, drawn by cheap televisions, kitchen goods and clothes. Three arrests were made at Tesco stores in Manchester and officers were called out to four others in the area.

"The events of last night were totally predictable and I am disappointed that stores did not have sufficient security staff on duty," Chief Constable of Greater Manchester Peter Fahy said.

Queues started forming at Asda's superstore at Wembley, north London, from 0500 GMT. Its doors opened at 0800 GMT and by 0900 many of the best bargains had gone.

"There was a fight in the queue in front of us," said shopper Kristina Butts, 44, who missed out on the Polaroid 40 inch TV and Xbox bundle she was after.

When the last of the TVs discounted by 50 percent to 299 pounds ($469) was sold, a staff member held it up and shouted: "When it's gone, it's gone."

One woman shopper on a mobility scooter drove away from the store shouting: "I will never do this again."
The BBC summarizes more of the madness, much of which will sound very familiar to Americans:
Police have been called to supermarkets across the UK amid crowd surges as people hunt for "Black Friday" offers.

Greater Manchester Police appealed for calm after attending seven Tesco shops, at which three men were arrested and a woman was hit by a falling television.

The force said the issues were "totally predictable" and it was "disappointed" by shop security. Tesco said only a "small number" of stores were affected.

Police were called in places including Dundee, Glasgow, Cardiff and London.

Originating in the US, Black Friday is becoming a major UK shopping day.

Police in Manchester tweeted: "At least two people arrested at #BlackFriday sales events already this morning. Keep calm people!"

The force said there had been "disturbances" at the seven Tesco stores. Incidents included:

About 200 shoppers refused to leave a store in Middleton "despite being told stock had all gone"
Fights broke out between shoppers in Stretford, and a woman suffered "minor injuries" after being hit by a falling television. The store was closed at 00:36 GMT
A man was arrested in Salford after he threatened to "smash a staff member's face in"
A woman broke her wrist in a crush, with Greater Manchester Police's deputy chief constable Ian Hopkins describing shoppers' behaviour as "appalling"
In Wigan, officers were called to reports of "several hundred people trying to enter the store". Police added: "Two men were ejected before control was regained"
There were reports of fighting in a store in Hattersley, where a man was arrested for a public order offence
A man was arrested for assault at a store in Green End

(…)

Sir Peter Fahy, Chief Constable of Greater Manchester Police, expressed his frustration via his Twitter account about the amount of Black Friday-related work being asked of his officers.

In a statement, he also said he was "disappointed that stores did not have sufficient security staff on duty".

"Across Greater Manchester large supermarkets already make significant demands on policing through calls to shoplifting, anti-social behaviour and thefts of fuel from their petrol stations – much of which is preventable," he said.

"We just ask these stores to work with us to reduce the demands on policing and reduce the risks of disorder and crime."

A Tesco spokesman said: "Over 600 Tesco stores have Black Friday offers available in store.
Given the fact that the neither the United Kingdom nor any other nation in Europe have a holiday shortened week like the United States does, it seems rather odd that something like "Black Friday" would suddenly turn into a big deal over there. After all, while Americans were feasting on turkey and stuffing and watching football, yesterday and today were by and large normal workdays in that part of the world. As The Economist explains, though, that all started to change when Amazon decided to extend its Black Friday sales events overseas a few years ago:
Given that Thanksgiving is an American holiday, Brits had ignored Black Friday, and had no formal start to the shopping season. Amazon, an American e-commerce giant, claims that it introduced Black Friday to Britain in 2010, but it was only last year that it really took off. In 2013, for the first time, both Amazon and Asda, a supermarket chain owned by Walmart, another American firm, went big on it, and were joined by other British companies. This year more British retailers are hoping to harness the same momentum. Visa Europe, a credit-card company, is predicting that shoppers will spend £6,000 ($9,500) a second on the day. As with most stores, John Lewis is hiring more staff to cope with the rush, and to cope with a hoped-for stampede of voracious shoppers.

But why stop at one day? Most retailers are now extending their sales period to the following week, until at least Cyber Monday (the Monday after Thanksgiving when shoppers are supposed to go crazy online). John Lewis, however, reckons its customers won't be able to wait that long. Last year, its mobile traffic in the peak hour of 7am to 8am was 14 times higher on Black Friday than anything it had seen before. For consumers, the benefits are obvious. For retailers, the Black Friday gets people into the Christmas buying mood early, and they make money by selling at reduced prices but in greater volume.

The only worry, argues Joshua Bamfield, head of the Centre for Retail Research, is that over the long-term shoppers might be less willing to pay the usual prices again when the discounts end. John Lewis has entered the fray because it feels obliged to, always promising to be "never knowingly undersold". But many others, particularly smaller shops, are holding back and waiting to see what the consequences of such heavy discounting will be on the rest of the Christmas season. Black Friday is thus "still in an experimental stage" in Britain, says Mr Bamfield. Not that many of the country's shoppers will notice over the weekend.
The fact that Black Friday happens to also fall on the final Friday of the month is also playing a role, apparently, since this is when many people in the United Kingdom get paid, so they're chock full of cash just as retailers are offering supposedly deep discounts for things like televisions, electronics, and things that will apparently be popular gifts for children this Christmas. If nothing else, I suppose that this proves that the consumer culture that Black Friday has come to epitomize is far from being an exclusively American phenomenon, and that people can be driven to a near frenzy on a seemingly random day of the week over the idea that they might be getting a deal of some kind even though it's likely that they'd end up getting a better deal on the same items as we get closer to Christmas.
As for the unruly crowds, the fights, the violence, and the general craziness, well, we've seen that here for years now so I suppose we shouldn't be too surprised to learn that things aren't all that different in Great Britain or elsewhere in Europe. After all, to some extent, consumerism is something that appeals to, for lack of a better term, base human desires about the acquisition of things and the desire to believe that you're getting a deal on some highly desired item. The fact that the item in question is "just" a television, video game console or some such other thing, doesn't really matter. In any case, much like their American counterparts, British retailers seem to have hit on a winning formula with their own Black Friday, so I'd expect to see it become more prevalent over there in coming years.
Photo via Reuters