Thinking About the Politics of Wisconsin and Public Sector Unions
Recent events in Wiscosin seem to undercut the hypothesis that public sector unions have undue political influence.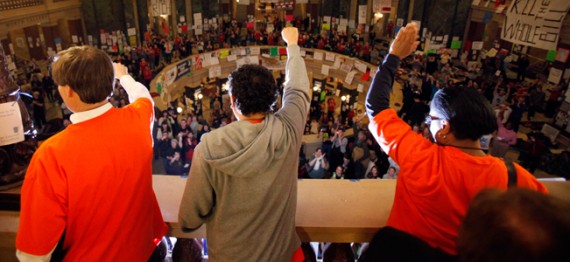 Before proceeding to the main point of this post, let me lay down a couple of predicates:
1.  I do not have a strong, doctrinaire position on public sector unions.  My basic instinct is to be in favor, as it would seem to me that the right to organize and attempt to represent interests is pretty fundamental.  However, I am at least amenable to considering the problem of the fact that public sector unions give money to the politicians who have control over their careers (of course, so do corporations who often have a lot to gain from government as well—my current position is that all of this is probably just the messiness that is democratic governance, but also recognize a variety of issues in this realm that are worthy of continued discussion).
2.  Yes. I understand that unions often demand policies that are problematic (such as overly easy tenure rules for public school teachers or difficulties in firing bad teachers).  Of course, there is a difference between saying certain policies ought to be changed and saying that all unions do is produce negative outcomes.  Moreover, I am fairly sure that many of these policies exist in state with less powerful unions (e.g., Texas).
3. One of the things that makes me uneasy about the whole Wisconsin situation is that I find processes directed towards the taking of rights from a group to be questionable on their face.   In other words, it is a different argument to seek to give collective bargaining rights in a situation where they had not been present versus taking away rights that have been in place for decades.  For rights to be taken, it seems to me that strong, concrete, and compelling reasons are needed.  However, in the the Wisconsin case it seems to me that the motivations have been either a) motivated solely by ideological/political considerations about unions in general and public sector unions in specifics or, b) very vague assertions that ending collective bargaining rights will save money.  I have yet to hear/read (and I have actively looked) a specific, empirically-based argument that "b" is necessarily going to be the case.
4.  I am part of what seems to be a small slice of the population that is neither outraged by the quorum-busting nor of what the Wisconsin GOP did earlier this week.  I have criticisms of both, to be sure, and preferences as to how I think that things should have played out, but have not had cause for outrage.  Of course, my position from pretty much the beginning was that compromise would have been the best outcome.
Having said all of that, the following occurred to me yesterday:  if the fundamental argument against public sector unions is that they have undue and intractable power over their elected bosses, how is it that we have arrived at the current situation in Wisconsin?  At a minimum, the vast power that public sector unions allegedly have is hardly on display at the moment.
To wit:
A)  Prior to the blossoming of the situation into a full-blown political kerfuffle of grand dramatic dimensions, the unions had acquiesced to increasing the contribution of their members to both health insurance and retirement which would result in a nontrivial decrease in take-home pay.
B)  There was a willingness on the part of the unions to put a moratorium on collective bargaining for a multi-year period.
C)  The endgame here has been that the state government has moved to impose both the changes to the benefits packages of unionized labor, but it also has now revoked its collective bargaining rights save on issues of wages and that area of negotiation is limited, for all practical purposed, to increases at or below the inflation rate.
Ok, having noted all of that, I find myself questioning the hypothesis that public sector unions have undo power over the political process.
Now, some may read that statement as a simplistic statement, but I really do not think that it is.  The ideological argument about public sectors unions has been to assert that public sectors unions have such inordinate advantages that they can essentially dictate the terms of negotiations.  Indeed, I have heard/read defenders of Walker (as well as Wisconsin politicians) essentially assert that public sector unions are so powerful that they essentially set policy (i.e., that negotiations are not negotiations at all, but rather opportunities for the unions to tell the state how things will be).
Of course, if such a situation were true, it would seem to me that we would not have seen the end game that we have seen in Wisconsin, yes?