The GOP's WI Maneuver
Was the GOP's maneuver legit? And what's next?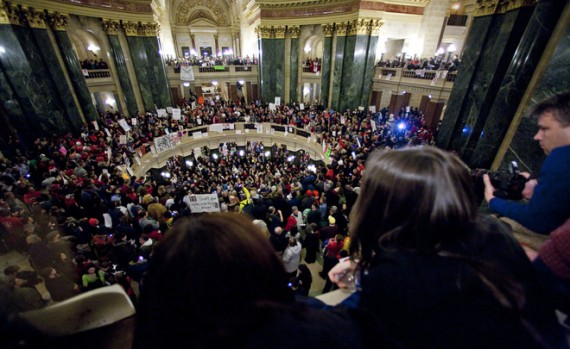 As James Joyner noted earlier today, the Wisconsin Republicans passed a modified version of Governor Scott Walker's budget repair bill, despite the fact that most of the state senate's Democratic caucus remains out of state.
The Wisconsin State Journal reports: Budget repair bill passes Senate, Thursday vote set in Assembly
In a surprise move late Wednesday, Senate Republicans used a series of parliamentary maneuvers to overcome a three-week stalemate with Democrats and pass an amended version of the governor's controversial budget repair bill.

With a crowd of protesters chanting outside their chambers, Senators approved Gov. Scott Walker's bill, which would strip most collective bargaining rights from public employees. The new bill removes fiscal elements of the proposal but still curbs collective bargaining and increases employee payments in pension and health benefits. The changes would amount to an approximate 8 percent pay cut for public workers.
It has always been the case that the GOP caucus alone was sufficient for a quorum on normal (i.e., "non fiscal") legislation.  As such, the stripping of collective bargaining rights was always something that could have been done without the Democrats present–indeed, in some ways I am surprised they didn't simply severe that issue from the budget repair bill and end the standoff in that fashion weeks ago.
The issue that remains is whether the bill as passed, which still alters the amount paid into pensions and for health insurance by teachers and other state employees, is "fiscal" or not:
After the session, Senate Republicans scattered, leaving no one to explain how they managed to pass components of the bill that seemed to have a fiscal impact, including changes in pensions and benefits, without the 20 senators needed to vote on fiscal matters. In a statement, Senate Majority Leader Scott Fitzgerald said he had consulted with the Legislature's attorneys and "every item in tonight's bill follows the letter of the law."
No doubt the next move is going to be a court challenge, based on whether the elements of the bill that are clearly fiscal in nature in a general sense (i.e., have to do with spending) are, in fact "fiscal" under the relevant portion of  the WI constitution.  The appropriate segment that will be debated is following from Section VIII of that document:
Vote on fiscal bills; quorum. SECTION 8.  On the passage in either house of the legislature of any law which imposes, continues or renews a tax, or creates a debt or charge, or makes, continues or renews an appropriation of public or trust money, or releases, discharges or commutes a claim or demand of the state, the question shall be taken by yeas and nays, which shall be duly entered on the journal; and three−fifths of all the members elected to such house shall in all such cases be required to constitute a quorum therein.
The issue, it seems to me, is clearly going to revolve around whether the benefit provisions that passed falls under the above provision or if it doesn't.  If the statement above from Senator Fitzgerald is accurate, it would seem that the legislature's attorneys feel that it does not.  One expects that a court will eventually decide that question (not that I am currently aware of any suits having been filed).
Beyond any possible court battles, the real place this heads next is the political realm:  recalls and then 2012.  As all of that plays out we will get a better picture of what Walker has wrought:  either a boost to the GOP or a boost to the Democrats.  So, despite the rhetoric of both side, democratic governance will will out in this situation one way or another (which was the them of my last post on this topic).
In general, I agree with Ezra Klein's assessment:
Assuming Scott Walker's procedural maneuvering last night was legal — and, as I'll explain in a moment, there are some questions about that — then it was also legitimate. Certainly as legitimate as the Democrats fleeing the state to deny the Republicans quorum. They did something procedurally extraordinary to stop the bill from being passed, and he did something procedurally extraordinary to get the bill passed.

It seems to me that the system worked. Democrats were able to slow the process down and convince both voters in Wisconsin and the national media that there was something beyond business as usual happening in Madison. National and state polls show they were successful in that effort. Walker and the Senate Republicans ignored the Democrats' attempts at compromise and ignored the public turning against them and decided to pass the legislation anyway.

That was their prerogative, and now it's up to the voters to decide whether to recall the eight Senate Republicans who are eligible for judgment this year, and to defeat Walker and the other Republicans in a year or two, when they become vulnerable to a recall election. That's how representative democracy, for better or worse, works.
While more information may yet cause me to change my mind, I will simply say "indeed" and wait and see what happens next.