Wisconsin and Practical Politics (Not to Mention Compromise)
Why can't the Wisconsin Stand-off end in compromise?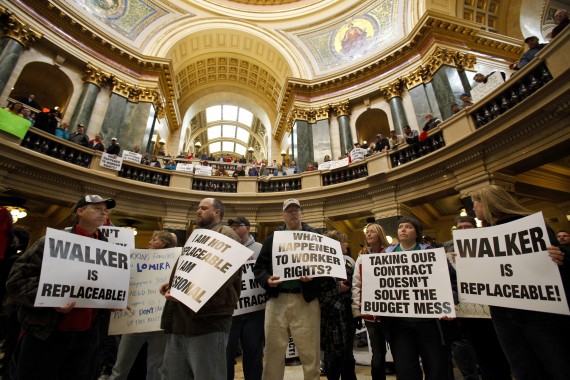 As the multi-week standoff in Wisconsin continues I can't help but continuing to think that this is all so unnecessary (the whole Senators on the Run bit, not to mention sleep-ins and the like).  If the main issue is the state's fiscal difficulties, then surely the most salient issue at hand is whether or not teachers and other public sector workers in the state increase the amount of money that they contribute to their benefits.
Specifically, as Walker's budget repair bill dictates:
Pension contributions

Requires employees who pay into the Wisconsin Retirement System to contribute 50 percent of their annual pension payment. That amount is estimated to be 5.8% of salary in 2011.

Health insurance contributions

Requires state employees to pay at least 12.6% of the average cost of annual premiums. Require changes to the plan design necessary to reduce current premiums by 5%. Local employers participating in the Public Employers Group Health Insurance plan would be prohibited from paying more than 88% of the lowest cost plan.
This strikes me as reasonable in a variety of ways.  And, indeed, the public employees in question appear ready to accept these concessions:
Top leaders of two of Wisconsin's largest public employee unions announced they are willing to accept the financial concessions called for in Walker's plan, but will not accept the loss of collective bargaining rights.
This is from a story dated February 19th, so the chance for a compromise on the immediate issues has been on the table for some time.  As such, the main issue in terms of the overall impasse is the collective bargaining issue, including permanent changes regarding pay raise into the future.   On that latter point, the system proposed by Walker basically guarantees that public employees could never expect to see a wage increases beyond what would be needed to keep pace with inflation:
Total wage increases could not exceed a cap based on inflation unless approved by referendum. Contracts would be limited to one year and wages would be frozen until a new contract is settled. (source)
Let's face facts:  the odds that the voters are likely to vote for pay increases are pretty low.  As such, this provision of Walker's bill basically would create a system wherein current wages for public sector employees would be frozen at current levels adjusted for inflation.  If you were being told this was your future, you might protest as well.
At a minimum, it seems to me that it would make sense for a compromise to be reached wherein the immediate fiscal issues are addressed (i.e., greater contribution by public sector workers to their benefits), establish some sort of multi-year moratorium on changes to the current benefit and wage packages, and with the issue of the exact relationship between Wisconsin and its public employees to be revisited at the end of the moratorium.
Such a move strikes me as prudent and in the state's interest—it certainly sounds a lot more like good governance than does the current situation.  However, sadly, the goal at the moment does not seem to be good governance.
As I like to say, compromise is the essence of democracy, and it seems that this situation is one that begs for some prudent compromise.  And, I will note in conclusion, it isn't as if Walker has slam-dunk super-majority support in his state (for example, see here).  Such a situation means that both from a good governance/democracy perspective, as well as a self-interested political one, Walker ought to be thinking a bit more about compromise than he currently appears willing to do.