Trump Disbands 'Voter Fraud' Commission
President Trump has shut down the commission he established to investigate unsupported claims of "voter fraud" in the 2016 election.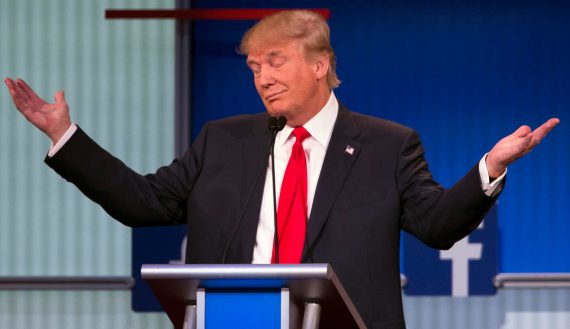 Less than a year into his Presidency, President Trump is disbanding the commission established largely in an effort to find evidence of so-called 'voter fraud' in the 2016 Presidential election:
WASHINGTON — President Trump on Wednesday abruptly shut down a White House commission he had charged with investigating voter fraud, ending a brief quest for evidence of election theft that generated lawsuits, outrage and some scholarly testimony, but no real evidence that American elections are corrupt.

On Thursday, Mr. Trump called for requiring voter identification in a pair of Twitter posts because the voting system "is rigged." "Push hard for Voter Identification!" Mr. Trump wrote.

Mr. Trump did not acknowledge the commission's inability to find evidence of fraud, but cast the closing as a result of continuing legal challenges.

"Despite substantial evidence of voter fraud, many states have refused to provide the Presidential Advisory Commission on Election Integrity with basic information relevant to its inquiry," Mr. Trump said in a White House statement on Wednesday.

"Rather than engage in endless legal battles at taxpayer expense, today I signed an executive order to dissolve the commission, and have asked the Department of Homeland Security to review these issues and determine next courses of action," he said.

In fact, no state has uncovered significant evidence to support the president's claim, and election officials, including many Republicans, have strongly rejected it.

Mr. Trump established the commission after his repeated insistence, without credible evidence, that widespread voter fraud explained how Hillary Clinton received about 2.9 million more votes while he won the presidency in the Electoral College.

It is an issue that continues to resonate with his base voters, and Mr. Trump has mentioned it in recent rallies, but there have been few Republicans in Congress who have followed him.

The closing of the commission was a blow for Kris Kobach, the secretary of state of Kansas and the panel's vice chairman. Mr. Kobach was one of a few state officials to support Mr. Trump's contention of widespread fraud.

But Mr. Kobach insisted in an interview that the commission's work would not end but rather would be transferred to the Department of Homeland Security, one of the federal agencies charged with ensuring election integrity and one that he said critics would find more difficult to target.

As a White House commission, the voter-fraud panel was subject to public-disclosure requirements and other restrictions that Mr. Kobach said opponents of the inquiry had seized on in "a determined effort by the left" to hamstring its investigation. At last count, he said, the panel faced at least eight lawsuits accusing it of ignoring various federal requirements, including one from a commission member, Matthew Dunlap, the Maine secretary of state, that claimed he had been illegally excluded from its deliberations.

"It got to the point where the staff of the commission was spending more time responding to litigation than doing an investigation," Mr. Kobach said. "Think of it as an option play; a decision was made in the middle of the day to pass the ball. The Department of Homeland Security is going to be able to move faster and more efficiently than a presidential advisory commission."

A spokesman for homeland security, Tyler Q. Houlton, said on Wednesday that "the department continues to focus our efforts on securing elections against those who seek to undermine the election system or its integrity."

"We will do this in support of state governments who are responsible for administering elections," he added.

But states may well not cooperate with the department any more than they did with the panel.

(…)

Groups that opposed the commission said its real mission was voter suppression, in ways that would help Republicans, and they were quick to declare victory.

"The commission's entire purpose was to legitimize voter suppression," said Vanita Gupta, the president of the Leadership Conference on Civil and Human Rights and former head of the Justice Department's Civil Rights Division.

"The abrupt abandonment of the commission makes clear that it had become a thoroughly discredited body that could not find evidence of mass voter fraud," Ms. Gupta said. "The commission itself was unable to justify its existence as a result."
The Washington Post's Jennifer Rubin calls the decision a reason to celebrate:
The lesson here is threefold.

First, beating back against Trump's ludicrous falsehoods pays off, though it takes time and resources. (In the meantime, his actions generate considerable backlash.) Trump's lies take hold when they are not debunked.

Second, one of the critical institutional protections against Trump's overreach remains the states. To a certain extent, that makes this year's gubernatorial and state attorney general races national. You'll see Democrats run on the promise to "protect the voters from Trump," be it on voting or health care.

Third, the independent courts — often reviled by Trump — serve as another check on his power. The Post reported in July, "A federal judge has upheld a $1,000 fine against the vice chair of President Trump's Election Integrity Commission, citing a 'pattern' of 'misleading the Court' in voter-ID cases. The ruling represents another blow to the credibility of a commission plagued by lawsuits and controversy in its first months of existence." Likewise, in December the Associated Press reported: "A federal judge has ruled that Maine's Secretary of State can't be excluded from participating in the work of the Presidential Advisory Commission on Election Integrity, on which he serves. U.S. District Court Judge Colleen Kollar-Kotelly's ruling Friday in Washington, D.C., largely agrees with Matthew Dunlap's argument that as a member of the commission he must be given access to substantive commission documents." Approximately eight lawsuits were underway challenging some aspect of the commission's operation.
Ilya Somin, meanwhile, calls this a victory for federalism:
State governments' successful resistance to the Commission's demands is a victory for privacy, and also for federalism as a constraint on overreaching by the federal government. It is dangerous to trust the feds with sensitive information on voters across the country – especially, but certainly not exclusively, when the presidency is held by a man with as little respect for civil liberties as Trump. This issue, along with others such as the litigation challenging the administration's efforts to punish sanctuary cities, is an example of how state and local governments (many of them liberal Democratic ones) are using federalism to resist Trump. In many cases, the legal doctrines in question were first developed by conservative judges, often over the bitter opposition of the left. Perhaps these cases will help lead the left to rethink some of their traditional skepticism about federalism and judicial enforcement of constitutional constraints on federal power, as some liberals have already begun to do. At the same time, we should not be overly optimistic, as "fair weather federalism" is a longstanding problem on both sides of the political spectrum.

(…)

[A] commission headed by a highly biased figure like Kobach was hardly the right way to seek solutions. Moreover, subject to the constraints imposed by constitutional rights, the Constitution leaves most issues of election administration to state governments. It is they who should deal with voter fraud.

Federal control over election procedures would potentially enable the party that controls Congress and the White House to bias voting rules around the country in its own favor. Similar abuses can and do occur at the state level, as well. But at least pro-Democratic bias in liberal states is offset by Republican bias in conservative ones, and vice versa.
In a tweet this morning, President Trump claimed that the commission was hobbled in its efforts thanks to the refusal of "mostly Democratic states" to cooperate with the Commission and its efforts to obtain voter data regarding the 2016 election specifically and voter registration records in general. In reality, there were some 44 states that were refusing to cooperate with the commission's requests in whole or in part. This included many deeply red states where the relevant authorities are Republicans. In many cases, this refusal was based on the fact that existing state laws prevented them from making some of the data that the commission was requesting public. In others, it was due to the fact that voters in their states were speaking out quite loudly against the idea that their personal information, which in some cases would include information such as addresses, voting history, and even identifying information such as Social Security numbers, being shared with some commission in Washington for what were clearly blatantly political purposes.
In reality, of course, there was no real justification for the existence of the commission to begin with. There is no credible evidence of voter fraud during the 2016 election specifically and, more generally speaking, little evidence of the kind of in-person voter fraud that Voter ID laws are supposedly intended to combat, Instead, as several studies have shown, those laws end up having the primary impact of making it more difficult for poor and minority voters to vote, something that has caused several Federal Courts across the country to strike down Voter ID laws in states such as Wisconsin, North Carolina, and Texas. In some cases, these rulings have come after specific evidence was presented establishing that the primary purpose behind the laws was to make it more difficult for these groups, which primarily tend to vote Democratic, to either register to vote or be able to cast a vote because they either lack a proper form of identification or because it is too difficult for them to get such identification. While none of these cases has reached the point where they would be reviewed by the Supreme Court yet, that won't be the case forever.
In any case, this is yet another setback for the myth of "voter fraud," and a victory for those aiming to set aside the efforts by many states to make it harder for some groups of people vote.