States Resist Giving Data To Trump's 'Voter Integrity' Commission
More than twenty states are resisting requests for data from a 'voter integrity' Commission built on President Trump's lie that millions of people voted illegally in the 2016 election.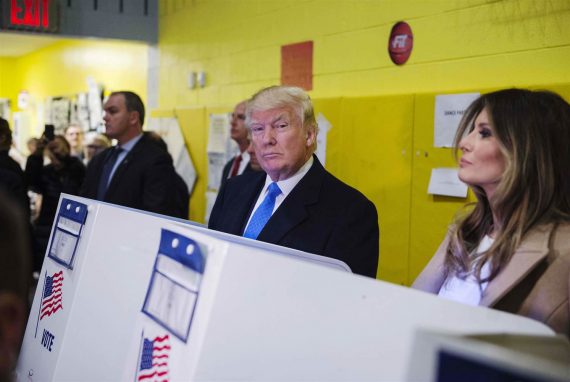 For several months now, President Trump has been telling a variety of lies, so many that being a fact-checker in the Trump Era seems to be becoming a full-time job. While many of Trump's lies center around things having to do with his Administration, such as its alleged accomplishments, which are in fact minimal, the investigation into Russia interference with the election and possible collusion between people close to Trump and Russian officials, and his seemingly unending attacks on the media, the largest number of those lies have centered on Trump himself and his obsession with the outcome of the election.
Ever since November 8th, Trump has been obsessed with commenting on his victory, and with making largely unsupported claims about it in an obvious effort to boost his ego. For example, Trump has claimed that he won the Electoral College by a landslide, a claim that is an easily demonstrated falsehood regardless of whether Trump means a landslide historically, compared to recent elections, or compared to recent elections where Republicans won. In reality, Trump's win ranks 46th out of the 58 Presidential elections that have been held in this country, and 8th on a list of the last ten Presidential elections starting with Ronald Reagan's win over President Carter.  More pernicious than this lie about the Electoral College, though, has been Trump's claim that "millions" of "illegal votes" were cast during the election. It began shortly after the election, with a claim by Trump, on Twitter of course, that he would have won the popular vote if it weren't for those alleged "illegal votes." That alleged illegal voting came, according to Trump, in states that Hillary Clinton won, including California, New Hampshire, and Virginia. Despite the fact that there is literally no evidence to support this claim, Trump has continued to make the claim and, shortly after he took office, announced the formation of a so-called 'voter integrity' commission to examine these unproven claims of voter fraud.
That commission, headed by Kansas Secretary of State Kris Kobach, who has made his career most notably as a nationwide leader on what many opponents see as an effort to make it harder for groups inclined to vote for Democrats, has recently run into controversy as a number of states, including many controlled by Republicans, have resisted its efforts to obtain data about voters that includes a treasure trove of personal information:
A White House commission's sweeping request for the personal and public data of the nation's 200 million voters set off an avalanche of opposition by state leaders in both parties on Friday, as officials from California to Mississippi called the move an overreach and more than 20 states declared they would not comply.

It was an inauspicious start for the panel, which was created after President Trump claimed last winter that millions of illegal votes had robbed him of a popular-vote victory over Hillary Clinton.

The vice chairman and day-to-day leader of the Presidential Advisory Commission on Voter Integrity, Kris Kobach, had asked election officials in a letter to turn over the data "if publicly available," apparently to aid a nationwide search for evidence of election irregularities. Besides election information like voters' names and party affiliations, the commission sought personal information including birth dates, felony conviction records, voting histories for the past decade and the last four digits of all voters' Social Security numbers.

Mr. Kobach, the secretary of state in Kansas, has said he wants to match voter information with other data, like federal records of foreign residents and undocumented immigrants, to spotlight people who cast illegal ballots. He asserts that such fraud is widespread in Kansas and elsewhere, although he has found scant evidence of it so far.

But a growing number of state election officials have indicated — sometimes politely, sometimes brusquely — that they will not or cannot comply. Among them, ironically, were Mr. Kobach himself and a second member of the commission, Secretary of State Connie Lawson of Indiana, both of whom disclosed on Friday that privacy laws prevented them from furnishing some personal voter data.

By Friday, an informal tally by voting-rights advocates indicated that election officials in at least 22 states had partly or completely rejected the commission's request.

California, Massachusetts, Virginia, New York and Kentucky all quickly rejected the request. Other states, like Connecticut and Tennessee, said state law barred them from turning over some data. Wisconsin pledged to provide what it legally could, if the commission paid the $12,500 fee charged to anyone who copies the voter rolls.

Kentucky's secretary of state, Alison Lundergan Grimes, said that Mr. Trump's premise for creating the commission in the first place — that voter fraud was pervasive and needed to be reined in — was itself a fraud.

"Kentucky will not aid a commission that is at best a waste of taxpayer money and at worst an effort to legitimize voter suppression efforts across the country," Ms. Grimes, a Democrat, wrote in response to Mr. Kobach's request.

The pushback was bipartisan: The Mississippi secretary of state, Delbert Hosemann, a Republican, said Friday that he had not received a request from the commission, but colorfully suggested he would not honor one if it came.

"My reply would be: They can go jump in the Gulf of Mexico, and Mississippi is a great state to launch from," Mr. Hosemann said in a statement. "Mississippi residents should celebrate Independence Day and our state's right to protect the privacy of our citizens by conducting our own electoral processes."

Mr. Kobach, whose spokeswoman did not respond to phone and email messages, told The Kansas City Star on Friday that he was not concerned by other states' refusals to disclose voters' personal data. "That's perfectly fine," the newspaper quoted him as saying. "We understand that. And that is entirely up to each state."

In an interview last week with The Washington Times, Mr. Kobach said the accusations from voting-rights advocates and Democrats that the commission is a pretense for a voter-suppression enterprise designed to benefit Republicans were "complete and utter nonsense." Mr. Kobach told the newspaper that the act of collecting data posed no threat to voters, saying that the commission intended to match voter rolls with the federal government's database of noncitizens — including permanent residents, undocumented immigrants who had been apprehended and others — in a search for fraudulent ballots.
Many of the Secretaries of State who have responded to the Commissions request have noted that, while some of the data requested by the commission is public data that anyone can obtain either online or by visiting the appropriate state office, a good deal of it is protected by state privacy laws and that they are prevented from complying with the request even if they wanted to do so so. Additionally, some privacy and security experts have warned that releasing the data the commission is asking for could make millions of Americans vulnerable to hackers and identity thieves seeking even more personal information. Somewhat ironically, even Commission Chairman Kris Kobach is finding it necessary to turn down his own requests for some voter data because state law forbids him from sharing it. Finally, there are concerns from all quarters have raised the possibility that making this data available in some centralized location could make Americans vulnerable to politically-based intimidation in the future, either from politicians or government officials.
President Trump, meanwhile, has responded to this bipartisanly negative response to his commission by accusing the states of trying to hide something:
Numerous states are refusing to give information to the very distinguished VOTER FRAUD PANEL. What are they trying to hide?

— Donald J. Trump (@realDonaldTrump) July 1, 2017
The reality, of course, is that there is nothing to hide. As I noted, in most of these cases the states that are refusing to comply are controlled by Republicans, and many of them are states where the data quite simply cannot be shared with the public because of existing state laws. In many cases, states are complying with the commission in part or at least allowing it to access the same information available to members of the general public. What they're often refusing to do is to break the law in order to aid the Commission, or to make it easy for the Commission by giving it data that it can obtain on its own simply by visiting the appropriate office or website.
In the end, of course, this entire Commission is based on a claim that has not been proven about millions of people voting illegally in the elecIts. It's intention is clearly to find so-called evidence to back up this claim by Trump, which is really based on myths that have spread far and wide in Republican circles for years now. According to these myths, voter fraud is a common phenomenon, one that is often cited after a close Republican loss as the reason for that loss. It is this myth that has been the impetus for the Voter ID laws that have been passed in states controlled by the Republican Party, most especially since the 2010 elections when the GOP began their string of grabbing control of a majority of the state legislatures and Governorships in the country. In reality, there has never been any real evidence provided that widespread voter problem has been a decisive factor in an election, or that it is a significant problem. This is especially true of the kind of in-person voter fraud that Voter ID laws are supposedly intended to combat.
All of this has led to the suspicion that many of these laws are really intended to make it harder for groups that are more likely to support Democrats, such as minorities and the poor, to vote or register to vote. This has led to significant litigation regarding such laws, especially in states such as Texas, Wisconsin, and North Carolina, where there has often been direct evidence that Voter ID laws and other changes to election laws were being enacted with the specific intention of making it harder for groups that tend to vote Democratic to vote. Now, this Presidential Commission is seeking to prove something that has been disproven on several occasions, and many are concerned that it will lead to new efforts at the state level that will make it harder for those groups to vote or register to vote. Given that, the resistance from the states is welcoming, and hopefully just the beginning of the kind of state-level resistance that will be needed in the Trump Era.