Kris Kobach To Run For Senate
Kris Kobach, former Kansas Secretary of State and former head of President Trump's "Voter Fraud" Commission, is running for Senator in Kansas.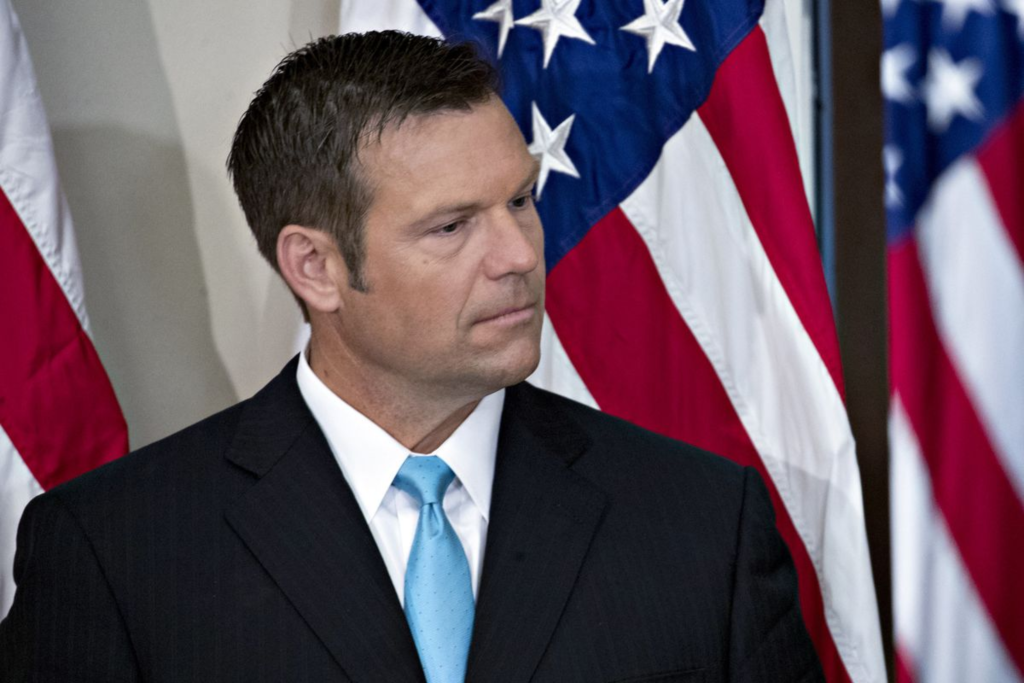 Kris Kobach, the controversial former Kansas Secretary of State who was at the forefront of many of the GOP's efforts to combat "voter fraud" and briefly headed a commission dedicated to investigating alleged "voter fraud" in the 2016 election, has announced that he's running for the GOP nomination for Senate in 2020:
Former Kansas Secretary of State Kris Kobach (R) has filed papers to run for the U.S. Senate seat held by retiring Sen. Pat Roberts (R).

Kobach, 53, is set to announce his plans Monday at an event with supporters in Leavenworth. He did not return text messages seeking comment, and a spokesperson for the campaign did not return an email.

An initial statement of candidacy filed with the Federal Election Commission early Monday misspelled Kobach's first name as Chris.

A revised statement of organization lists Republican strategist Elizabeth Curtis as Kobach's campaign treasurer. Curtis has worked for several conservative candidates in recent years, including 2018 Senate candidates Corey Stewart in Virginia and Kelli Ward in Arizona.

Kobach would become a quick front-runner among Republicans in a deeply conservative state. State Treasurer Jake LaTurner (R) has already announced he will run, and Rep. Roger Marshall (R) is contemplating a bid too.

But Kobach's entry into the race has national Republicans nervous. Kobach, an arch conservative ally of President Trump, lost a race for governor in 2018 by 5 percentage points. In 2016, Trump carried Kansas's electoral votes by a 21-point margin.

"You can see a real scenario where President Trump is reelected and the U.S. Senate falls to the Democrats if [Kris] Kobach puts Kansas in play," said one top Republican operative working to preserve the GOP's Senate majority, who asked not to be named.

The Senate Leadership Fund, a Republican-aligned group closely tied to Senate Majority Leader Mitch McConnell (R-Ky.) that has spent money on GOP primaries in the past, did not rule out getting involved in Kansas.

"Given the result in last year's gubernatorial [race], it's clear we need to put our best foot forward in the race. We believe Kansas Republicans deserve a nominee who can win the seat," said Jack Pandol, an SLF spokesman. "The field is still so unsettled it's just way too early to pick favorites, per se. We're monitoring — there are many that look credible — and will make decisions about our engagement as the primary develops."

Two Democrats — former Rep. Nancy Boyda and former U.S. Attorney Barry Grissom — have entered the race.
Kris Kobach is of course best known for his actions as the former Secretary of State of Kansas to clamp down on supposed "voter fraud" and the lead he took during that time as the national face for the GOP's efforts to enact Voter ID laws across the country. He was also the author of model legislation that has been enacted by Republican legislatures across the country that some have alleged are designed to make it more difficult for Democrats and minorities to vote. As I noted above, he was also for a time the head of a so-called "voter fraud" commission that President Trump created to investigate claims of fraud in the 2016 election that have largely been debunked. That commission was disbanded when it could not find evidence of such fraud and due to the fact that even many of Kobach's fellow Republican Secretaries of State refused to comply with his commission's request for private voter data regarding the election.
When we last talked about Kobach, he had lost the race for Kansas Governor last November after narrowly defeating the sitting Governor at the time Jeff Colyer, who took over that position when Sam Brownback was appointed to an Ambassadorial position by President Trump, for the Republican nomination. In January, meanwhile, Senator Pat Roberts announced that he would not run for a 6th term in the Senate, meaning that the race in the generally reliably Republican Sunflower State would be an open race. In the immediate aftermath of Roberts' announcement, Republican insiders began a search for a reliable potential nominee, initially settling on Secretary of State Mike Pompeo, formerly a Congressman from Kansas. Pompeo later stated that he would remain as Secretary of State but that hasn't stopped the speculation about him entering the race especially in the event that Kobach entered the race.
Given the fact that Republicans, and especially Senate Majority Leader Mitch McConnell, are concerned about maintaining their majority in the Senate the possibility of the Senate race becoming competitive in November 2020 is concerning. The GOP is already facing the potential of competitive races in Arizona, North Carolina, and Tennessee, where Lamar Alexander is also retiring at the end of his current term, and the party cannot afford to lose any more than a net of three seats to hold onto its majority. The prospect of Kobach winning the nomination is concerning given his performance in the Governor's race, whereas it's widely believed that a candidate like Pompeo would be able easily win in a state that President Trump won by nearly 250,000 votes in 2016. Whether they'll be able to find such a candidate remains to be seen, but Kobach is controversial enough even in a red state like Kansas that the GOP should be concerned about him winning the nomination next year.