Pressure Continues On Mike Pompeo To Run For Senate In Kansas
Republicans from around the country want Secretary of State Mike Pompeo to run for Senate in Kansas. Because they're afraid they can't win without him.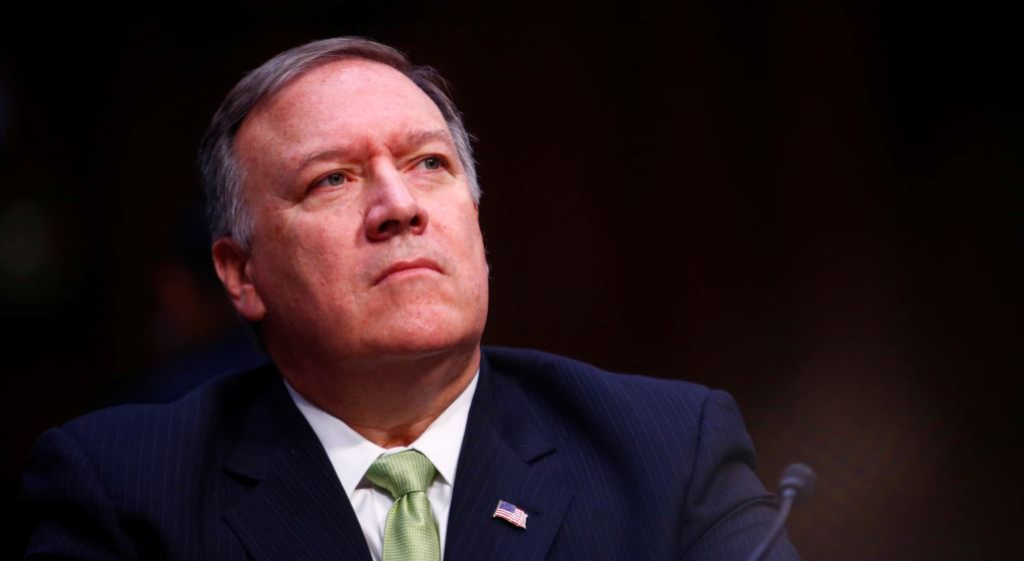 Top Republicans concerned about holding on to control of the Senate in 2020 continue to lobby Secretary of State Mike Pompeo to step down and run for the Senate in his home state:
They were the types of meetings more typical for a political candidate than for the nation's top diplomat.

But on a trip on Tuesday to New York, Secretary of State Mike Pompeo met with Ronald S. Lauder, the cosmetics heir and billionaire Republican donor, two people briefed on the meeting said, speaking on the condition of anonymity to describe a closed-door gathering. He then met with a conservative group, the Committee to Unleash Prosperity, which routinely hosts events with prospective candidates. That meeting included Steve Forbes, the chairman of Forbes Media; the economist Arthur B. Laffer; and John A. Catsimatidis, a former New York City mayoral candidate.

Mr. Pompeo's itinerary gave only more credence to the regular talk in Washington that Mr. Pompeo was seriously weighing a run for Senate from Kansas, a step favored by Republicans worried about holding the seat next year but one that would leave a hole in the top ranks of President Trump's national security team.

At the State Department, officials described widespread belief that Mr. Pompeo was on his way back to the American heartland. One senior United States official referred to the speculation as reaching a "fever pitch." Another senior official, recently retired, said it was widely believed Mr. Pompeo would leave soon — assuming he exited with Mr. Trump's blessing.

In television interviews on Tuesday, Mr. Pompeo said he had no immediate plans to run for Senate. "I'm going to be the secretary of state as long as President Trump continues to want me to be his secretary of state," Mr. Pompeo said on CNBC's "Squawk Box."

Asked what he would say if Mr. Trump urged him to run for Senate, Mr. Pompeo answered, "He and I'd have a serious conversation."

In an interview with The Washington Examiner published Wednesday, Mr. Pompeo insisted he would not leave his job. "I am going to stay here," he told the newspaper. "There's lots of people talking about it. The only one who's not talking about it is me."

The filing deadline to run for the Senate seat from Kansas is June 1. The incumbent, Pat Roberts, has announced he is retiring. But Mr. Pompeo's recent travels to Kansas, where he once served as a congressman — and a speech scheduled for Sept. 6 as part of a Kansas State University lecture series — have increased speculation about his plans.

People close to Mr. Pompeo declined to comment on his intentions, saying only that he was "focused" on his role as secretary of state.
More from Reuters:
Republican pressure on Secretary of State Mike Pompeo to run for the U.S. Senate next year to help keep the party's majority intact is coming up against President Donald Trump's hope of keeping one of his most trusted aides in his administration.

Senate Majority Leader Mitch McConnell and other Senate Republicans believe the former U.S. congressman from Kansas would be a strong candidate should he decide to run for one of the state's Senate seats in 2020.

"Secretary Pompeo would clear the field and guarantee the Senate stays Republican," said Scott Reed, senior political strategist at the U.S. Chamber of Commerce.

But Trump has grown increasingly reliant on Pompeo as he juggles a variety of global challenges and would prefer that he stay, several people familiar with the situation say.

A source close to the White House said Trump and Pompeo have discussed the Senate race.

"The president wants more seats in the Senate but doesn't want to lose Pompeo," the source said. "He's probably one of his most trusted aides."
Pompeo, 55, has aligned himself closely to Trump as he actively pursued his policies on Iran, North Korea, Venezuela and in the Middle East, and Trump has found him to be a strong successor to Rex Tillerson, whom the president derided as "dumb as a rock."

"I think there is some pressure within the White House to try to clear all this up. But the president wants him to stay," said a Republican campaign official.

One Republican official, who asked to remain unidentified, said there was some expectation that Pompeo would decide whether to run over the Labor Day holiday weekend that ends Sept. 2.

But a person familiar with Pompeo's thinking denied that was his plan.
All of this started in January just days after the new Congress had convened, when Kansas Senator Pat Roberts, who has served four terms in office and faces a re-election bid in 2020, announced that he would not stand for re-election and would retire at the end of his term. Within a day after he made this announcement, reports began to circulate that Kansas Republicans were already talking to Secretary of State and former Kansas Congressman Mike Pompeo to return to Kansas and run for Senate. One of the main reasons for that is the fact that Pompeo was widely seen as one of the few Kansas Republicans who could both hold off a potential bid for the nomination by controversial former Secretary of State Kris Kobach and win a General Election against a Kansas Democratic Party that has become increasingly successful in an otherwise Republican state. Senate Majority Leader Mitch McConnell even got into the act and met with Pompeo in an effort to get him to run for the seat to ensure that it stays in Republican hands. Pompeo appeared to be the kibosh on the matter in February when he appeared to shut down these discussions. Despite that announcement, though, discussions have continued behind the scenes as the risk of the GOP losing the Senate have seemingly increased in recent months.
One reason for the increased concern over the fate of the Senate seat in a state that is usually reliable Republican is the fact that former Kansas Secretary of State Kris Kobach entered the race in early July. Kobach, of course, has a controversial history due to his nationwide work combatting so-called "voter fraud" while working to help pass Voter ID laws that many opponents say are unfairly discriminatory toward minority voters. Kobach, of course, lost the race for Kansas Governor last November after narrowly defeating the sitting Governor at the time Jeff Colyer, who took over that position when Sam Brownback was appointed to an Ambassadorial position by President Trump, for the Republican nomination. The prospect of Kobach winning the nomination is concerning for Republicans given his performance in the Governor's race, whereas it's widely believed that a candidate like Pompeo would be able easily win in a state that President Trump won by nearly 250,000 votes in 2016. This is why the discussion about Pompeo has continued despite his seeming pass back in February.
It's entirely unclear what Pompeo will do here. As noted, there is some speculation that he could announce his intentions as early as some time after Labor Day but he technically has until June of next year to make a decision. As it stands, Pompeo is well-known and well-liked among Kansas Republicans so he could afford to wait a bit longer before getting into the race but it would probably be ideal to get a campaign started before the end of the year. Of course, the other key here is Donald Trump, who apparently likes Pompeo as his diplomatic voice. If the President asks him to stay, that's likely what Pompeo will do. If Trump gives his okay, though, then he may have to start looking for a new Secretary of State.