Mike Pompeo For Senate?
With Pat Roberts retiring, Kansas Republicans are reportedly looking at Secretary of State Mike Pompeo to succeed him.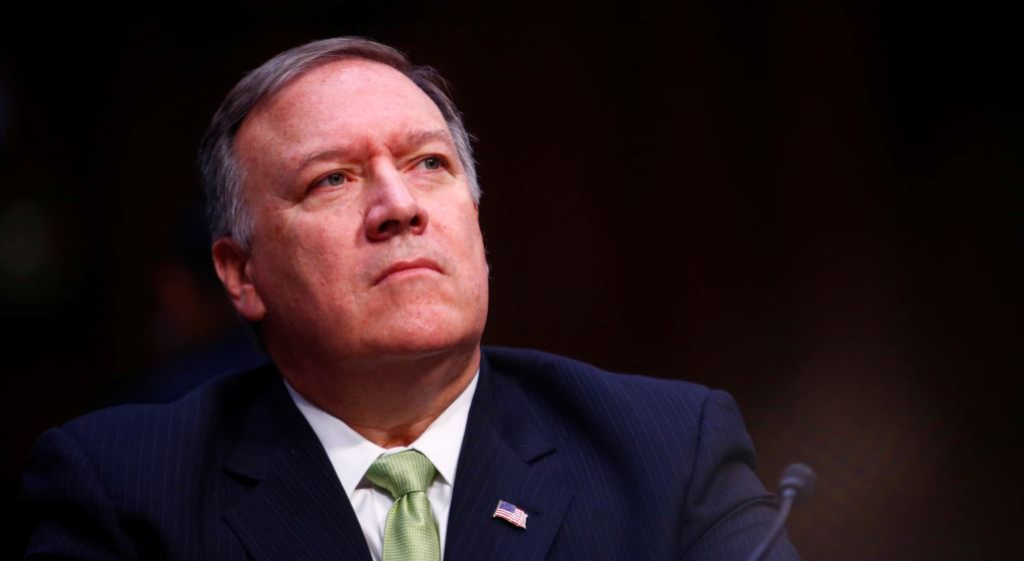 On Saturday, I made note of the fact that Senator Pat Roberts of Kansas had announced that he would not be running for re-election in 2020, making him the second Republican Senator to make such an announcement in the early days of the new year. Now it's being reported that one of the top recruits in the minds of Republicans to take his place is none other than the Secretary of State:
Senate Republican strategists are pushing Secretary of State Mike Pompeo as a failsafe candidate to keep retiring Sen. Pat Roberts's (Kan.) seat in Republican hands in 2020, fearing the state could give Democrats an upset victory.

The push comes as Kansas Republicans have been chastened by recent Democratic victories in the state's race for governor, where Laura Kelly beat conservative Republican Kris Kobach, and a key House race, where Democrat Sharice Davids beat incumbent Rep. Kevin Yoder (R).

"We lost a governor's race. We lost a key House race for a seat that was held by Republicans for several terms. We can't afford to head into November of 2020 worried about whether a Republican can hang onto the Senate seat in a Republican state like Kansas," said a Senate GOP strategist.

"If Mike Pompeo is the nominee in Kansas, the race comes off the map," the strategist added. "And, by the way, he would make a phenomenal senator."

Republicans are also worried about a strong Democratic performance in the 2020 presidential election, when Democratic turnout is typically stronger, and Trump's low popularity in suburban areas, as seen in the 2018 midterm election.

Strategists say that Sen. Ted Cruz's (R) narrow reelection over liberal Rep. Beto O'Rourke (D) in Texas opened their eyes to the danger faced by Republican candidates even in deep-red states because of the unpredictable political currents stoked by Trump.

"Trump has a serious problem with urban women," said a third GOP strategist with strong ties to Kansas.

"Even in Texas, there was a massive undervote where 300,000 Republican voters who supported Greg Abbot didn't support Cruz," the source added, referring to Texas Gov. Greg Abbott's reelection.

There's fear among Republicans that Trump may weigh on the federal race by turning off middle-of-the-road Republicans and suburban women.

The GOP strategist with Kansas ties noted that two lawmakers from the Kansas City suburbs, state Sen. Dinah Sykes and state Rep. Stephanie Clayton, last month announced they would leave the Republican Party to represent their districts as Democrats.

"I'm sure McConnell is nervous," the source said, speculating that Senate Majority Leader Mitch McConnell (R-Ky.) would love to see Pompeo run for Roberts's seat. "If you can have someone like Kevin Yoder lose in the 3rd District, I would be nervous. That state is purple."
That last highlighted statement is a fascinating one. The idea that Kansas, which has long been viewed as one of the reddest of all the red states, where a Republican has won the Presidential election in nearly every Presidential election since it as admitted to the Union, is turning purple in the slightest is something that comes as a shock to say the very least. Yes, it's true that a Democrat narrowly won the Governor's election in November but the state is still dominated by Republicans. At the same time, though, it's worth noting that Kansas Republicans have changed significantly since the days of Bob Dole and Nancy Kassabaum and that Roberts represents this older generation much more than the newer, Trump Era, Republican Party. That wing of the party is, of course, best represented by former Secretary of State Kris Kobach, who has made a career out of unsupported ideas about voter fraud and other ultra-conservative ideas. In addition to Kobach, Kansas is also coming out of eight years of Governor Sam Brownback, whose fiscal policies did significant damage to the state. Finally, there's the Trump factor and the fact that the President is becoming a turnoff to suburban voters even in some traditionally red states. Take all this together, and while it's unlikely that a Democrat could win the Sunflower State in 2020, the prospect of Kansas electing a Democratic Senator — something it has not done since George McGill was elected in the Election of 1932 and has only happened two other times since Kansas became a state — should not be entirely dismissed.
Pompeo, of course, had served as a Congressman from Kansas's Fourth Congressional District since being elected in 2010. After he won the 2016 election, the President nominated Pompeo to serve as Director of the Central Intelligence Agency where he served until April when he became Secretary of State after the departure of Rex Tillerson. I don't know enough about Kansas politics to speak to the question of whether he really is the strongest potential candidate that the state GOP has right now, but if it's true it will be interesting to see if he chooses to take them up on the offer or decides to stay at Foggy Bottom. Of course, if Pompeo does leave the State Department it would mean that Trump would have to nominate his third Secretary of State in three years.