Mike Pompeo Looks For An Exit
Secretary of State Mike Pompeo looks ready to jump ship in favor of a run for Senate,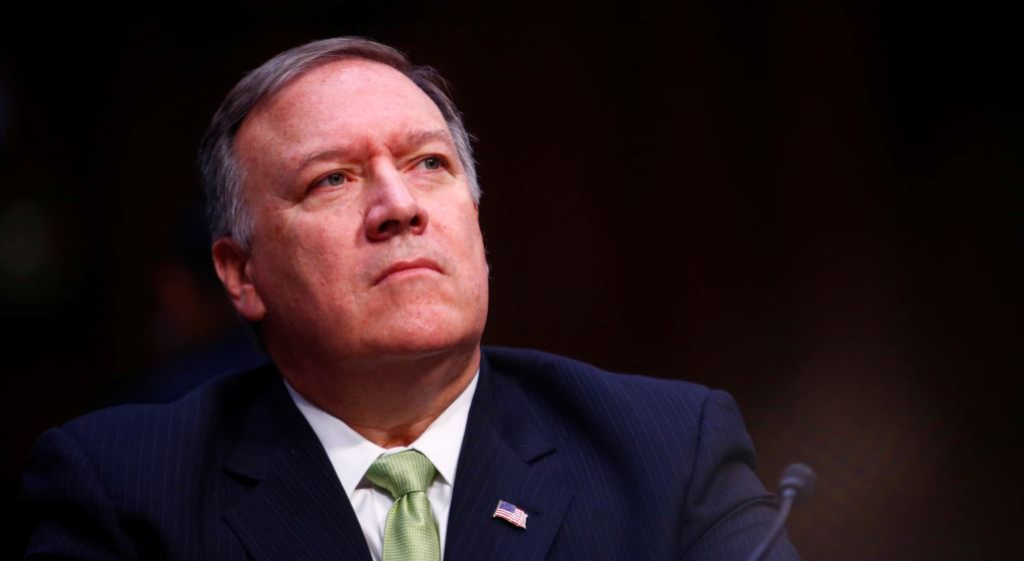 While the walls of impeachment continue to close around the Trump Administration, it appears that Secretary of State Mike Pompeo may be looking at bailing out and running for Senate back home in Kansas:
Secretary of State Mike Pompeo has told three prominent Republicans in recent weeks that he plans to resign from the Trump Administration to run for the U.S. Senate from Kansas in next year's elections. The problem: how to get out in one piece.

Pompeo's plan had been to remain at the State Department until early spring next year, the three Republicans tell TIME, but recent developments, including the House impeachment inquiry, are hurting him politically and straining his relationship with Trump.

So Pompeo is rethinking his calendar, say the top Republicans, one who served in the Trump Administration, another who remains in government, and a third who served in several high-ranking posts and is active in GOP politics. The timing of Pompeo's resignation now will be decided by his ability to navigate the smoothest possible exit from the administration, the three Republicans say.

There is no indication whether Pompeo has discussed his plans with President Trump. Rumors of a Pompeo Senate campaign have circulated for months, and while Pompeo has said repeatedly that he has no intention of running, he has not ruled out a race. Pompeo aides previously have denied he was planning to step down. They declined to comment on the record for this story.

"Secretary Pompeo is only focused on executing President Trump's foreign policy goals and completing the mission for the American people at the State Department. Anyone who says otherwise is just wrong," a person close with the Secretary said.

As impeachment hearings gain steam, Pompeo faces a dilemma, say the three prominent Republicans, all of whom requested anonymity to discuss private conversations with Pompeo. On the one hand, the longer he stays, the greater the criticism of his failure to defend veteran diplomats and longstanding U.S. policies against the President's politicization of foreign affairs. Pompeo has declined to defend by name either former ambassador to Ukraine Marie Yovanovitch or diplomat William Taylor, both of whom gave damning testimony against Trump this month.
While the impeachment proceedings are causing headaches for Pompeo in Washington, the Kansas City Star reports that he's still seen as the best chance the Kansas GOP has of holding on to an open Senate seat:
Despite damaging testimony and scorching criticism of his leadership of the State Department, national Republicans have not let up in their efforts to recruit Secretary of State Mike Pompeo for the 2020 Kansas Senate race.

Pompeo was on the July 25 phone call between President Donald Trump and Ukraine's president Volodymyr Zelensky that is at the center of the House impeachment inquiry. Current and former State Department officials have testified that they became alarmed at Trump's attempt to make military aid to Ukraine contingent on Zelensky announcing an investigation into a possible 2020 opponent, former Vice-President Joe Biden.

Pompeo has forcefully defended Trump's call.

Republicans tasked with keeping the party's majority in the U.S. Senate still see Pompeo as their best option in the open-seat race to succeed retiring Republican Sen. Pat Roberts.
All of this started in January just days after the new Congress had convened, when Kansas Senator Pat Roberts, who has served four terms in office and faces a re-election bid in 2020, announced that he would not stand for re-election and would retire at the end of his term. Within a day after he made this announcement, reports began to circulate that Kansas Republicans were already talking to Secretary of State and former Kansas Congressman Mike Pompeo to return to Kansas and run for Senate. One of the main reasons for that is the fact that Pompeo was widely seen as one of the few Kansas Republicans who could both hold off a potential bid for the nomination by controversial former Secretary of State Kris Kobach and win a General Election against a Kansas Democratic Party that has become increasingly successful in an otherwise Republican state. Senate Majority Leader Mitch McConnell even got into the act and met with Pompeo in an effort to get him to run for the seat to ensure that it stays in Republican hands. Pompeo appeared to be the kibosh on the matter in February when he appeared to shut down these discussions. Despite that announcement, though, discussions have continued behind the scenes as the risk of the GOP losing the Senate have increased in recent months.
One reason for the increased concern over the fate of the Senate seat in a state that is usually reliable Republican is the fact that former Kansas Secretary of State Kris Kobach entered the race in early July. Kobach, of course, has a controversial history due to his nationwide work combatting so-called "voter fraud" while working to help pass Voter ID laws that many opponents say are unfairly discriminatory toward minority voters. Kobach, of course, lost the race for Kansas Governor last November after narrowly defeating the sitting Governor at the time Jeff Colyer, who took over that position when Sam Brownback was appointed to an Ambassadorial position by President Trump, for the Republican nomination. The prospect of Kobach winning the nomination is concerning for Republicans given his performance in the Governor's race, whereas it's widely believed that a candidate like Pompeo would be able easily win in a state that President Trump won by nearly 250,000 votes in 2016. As the Star goes on to report, Pompeo is seen as the candidate best suited for both stopping Kobach and winning the seat next November:
A source familiar with the continuing recruitment effort said it is intended not as a personal slight to Marshall, but a political calculation.Pompeo is seen as the party's best shot at beating Kobach in the primary and outperforming Democrats in the general election, the source said.

Pompeo is seen as having the best chance, the person said, because he has national name ID and is a close associate of the president. He's been in Trump's Cabinet since the week he took office and would likely have the personal support of the president.

Trump's last-minute endorsement of Kobach before the primary election helped Kobach narrowly win the nomination for governor last year.

The NRSC panned Kobach when he announced his candidacy in June, saying it would "simultaneously put President Trump's presidency and Senate Majority at risk."

Kobach's campaign manager Steve Drake said Tuesday that establishment Republicans' fears about Kobach are related to illegal immigration, the issue around which Kobach has framed his campaign and much of his public life.

"Many in the establishment are afraid of a conservative who poses a serious threat to illegal immigration. They want a continuing supply of cheap, illegal labor. Others in the establishment want a Senator they think they can control," Drake said in a statement.

Pompeo's multiple trips to Kansas since Robertsannounced his retirement have fueled speculation that he could be laying the groundwork for a campaign, even though he has repeatedly downplayed his interest in public statements.

"I've answered this question. I think this is number 103 or 104 times," Pompeo told The Wichita Eagle last month when asked about his potential Senate candidacy during a visit to Wichita.
It's entirely unclear what Pompeo will do here. As noted, there is some speculation that he could announce his intentions soon but he technically has until June of next year to make a decision. As it stands, Pompeo is well-known and well-liked among Kansas Republicans so he could afford to wait a bit longer before getting into the race but it would probably be ideal to get a campaign started well before the filing deadline for the primary. Of course, the other key here is Donald Trump, who apparently likes Pompeo as his diplomatic voice. In that regard, Trump's latest comments on the matter are interesting:
President Trump on Friday said that he thought Secretary of State Mike Pompeo would "win in a landslide" if he ran for Senate amid speculation that Pompeo could launch a bid in Kansas.

"Mike has done an incredible job," Trump said in a "Fox & Friends" interview Friday of Pompeo's tenure as in the administration."He's an incredible guy doing a great job in a very complicated world, doing a great job as secretary of State."

Trump added, however, that if Pompeo thought there was a chance that Republicans would lose the 2020 Senate race in Kansas, he would run.

"Mike would win easily in Kansas," the president said. "He came to me and said 'Look, I'd rather stay where I am,' but he loves Kansas, he loves the people of Kansas. If he thought there was a chance of losing that seat, I think he would do that and he would win in a landslide."

Pompeo has repeatedly said that his focus is being Trump's secretary of State when asked whether he would run for Senate, but he does frequent interviews with Kansas state media and visited the state last month.

A number of candidates, including failed gubernatorial candidate and immigration hard-liner Kris Kobach, have already entered the race to replace retiring Kansas Sen. Pat Roberts (R).
Is this a sign that Pompeo is close to leaving? We'll see, but as the clouds of impeachment continue to hover the White House it would be best advised for him o get out sooner rather than later.