Donald Trump Falsely Claims He Won The Electoral Vote By A Landslide
Donald Trump claims he won an Electoral College landslide. This is a bald-faced lie.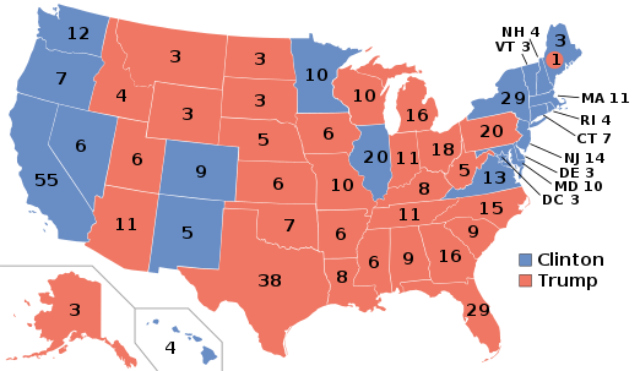 In addition to his seemingly baseless claim that the November 8th vote in several states that he lost was tainted by the fact that illegal immigrants were permitted to vote, Donald Trump claimed during his Sunday Tweetstorm that he won the Electoral College by a 'landslide."
In addition to winning the Electoral College in a landslide, I won the popular vote if you deduct the millions of people who voted illegally

— Donald J. Trump (@realDonaldTrump) November 27, 2016
In addition to Trump, others have claimed that Trump's November 8th win, the first by a Republican candidate for President since President George W. Bush won re-election over John Kerry in what amounted to an Electoral College nail-biter, others have made similar claims in the three weeeks since the election. For example, Republican National Committee Chairman Reince Preibus, who will become White House Chief of Staff on Inauguration Day, was making the claim just days after the election on all three three network television shows:On Good Morning America, for example, Preibus put it this way; "And look what happened on Tuesday. I mean, it was an electoral landslide and the American people agreed that Donald Trump's vision for America is what this country has been waiting for."
As things presently stand, Trump won 306 Electoral Votes to 232 for Hillary Clinton, for a difference of 74 Electoral Votes. This is smaller than the 126 Electoral Votes that separated President Obama and Mitt Romney in 2012, and the 173 Electoral Votes that separated Obama and Senator John McCain in 2008. Rather than being a landslide, Trump's Electoral College win was the closest since George W. Bush won re-election with a 35 Electoral Vote margin over then Senator John Kerry. That hardly qualifies as a 'landslide,' of course and is a reflection of the fact that Trump lost the Popular Vote and only won many states, such as Wisconsin, by less than one percent of the vote.. The last true landslide in the United States occurred in the 1984 Presidential Election, when President Reagan overwhelmed former Vice-President Walter Mondale with 525 Electoral Votes with wins in 49 of the 50 states, overwhelming former Walter Mondale's 13 Electoral Votes, which came from winning one state and the District of Columbia, for a margin of 512 Electoral Votes. One could also argue that George H.W. Bush's 1988 victory over Michael Dukakis, which came via a 315 Electoral Vote win in 40 states (versus Dukakis winning just ten states and the District of Columbia) also qualifies as a landslide, meaning that there would be three landslide wins in a row starting with 1980 and that five of the seven elections between 1964 and 1988 were landslide wins for one party or the other and that the other two, 1968 and 1976, were relatively close by comparison. In the case of 2016, though, it's fairly clear that the outcome was anything but a landslide win for Trump, his claims to the contrary notwithstanding.
On some level, of course, the margin of victory hardly matters. Whether Trump won by single digits in the Electoral College as George W. Bush did in 2000 or by more than 500 Electoral votes as President Reagan did in 1984, they will still become President of the United States and will still have the same power and authority granted to that office by Article II of the Constitution and Federal Law. Indeed, one could make the argument that Trump will have more power than Reagan did after his re-election because he will have a Congress completely controlled by his party rather than just control of the U.S. Senate as Reagan did in 1984. On the other hand, a President who comes into Washington with a large election win under their belt will arguably have a better chance at trying to persuade Congress to vote their way than one who won by their skin of their teeth. Of course, the mere fact that Trump won is in and of itself such a surprise given how the election was looking just days prior to November 8th that the fact that he won provides a boost that may be as much of a boost as a bigger Electoral College would have had. In the end, the question is not how big the victory is, though, it's what the candidate does with that win and that's something that we can't know at this point.