Trump Reverses Decision To Hold G-7 Summit At His Miami Golf Resort
After coming under fire for a decision designed primarily to benefit himself and his family, President Trump has decided to walk back the decision to hold the next G-7 Summit at one of his properties.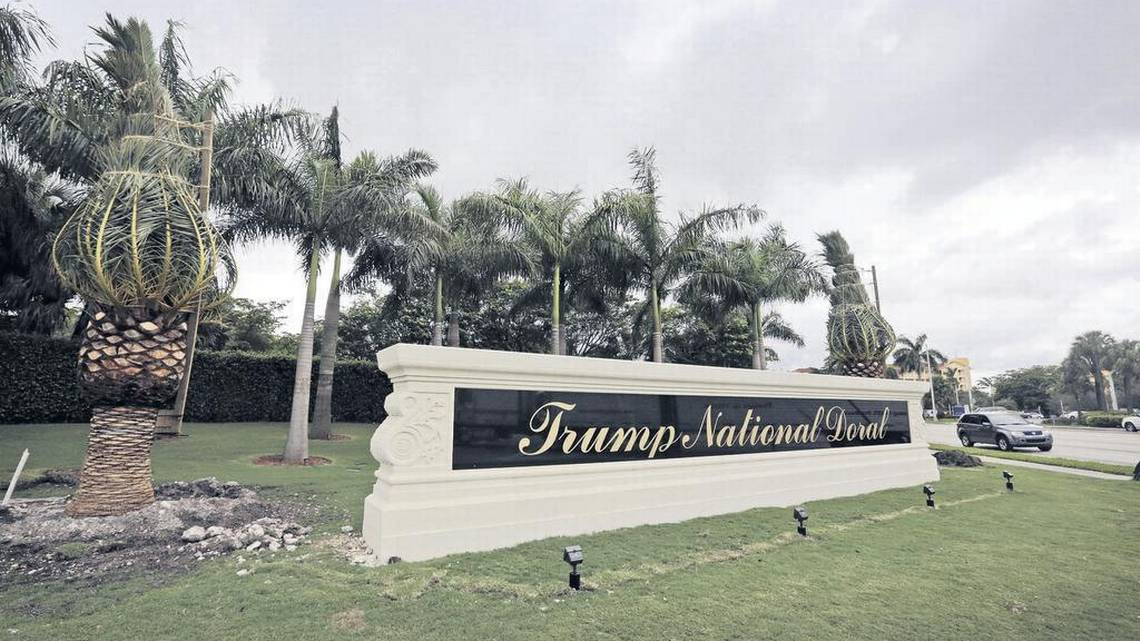 Just days after announcing that the 2020 G-7 Summit would be held at his financially strapped Trump National Doral Golf Resort, and facing heavy criticism for doing so, the President has withdrawn his decision amid a storm of criticism of media critics, government ethics experts, and even some fellow Republicans:
President Trump announced abruptly Saturday night that he would no longer host next year's Group of Seven summit at the Trump National Doral Miami resort in Florida, bowing to criticism for having selected his own property as the venue for a major diplomatic event.

Trump was buffeted by two straight days of allegations of self-dealing and exasperation from lawmakers on Capitol Hill, including some Republican allies who said the selection of Doral as the venue for a gathering of world leaders was indefensible.

The decision — while it lasted — was an unprecedented one in modern American politics: The president awarded a huge contract to himself. The White House promoted Doral as the single best venue in the United States to host the G-7 summit in June, and the meeting would have brought thousands of guests in the offseason to a resort that is struggling financially.

For months, Trump had touted Doral as an ideal venue to host visiting dignitaries, and acting White House chief of staff Mick Mulvaney made the choice official at a news conference Thursday.

But in a rare reversal in the face of public pressure for a president who prides himself in rarely folding or admitting failure, Trump said Saturday that he and his administration would search for a new location. He attributed the concession to "Irrational Hostility" from Democrats as well as the media, although the revolt among some Republicans may well have been the trigger.

In a trio of tweets late Saturday, Trump wrote, "I thought I was doing something very good for our Country by using Trump National Doral, in Miami, for hosting the G-7 Leaders. It is big, grand, on hundreds of acres, next to MIAMI INTERNATIONAL AIRPORT, has tremendous ballrooms & meeting rooms, and each delegation would have . . . its own 50 to 70 unit building. Would set up better than other alternatives. I announced that I would be willing to do it at NO PROFIT or, if legally permissible, at ZERO COST to the USA. But, as usual, the Hostile Media & their Democrat Partners went CRAZY!"

The president added: "Therefore, based on both Media & Democrat Crazed and Irrational Hostility, we will no longer consider Trump National Doral, Miami, as the Host Site for the G-7 in 2020. We will begin the search for another site, including the possibility of Camp David, immediately. Thank you!"

On Thursday, Mulvaney trumpeted Doral as the best property in the country to host a gathering of this nature. He said that after the president first recommended that the resort near Miami be considered, an advance team from the White House scouted it along with other sites. After considering locations in California, Colorado, Florida, Hawaii, Michigan, North Carolina, Tennessee and Utah, Doral was selected, Mulvaney said.

"I was aware of the political, sort of, criticism that we'd come under for doing it at Doral, which is why I was so surprised when the advance team called back and said that this is the perfect physical location to do this," Mulvaney told reporters.

Mulvaney's announcement sparked immediate criticism — not only from Democrats but also from some Republican lawmakers who ordinarily defend the president's actions.
Here are the President's tweets:
While Trump is blaming his critics for this, it's clear that someone in the White House got to him and talked sense to him about this decision. Turning a major international event into an opportunity to benefit the companies he still retains an interest in despite the alleged "trust" that he formed prior to becoming President. In addition to what seemed like obvious violations of the Domestic and Foreign Emoluments Clauses of the Constitution, the decision also appeared to violate several Federal ethics laws that may or may not apply to the President.
While Trump probably didn't care about the legal issues surrounding his decision, the fact that it came under widespread decision not just from Democrats but also from Republicans is likely one of the reasons for this decision. From the beginning, the assertion made by Acting Chief of Staff Mick Mulvaney that Doral was the best location in the country and that it was selected only after an "exhaustive" survey of alternative locations is absurd.
First of all, as I noted on social media the other day, the idea of holding an international summit in Miami in the middle of June is just absurd. While Miami is a nice place, it's also a hot, humid, kind of hellish place in the summer. Second , scheduling it for the beginning of the Atlantic hurricane season seems like a significant risk to me. What exactly would have happened, for example, if we were just days away from the summit and a Category 3 or 4 storm were aimed directly for the Miami area? Moving the summit at that point would not have been realistic.
Second, as I noted last week, the United States has hosted the G-7 Summit a number of times in the past at locations such as Puerto Rico, Williamsburg, Houston, Denver, Sea Island (Georgia), and Camp David. (Source) The idea that there was nowhere else in the United States that would be suited for a summit of this type is therefore absurd and laughable. We live in vast nation with plenty of perfect locations for a summit like this, many of them far more secluded and easier to secure than a golf resort that's virtually in downtown Miami and which would have required significant disruptions to air traffic patterns, commuter routes, and other logistical nightmares.
Given the fact that it's uncommon to see this President back down from a decision like this, it's worthwhile to wonder why it happened. It can't be the fact that the President came to be concerned about legalities, because he's made it clear in the past that he doesn't. He's also not concerned about the fact that he has clearly been using the Presidency to enrich himself and his family because he's been doing that since he became President. Indeed, some have suggested that the entire Presidential campaign was originally designed as a way to build "value" for the Trump "brand" and that he never really believed he was going to win. Finally, the negative reaction from Democrats and the media surely had nothing to do with it. Not only has he made it clear that he doesn't care about that criticism, he clearly relishes it. This leaves the fact that several top Republicans were critical of the idea both behind the scenes and in public. No doubt with an eye on impending impeachment, Trump is at least smart enough to know that he cannot afford to alienate the Republican Senators that will decide his fate.
Whatever the reason, Trump's decision to withdraw the G-7 from Doral deserves no praise whatsoever. The fact that he was corrupt enough to make the decision to select it in the first place is still a problem. He cares more about enriching himself and his family than he does about the country, and the decision to hold the summit at his property demonstrates that. The fact that he was forced, most likely reluctantly, to change his mind just demonstrates how bad the initial decision was.