Trump Thanks Putin For Expelling 755 American Diplomats
Donald Trump kowtows to Vladimir Putin yet again.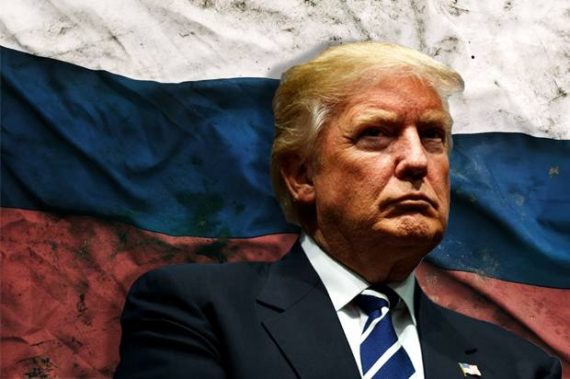 Late last month, after Congress overwhelmingly passed a bill that imposes new sanctions on Russia in retaliation for its interference in the 2016 Presidential campaign as well its actions against Ukraine and other neighbors, which President Trump ultimately signed into law after some speculation that he might veto it, Russian President Vladimir Putin took action against American diplomats stationed in Russia. First, mimicking an action that the Obama Administration had taken last December, the Russian Government seized two diplomatic properties used by the United States to support its embassy in Moscow and the staff that works there. In addition, Putin expelled more than 750 American diplomatic personnel from Russia, one of the harshest ordered reductions in staff by either country in more than thirty years and harkening back to the final days of the Cold War between the United States and the Soviet Union. Speaking yesterday with reporters from his golf club in New Jersey where he is vacationing, President Trump thanked Putin for taking this action, seemingly throwing nearly 1,000 diplomats and their families, along with the entire State Department, under the bus:
BRIDGEWATER, N.J. — President Trump offered gratitude rather than outrage on Thursday for Russia's decision to force the United States Embassy in Moscow to slash its personnel by 755 people, despite bipartisan condemnation from other American leaders who protested the Cold War-style move.

President Vladimir V. Putin last month ordered the seizure of two American diplomatic properties and directed the American Embassy staff in Russia be cut by more than half in retaliation for sanctions imposed by Congress because of Russia's meddling in last year's presidential election in the United States.

"I want to thank him because we're trying to cut down on payroll, and as far as I'm concerned, I'm very thankful that he let go of a large number of people, because now we have a smaller payroll," Mr. Trump told reporters at his golf club in Bedminster, N.J. "There's no real reason for them to go back. So I greatly appreciate the fact that we've been able to cut our payroll of the United States. We'll save a lot of money."

Mr. Trump said it with a somewhat light tone, but it was not clear if he was joking. A request to his spokeswoman for clarification was not immediately returned.

Either way, Mr. Trump's comment was in keeping with his practice of not criticizing Mr. Putin — no matter how tense relations between the two countries have grown.

Mr. Trump has repeatedly praised Mr. Putin as a strong leader who has done good things for Russia. Challenged once by a Fox News interviewer about whether Mr. Putin was actually a killer, given the repeated slayings of opposition leaders and independent journalists in Russia, Mr. Trump defended the Kremlin leader by saying, "There are a lot of killers. You think our country's so innocent?"

Mr. Putin's decision to slash the embassy staff recalled some of the most antagonistic moments of the long Cold War and was Russia's largest such move against the American diplomatic corps in decades.

As of 2013, the latest year that numbers are publicly available, 1,279 people worked at the United States Embassy in Moscow and at American consulates in St. Petersburg, Yekaterinburg and Vladivostok. The vast majority of those who will lose their jobs are Russian nationals, not American diplomats, who will be brought home. Assuming the current force is about the same, Mr. Putin's order will require a nearly 60 percent reduction.

Mr. Putin said he was reducing the American government's overall presence to the equivalent of the Russian presence in the United States. But the total staff includes more than just State Department diplomats; other American government agencies have employees stationed in Russia, including the Departments of Agriculture and Commerce, NASA and the Library of Congress.

American officials said the reduction ordered by Mr. Putin will have a significant effect on services, resulting, for example, in much slower processing of visas for Russian travelers to the United States. Another major function of any embassy is to collect local information and intelligence to inform policy makers back home, which will likely be hindered as a result.

"Cutting our staff by 755 people will do tremendous damage to our diplomatic mission in Russia," said Michael A. McFaul, who was ambassador to Russia under President Barack Obama. "That our president does not appreciate this obvious fact suggests he doesn't understand what embassies do in the pursuit of American national interests."
There are, of course, several flaws in Trump's statement that demonstrate that either he doesn't know how the world works, that he quite simply doesn't care. First of all, Trump's assertion that this will somehow save money on payroll is false. These diplomats are civil service employees and members of the foreign service. They aren't going to be fired because they've been banned from Russia. Some will be reassigned to other countries, other will be put to work in Washington, D.C. Second, this is precisely the wrong response to an action like this. It makes Trump, and the United States, seem weak, and plays right into Putin's hands, which is something that Trump has also done with regard to the NATO alliance and American policy in Syria. Finally, for a guy who claims that his campaign didn't collaborate with Russia and that he is a "strong" President, this is yet another example of Trump taking action that is entirely consistent with what Putin wants. How you interpret that is up to you, but it certainly seems odd to me.
This, of course, is just the latest example of President Trump seeming to kowtow to the Russian President while simultaneously making critical comments about long-standing American allies in Europe and appearing at least initially to stand up firmly for the mutual self-defense provisions that the NATO alliance created. In the past he has praised Putin as a strong leader, often negatively comparing former President Obama to him, with Putin, of course, being the positive example because he was "strong" or something. When asked about the reports that Putin had been responsible for the death and imprisonment of journalists and political opponents, Trump responded by telling a reporter that 'we kill people too,' thus implying a moral equivalency that simply doesn't exist. Trump also noticed that at several points during the 2016 campaign, Putin made seemingly obsequiously positive comments about Trump that were clearly designed to stroke Trump's ego. In response, Trump opined that if a guy like Putin liked him, then he must be doing something right. Even before the allegations regarding Russian interference in the election and contacts between people close to Trump and Russian officials, Trump was making headlines by seeming to cozy up to the Russian dictator in ways that no American President had ever even conceived of doing.
If this weren't actually happening, I'd think it was all some bizarre dream.