Donald Trump's Disturbing, Disqualifying Love Affair With Vladimir Putin
Donald Trump's admiration and praise for the dictatorial leader of Russia should be sufficient reason to disqualify him from being President of the United States.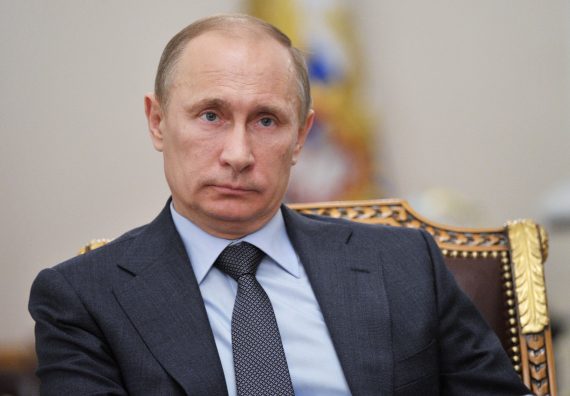 During this week's foreign policy forum on MSNBC, Donald Trump returned to an old theme, praising Russian President Vladimir Putin:
Republican presidential nominee Donald Trump heaped more praise on Russian President Vladimir Putin during NBC's Commander-in-Chief forum on Wednesday.

Citing a high approval rating, Trump suggested Putin is a better leader thanPresident Barack Obama.

"I think when he calls me 'brilliant,' I'll take the compliment," Trump said, referring to a compliment the Russian leader was rumored to have given Trump in December 2015. (Putin later denied he called Trump "brilliant," saying he only said Trump was "a bright person.")

"If he says great things about me, I'm gonna say great things about him," Trump added.

Trump has praised Putin as an effective leader many times before. He has flippedon whether or not he's met the Russian leader, claiming on the campaign trail the two have never met while previously saying he "got to know him very well."

In July, Trump went as far as saying he hoped Russia had hacked Democratic presidential nominee Hillary Clinton's private email servers, which she used while serving as secretary of state. He declined to say whether Putin should stay out of the 2016 presidential election.

"I'm not going to tell Putin what to do. Why should I tell Putin what to do?" Trump said.
Despite attacks from Hillary Clinton and several Congressional Republicans, Trump's campaign is standing by the candidate's remarks and even Trump's running mate Mike Pence agrees with him:
After Republican presidential nominee Donald Trump praised Russian President Vladimir Putin ― who has censored journalists and artists critical of him anddiscriminated against the LGBT community ― for being a better leader than President Barack Obama, his running mate Indiana Gov. Mike Pence (R) on Thursday stood by Trump.

"I think it's inarguable that Vladimir Putin has been a stronger leader in his country than Barack Obama has been in this country," the GOP vice presidential nominee told CNN. "And that's going to change the day that Donald Trump becomes president."

At an NBC forum on national security held Wednesday, Trump said of Putin, whom he has frequently lauded: "Certainly, in that system, he's been a leader, far more than our president has been a leader."

Pence on Thursday clarified that Trump was not advocating for a dictatorship like Putin's.

"Donald Trump said last night he doesn't particularly like the system," he said.

Other Republicans also came to Trump's defense.

"America's dominance in the world has retreated because of the policies, direct orders of Barack Obama, and that has allowed Putin to be more robust," Rep. Steve King (R-Iowa) told MSNBC. "But if you're a Russian looking at this thing, you're going to think Barack Obama is weak, Putin is strong. I want a president that I see as strong and one sitting across, maybe, the chess board with Putin that I think he has a chance of winning. I don't think anybody thinks Obama wins in that today."
Trump is hardly the first conservative to praise Vladimir Putin, of course. Back in 2013 I noted that many so-called cultural conservatives seemed to be oddly enamored with the Russian President due to the fact that he had begun to maneuver himself into position as some sort of protector of Christianity notwithstanding the fact that religious sects other than the Russian Orthodox Church often find themselves subject to oppression not entirely dissimilar to what they experienced during the Soviet era. Since then, the praise for Putin from certain segments of the right only seems to be becoming more common notwithstanding the fact that it is well-established that this is the same person who has had political enemies murdered, used the power of the state to target and ultimately silence media outlets that have been critical of his rule, repressed freedom of speech, and, of course, used military power to invade sovereign nations and steal their territory and manipulating election results in the process. When questioned about these actions, Trump and others on the right who continue to praise Putin bizarrely dismiss them as if they are unimportant to an overall assessment of Putin as a leader. Indeed, it often seems as though these people are praising Putin in part because of the fact that he uses power to suppress those who disagree with him and get in his way.
In the end, though, the biggest reason that conservatives and people like Trump are so eager to praise Putin is because of their opposition to President Obama. Hailing Putin as a great leader is thus part of their argument that President Obama has been a weak, ineffectual leader who has failed to advance and protect American interests in the way that Putin has allegedly advanced and protected Russian interests. In many ways, the conservative view of Putin is not dissimilar to the way that many on the American left viewed Joseph Stalin in the 1930s, and at least back then the people who praised Stalin had the excuse that most of what we've learned about his reign of terror was unknown in the West at the time it was going on. This time around, there's no question about what Putin is doing, who he is oppressing, or the fact that he has engaged in a wide array of actions aimed at undermining American national interests around the world. The fact that Trump, Pence, and others on the right insist on praising him just so they can attack an American President is disturbing not only because of what it says about their own patriotism, but also because of what it says about their respect for civil liberties, the Rule of Law, and the Bill of Rights. In the end, it all comes down to undermining and criticizing the current President of the United States The fact that it also means heaping praise upon a former Communist and KGB agent is apparently something Trump is quite comfortable with. For that reason alone, he doesn't deserve to be President of the United States..
.