Pence And Trump Teams Clash As Pence Tries To Assert Control Of Republican Politics
Quietly, Mike Pence is seeking to create his own power base inside the GOP even as the White House pushes back.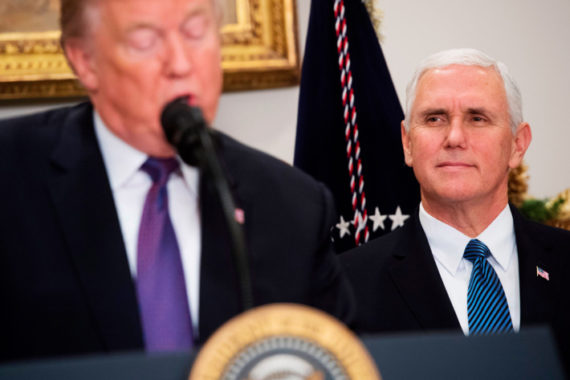 A trio of reports spread over three separate news agencies highlights what some are suggesting is something of a behind the scenes political battle between President Trump and Vice-President Pence, or at least between their staffs, that could have interesting implications for the future.
Up first is a report from Alexander Burns, Jonathan Martin, and Maggie Haberman at The New York Times about the Vice-President's efforts to assert some control over Republican Party politics that at the very least is frustrating some of the President's top aides:
While Mr. Trump remains an overpowering personality in Republican politics, he is mostly uninterested in the mechanics of managing a political party. His team of advisers is riven with personal divisions, and the White House has not yet crafted a strategy for the midterms. So Mr. Trump's supremely disciplined running mate has stepped into the void.

Republican officials now see Mr. Pence as seeking to exercise expansive control over a political party ostensibly helmed by Mr. Trump, tending to his own allies and interests even when the president's instincts lean in another direction. Even as he laces his public remarks with praise for the president, Mr. Pence and his influential chief of staff, Nick Ayers, are unsettling a group of Mr. Trump's fierce loyalists who fear they are forging a separate power base.

In addition to addressing dozens of party events in recent months, Mr. Pence has effectively made himself the frontman for America First Policies, an outside group set up to back Mr. Trump's agenda. He has keynoted more than a dozen of its events this year, traveling under its banner to states including Iowa and New Hampshire. And Mr. Pence has worked insistently to shape Mr. Trump's endorsements, prodding him in the contests for governor of Florida and speaker of the House, among others.

Word of the internal tensions is getting out beyond the walls of the White House: one prominent lawmaker said the complaints of high-ranking Trump officials were starting to circulate on Capitol Hill.

"They're looking for people to stay on the team, not break away from the team," Senator Lindsey Graham, Republican of South Carolina, said of the Trump side of the West Wing.
The article goes on to note the extent to which Pence, and especially those working under him, has worked to carve out his own identity and power base within the GOP, and even several instances where the Vice-President's staff and the West Wing clashed over hiring decisions that resulted in Pence snatching up key Republican advisers to work on the Pence team rather than the White House. Additionally, the report notes that, thanks in no small part to the fact that it is often forced to spend days acting or reacting to the latest tweet or campaign-style speech outburst from the President, the President's staff finds itself outmatched by the Pence team when it comes to building up support within the ranks of the Republican Party.
There have also been several instances during which Pence has gotten out ahead of the White House that has rankled top advisers to the President. One of the most recent incidents occurred just weeks ago when Pence effusively praised former Maricopa County Sheriff Joe Arpaio, who is running for the Republican nomination to succeed Jeff Flake as Arizona's junior Senator. Trump, of course, had a close relationship with Arpaio long before the campaign when the two of them were the most prominent voices in the so-called "birther" movement and pardoned Arpaio last year after he was convicted of contempt for ignoring the orders of a Federal Judge, his aides have reportedly held him back from intervening in the Arizona primary race at this time. In addition to being another example of the groveling that we've seen from Pence that led George Will to call him the worst person in Washington, Pence's move was also widely seen as a potential problem for the President and the GOP since it is widely perceived that an Arpaio win in the primary would effectively concede the raise to the likely Democratic nominee, Congresswoman Krysten Sinema.
Lastly, as the report notes, at least part of the reason for Pence's moves of late lies in the fact that the President seems rather uninterested in engaging in many of the party building efforts that we typically see a sitting President engaged in, especially in advance of midterm elections that will decide who controls Congress for the last two years of the President's current term in office. With notable exceptions, the President's primary political focus appears to be boosting his own political fortunes rather than those of people running for Congress or the Senate in key races. Perhaps the best example of that can be seen in the fact that, although Trump endorsed Roy Moore in last year's Special Election in Alabama, he didn't actually visit the state to campaign for him. Instead, he held a rally near Pensacola, Florida that Moore wasn't even present for. While that campaign-style rally did reach into the broadcast area for much of eastern Alabama and key areas such as Mobile, it also drew many people from the Florida panhandle who had no stake in the Alabama race and could not vote for Moore in any case. The same has largely been true of the other Special Elections held since Trump became President. To this extent, Trump has arguably created a vacuum in Republican Party politics that Pence has stepped in to fill.
As Chris Cillizza notes at CNN Politics, none of this should be surprising:
Pence, a former House member and governor, is very much a party guy – and as much as he might shy away from this title now – an establishment figure. Trump, who has been a Democrat, an independent and now a Republican, ran against and beat that establishment in 2016.
Pence wants to be president when Trump is done, and that means he is spending at least part of his time as VP accruing chits from other pols for future use. Trump is already president. And he could care less about goodwill with other GOP politicians since most of those people backed someone other than him in 2016.
Pence has surrounded himself with political/campaign people. Ayers managed former Minnesota Gov. Tim Pawlenty's 2012 presidential campaign and also served as executive director of the Republican Governors Association. Pence's communications director Jarrod Agen is another campaign veteran, having done work in California and Michigan — as well as serving as chief of staff to Michigan Gov. Rick Snyder. Trump has no such political team in place, largely surrounding himself with longtime friends and a smattering of military generals. Kellyanne Conway, a senior counselor to Trump, is a veteran campaign hand — and also Pence's former pollster.
This hasn't gone unnoticed by the White House, of course, and Politico notes this morning that Trump has also moved to push Pence aside when it suits him:
President Donald Trump wasn't planning to attend the recent National Rifle Association convention — that is, until he learned that Vice President Mike Pence would be giving the keynote address.

That led to a change of plans in the West Wing, according to two people familiar with the arrangement, and nearly a week after the NRA announced Pence would speak, the president was added to the schedule to speak moments after Pence.

It wasn't the first time Trump has changed his plans to one-up the veep. It was originally Pence, not Trump, who planned to travel to the World Economic Forum in Davos, Switzerland. But upon seeing who else would be attending, Trump decided to make the trip himself instead, bumping Pence off the schedule, according to a person familiar with the matter. A White House official said that neither scheduling decision was based on the vice president's plans.

And Trump is elbowing Pence out in other, smaller, ways: on Tuesday, the anti-abortion group Susan B. Anthony List announced Trump would be headlining its annual Washington gala this year, after Pence gave the keynote address last year. An official said that plan was weeks in the making.
It should be said up front that none of this means that Pence is even thinking about taking a radical step like challenging Trump for the Republican nomination in 2020. That is something that has not happened in the modern history of the United States, and it appears that the only time it happened seriously was in the Election of 1800 when Thomas Jefferson, who had become Vice-President when he came in second behind John Adams in the Election of 1796 and the two served together for four years even as they drifted apart politically and personally. Shortly after that, of course, the 12th Amendment was added to the Constitution and the President and Vice-President were turned from rivals in the Presidential race into a more or less united ticket. While there have been clashes between Presidents and Vice-Presidents in the past, and even more commonly between the men and women who work for them, we have not seen an outright political rivalry and we're not likely to see that here. Indeed, as Will noted in his column, and as I wrote at the time, Pence has been obsequious in his praise for the President even when he is engaged in the worst possible behavior for any human being never mind the President of the United States.
Some have suggested that one reason for Pence's moves have been because he and his advisers sense that Trump may ultimately decide not to run for reelection in 2020. While that's a possibility that cannot be dismissed entirely, it seems entirely unlikely for a variety of reasons, as I explained last month:
Trump himself is certainly moving forward like someone who intends on running for re-election in two years. He set up a re-election campaign only a year after entering office, an unusual move for a first-term President but one that allows him to conduct the campaign-style rallies that he clearly loves to do. He's hired a campaign manager who has taken the lead in being one of the leading cheerleaders for the President outside the White House, and he's acting for all the world like someone who plans on running for re-election. He could end up pulling the plug on all of this and following in Lyndon Johnson's footsteps. Such a move wouldn't be typical for Trump, though. Say what you will about him, but he doesn't strike me as someone who would just give up and walk away. Many people have said that he entered the race in 2015 never thinking that he'd win the GOP nomination, never mind the Presidency itself. Now that he has, though, I don't see him giving it up without a fight unless something changes drastically in the next two years. As things stand right now though, my thought is that contra Scarborough's supposition, Trump will stand for re-election and that he will, at least initially, be favored to win.
Instead, it seems as though Pence is attempting to set himself apart from the President, and to distance himself from things such as the Russia investigation, the President's incendiary tweets and rhetoric, and the chaos emanating from the West Wing, in the hope that doing so will help him become the natural successor to the President in 2024 after what would, Pence and his team obviously hope, would be a generally successful eight years in office. The problem for Pence in this strategy is that all this careful planning could all be for nothing if the President ends up losing a bid for re-election for 2020 or if he runs into even deeper scandal due to the Russia investigation or other matters. In that case, Pence would be facing uphill odds in an effort to make a comeback in a post-Trump America regardless of what happens to the Republican Party in the meantime.