Trump Likely to be Favored in 2020
The campaign-agnostic political science models predicted a toss-up in 2016 and again in 2020.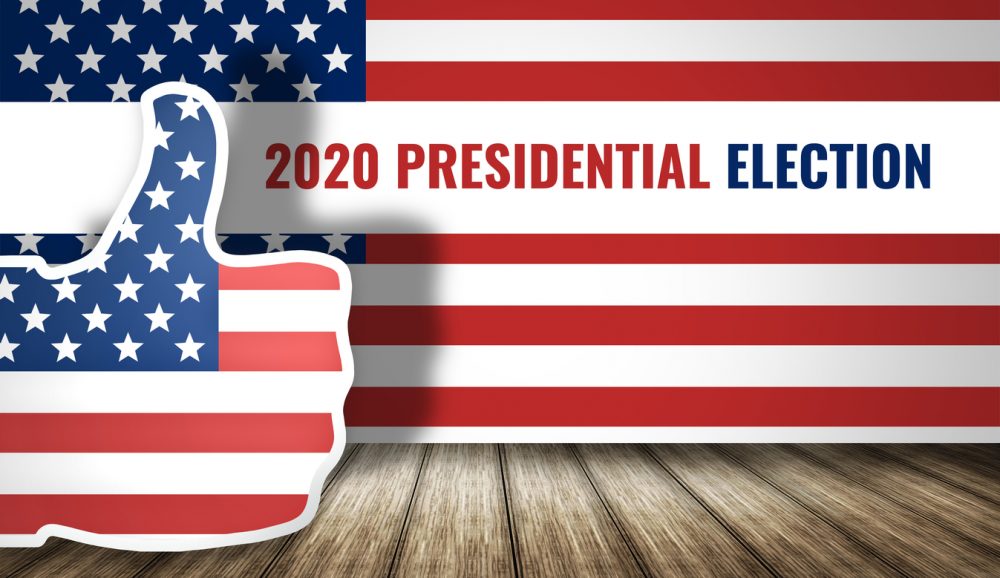 Kyle Kondik, the managing editor of Larry Sabato's Crystal Ball, warns: "Underestimate Trump's Reelection Odds at Your Own Peril."
One might have done better in predicting the 2016 presidential election, or at least in anticipating the very close eventual outcome, by basing a projection of the national popular vote on the findings of several political science models released prior to the election. These models, which were compiled by James Campbell of the University at Buffalo, SUNY and printed in both PS: Political Science and Politics and here at the Crystal Ball, generally pointed to a close election. These models mostly made their predictions several months in advance of the election and were based on the incumbent's approval rating, the economy, and other "fundamental" factors.

Most of the models, accurately as it turned out, showed Hillary Clinton winning the national two-party popular vote. But the average of the 11 models showed Clinton winning just 50.8% of the two-party vote, with the median projection showing her winning 51.0%. Both the average and the median were basically spot-on, given that Clinton ended up getting 51.1% of the two-party vote. Donald Trump's strength among white voters who do not hold a four-year college degree allowed him to win the Electoral College because of the overconcentration of these voters in several electorally important swing states in the Rust Belt. National polls showed a similarly small lead for Clinton on Election Day, although Clinton's leads in these polls were generally larger than her eventual margin for much of the 2016 calendar year.

I bring this up just to note that, as we begin to assess Donald Trump's reelection odds, it seems possible that the polls and the election models will again be at odds in 2020.

One of the models included in Campbell's 2016 survey was the Time for Change model, created by Crystal Ball Senior Columnist Alan Abramowitz of Emory University. Abramowitz's model was one of just two to project Trump winning the national popular vote in 2016 (by three points), in part because it emphasizes the electoral advantage that an incumbent running for reelection enjoys, and 2016 lacked an incumbent. Trump underperformed the model's prediction by five points in terms of margin, as Abramowitz himself suggested Trump would prior to the election.

The model gives a bonus to an incumbent who is seeking his party's second straight term in the White House, meaning it very well could smile on Trump in 2020 while being more bearish on someone like George H.W. Bush in 1992. That year, Bush was running for his second-consecutive term, but his party's fourth-straight term (Bush lost to Bill Clinton). The Abramowitz model also incorporates the incumbent president's approval rating in the Gallup national poll and the state of the economy, as measured by quarterly GDP growth.
It is, of course, absurdly early to make those projections two-and-a-half years out. But Kondik does so anyway to make a point:
The Abramowitz model will make its 2020 projection officially using 2020's second quarter GDP growth and whatever Trump's approval is at that time. Still, we can plug in current numbers to give a sense of what the model might project. Right now, Trump's net approval rating is -16 points according to Gallup (39% approve/55% disapprove), and 2017's fourth quarter GDP growth (the most recent quarter available) was 2.9%, according to the most recent revision from the Bureau of Economic Analysis. Using those figures in Abramowitz's model projects Trump with 51.6% of the national two-party vote. Even if Trump were to underperform the model again, like he did in 2016, it would still make the election a Toss-up, especially because Trump could win again without winning the national popular vote given the demographic patterns of his support.

So the United States could reelect an incumbent president with an average approval in low 40s? Yes. And, actually, that's perhaps what we should even expect given the performance of similarly-situated incumbents across many different countries.
It seems absurd that an incumbent president who's wildly unpopular and seems to make gaffes on an hourly basis could get re-elected, much less should be favored.  But political science research has demonstrated again and again that, despite the media and political junkie obsession with the horserace and minutia of the campaign, the underlying "fundamentals" are far more important.
The biggest mistake analysts made in 2016 was believing that Trump was such a weak candidate that he would prove to be unelectable even though a close reading of historical results, both in the United States and elsewhere, suggested that any Republican would be a formidable contender for the White House in a year like 2016, when the Democrats were attempting the difficult task of winning the presidency a third consecutive time (and they had nominated a weak candidate to face Trump). That same history, a history that is built into models like the Ipsos and Abramowitz models, suggests an incumbent in Trump's position will not be a pushover unless his approval and/or the economy significantly decline from their present levels.
It is, of course, possible that Trump's approval will indeed fall. But there's good reason to believe that they're about as low as they can go; the base—including white Evangelical Christians—is actually more staunchly behind him than ever.
It is also possible that Trump won't be on the ballot. While he has already announced his plans to run for re-election, he could change his mind over the next two years. He would be 73, which is awfully old to be running for another four-year term in the most demanding job on the planet. Less likely, he could be beaten in the Republican primaries—although, again, he's very popular among the hard core that comprises the nominating electorate. It's also possible that a combination of damning findings from the Mueller investigation and a Democratic takeover of the Congress pursuant to this November's midterms would lead to Trump's impeachment and removal from office; that, however, is extremely unlikely.
Regardless, as I've often noted, re-electing presidents is the default position. In elections in my lifetime, we've re-elected Richard Nixon, Ronald Reagan, Bill Clinton, George W. Bush, and Barack Obama (making back-to-back-to-back two-term presidents). We've only failed to re-elect Jimmy Carter and George H. W. Bush.*
__________
*I don't count Lyndon Johnson or Gerald Ford, both of whom assumed the presidency initially without being elected. Johnson was elected in his own right in 1964 and declined to run, knowing he would likely lose, in 1968. Ford was defeated, quite narrowly, by Carter but had never been elected.