Loathing Beats Loyalty
Was the 2016 contest unique, or are we destined to forever vote against the candidate we hate most?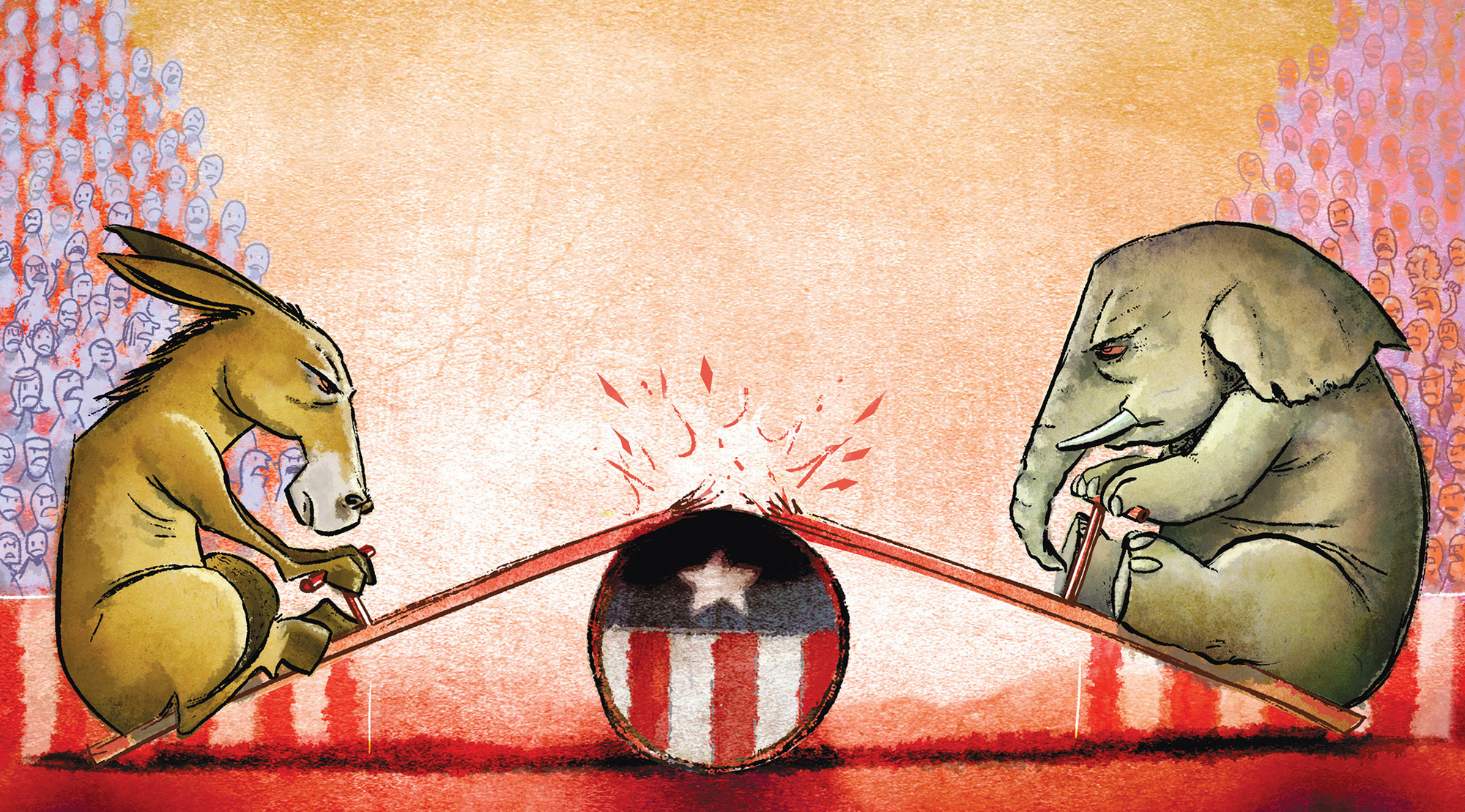 Thomas B. Edsall points to a depressingly obvious fact in his NYT column "What Motivates Voters More Than Loyalty? Loathing."*
Hostility to the opposition party and its candidates has now reached a level where loathing motivates voters more than loyalty.

The building strength of partisan antipathy — "negative partisanship" — has radically altered politics. Anger has become the primary tool for motivating voters. Ticket splitting is dying out. But perhaps the most important consequence of the current power of political anger is that there has been a marked decline in the accountability of public officials to the electorate.

How bad is this problem? In "The Strengthening of Partisan Affect," Shanto Iyengar and Masha Krupenkin, political scientists at Stanford, note that

We find that as animosity toward the opposing party has intensified, it has taken on a new role as the prime motivator in partisans' political lives.

Iyengar and Krupenkin argue that, "the impact of feelings toward the out-party on both vote choice and the decision to participate has increased since 2000; today it is out-group animus rather than in-group favoritism that drives political behavior."

Along parallel lines, Alan Abramowitz and Steven Webster, political scientists at Emory University, argue that "one of the most important trends in American politics over the past several decades has been the rise of negative partisanship in the electorate."

In "All Politics is National: The Rise of Negative Partisanship and the Nationalization of U.S. House and Senate Elections in the 21st Century," Abramowitz and Webster make the case that, "To a greater extent than at any time in the post-World War II era, the outcomes of elections below the presidential level reflect the outcomes of presidential elections. As a result, the famous comment by the late Tip O'Neill that "all politics is local" now seems rather quaint. In the 21st century United States, it increasingly appears that all politics is national."

The practice of voting against rather than for has grown steadily since the 2000 election, but it reached new heights in 2016, when both major party nominees were viewed substantially more negatively than positively.

On Nov. 7, 2016, the day before the election, 58.5 percent of voters had an unfavorable view of Donald Trump and 54.4 percent felt the same way about Hillary Clinton, according to RealClearPolitics. Favorable views were 37.5 for Trump and 41.8 percent for Clinton.

Abramowitz and Webster compiled data from the 2012 and 2016 elections to show how much the level of anger among both Democratic and Republican voters increased over four years.

In 2012, 33 percent of Democrats and 43 percent of Republicans described themselves as angry at the opposing party's presidential candidate "most of the time" or "just about always." In 2016, the percentage of Democratic voters who said they were this angry at Trump rose to 73 percent, and the percentage of Republicans with that level of hostility toward Hillary Clinton rose to 66 percent.
I was with Edsall until here. It's entirely possible that 2016 was simply unique in that it's unlikely the two major parties will ever again simultaneously nominate such unlikable and tainted candidates.
This trend helps explain seemingly contradictory voter attitudes catalogued in both "All Politics is National" and a second Abramowitz-Webster paper, "Negative Partisanship: Why Americans Dislike Parties but Behave like Rabid Partisans."

From one vantage point, the view of each major party has steadily worsened. As Abramowitz and Webster point out, "The percentage of Americans with favorable opinions of both parties is now the lowest it has been since the American National Election Studies began asking this question in 1978."

At the same time, "record numbers of voters in 2016 were dissatisfied with their own party's presidential nominee." Trump and Clinton were the most unpopular major party candidates for president since the ANES introduced the feeling thermometer scale in 1968.

The "feeling thermometer scale" asks voters to rank candidates and institutions on a scale of 0 to 100, in which 100 is very warm or favorable, zero is very cold or unfavorable and 50 is neutral or no feeling.

The accompanying graphic shows that both Democrats and Republicans had favorable views of their own candidates from 1968 to 2012, ranging from 76.5 percent in 1968 to 78.5 percent in 2012. In 2016, however, with Trump and Clinton as the nominees, the thermometer rating dropped sharply to 60.9 percent.

Over the same period, "feeling thermometer" ratings of the opposition candidate fell sharply, from 56.2 in 1968 to 25.1 in 2012. In 2016, the ratings of the opposition candidate plummeted to 12.2.
So, again, we seem to be imputing a "trend" from a single data point.
We have plenty of evidence that negative campaigning works and that die-hard partisans, especially, often hate the other team and their imputed values than they love their own team. That has to especially be the case for Republicans hanging on to Donald Trump, whose policies and ethical practices they would otherwise be marching in the streets against. But the uptick since 2016 in this phenomenon may well be an artifact of the moment rather than a precursor.
Ditto:
According to Abramowitz and Webster, in 2016, "large majorities of Democrats and Republicans truly despised the opposing party's nominee." Voters were motivated to go to the polls to cast ballots against the opposition's nominee much more than to support their own party's choice. The key factor "in predicting party loyalty in the 2016 presidential election was how voters felt about the opposing party's presidential candidate."
As regular readers well know, this played out for me over the long 2016 campaign. While I'd become a less enthusiastic Republican over the years, I'd voted for every GOP presidential nominee for whom I was eligible to vote, from 1984 to 2012. While I didn't despise any Democratic nominee during that period except perhaps Bill Clinton, their negative characteristics sometimes helped motivate me to vote for Republican nominees for whom I was less than enthusiastic.
In 2016, it was obvious from essentially the beginning of the race that I could not support Trump. But Hillary Clinton was literally the worst nominee the Democrats could have chosen in terms of getting me to actually cross the aisle. That I ultimately did was a testament to how awful I thought Trump would be—and it turns out that I underestimated that.
Since, barring impeachment or tragedy, Trump is almost guaranteed to be the 2020 nominee, I'll almost surely vote Democrat again. It's unlikely that I'll do so enthusiastically.
It's quite conceivable that 2024 will pit decent candidates against one another. That's especially true if the GOP gets trounced in the 2018 midterms and Trump is humiliated in 2020. The trend toward negative voting can indeed be reversed.
_____________
*I've taken the liberty of converting unnecessary block quotes in the original piece to simple quotations, mostly because block quotes inside block quotes look strange in our layout. I typically leave them, anyway, but Edsall's quotations were often of only a sentence and never long enough to necessitate block quotes.