Mike Pence Thinks A Year Is Long Enough For The Russia Investigation
Mike Pence's obsequiousness to his master knows no limits.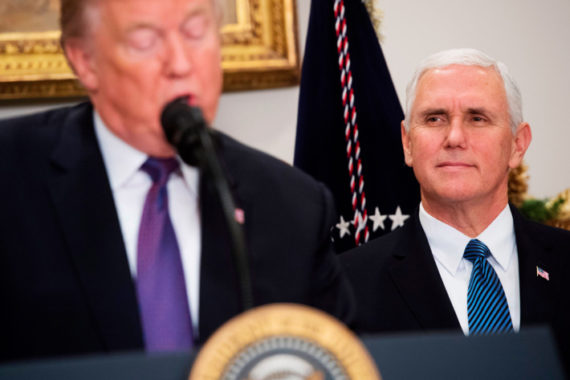 In an interview this morning with Andrea Mitchell of NBC News, Vice-President Mike Pence suggested that it was time for Special Counsel to shut down his investigation into Russian interference in the 2016 election, potential collusion between the Trump campaign and Russian officials, and efforts by the President and others to obstruct justice or otherwise undermine the investigation itself:
Vice President Pence on Thursday urged special counsel Robert S. Mueller III to bring his investigation into Russian election interference to a close, saying "it's time to wrap it up."

Pence's remarks echoed calls by President Trump and his lawyers, who have argued that there is no evidence of collusion between the Trump campaign and Russia and that Mueller is now seeking to trap Trump into committing perjury about his actions related to the investigation.

Pence was asked Thursday by NBC's Andrea Mitchell if he believes the investigation is a "hoax," as Trump has repeatedly characterized it.

"Our administration has been fully cooperating with the special counsel, and we'll continue to," Pence said. "What I think is that it's been about a year since this investigation began. Our administration has provided more than a million documents. We've fully cooperated in it, and in the interest of the country, I think it's time to wrap it up."

Pence added: "And I would very respectfully encourage the special counsel and his team to bring their work to completion."

Pence was interviewed at Joint Base Andrews, where he and Trump early Thursday greeted three Americans returning from North Korea after being held in custody.

Pence declined to comment on Michael Cohen, Trump's personal lawyer, who is at the center of a widening investigation of his business practices.

"What I can say is that that private matter is something that I don't have any knowledge about," Pence said. "I think the White House issued a statement saying the same."

Pence's remarks about Mueller drew flak later Thursday morning from Democrats, including Rep. Adam Schiff (Calif.), the ranking Democrat on the House Intelligence Committee.

"VP Pence has now brought his sycophancy to a whole new level," Schiff wrote on Twitter.

In arguing the investigation should continue, Schiff cited unanswered questions about what Trump's senior transition officials knew about former national security adviser Michael Flynn's discussions with the then-Russian ambassador, as well as "new revelations every day."
Here is Schiff's tweet in full:
VP Pence has now brought his sycophancy to a whole new level. With questions concerning which senior transition officials were aware of Flynn's secret talks w/ Russian Ambassador still unanswered and new revelations every day, investigation must continue without his interference. https://t.co/gXFdZVc15h

— Adam Schiff (@RepAdamSchiff) May 10, 2018
The Washington Post's Philip Bump notes that this is an interesting change in position for Pence considering the position his party has taken on past investigations:
[I]t's worth picking out Pence's assertion about the "interest of the country." What this means isn't clear, except that Trump is eager to be viewed more positively by the American public than he is and certainly sees the Russia investigation as an impediment to that. It seems clear that America will not soon mend its partisan differences and unify around any political leader, much less a president who's never been viewed with approval by even half the country. The "interest of the country," according to an April poll from The Washington Post and ABC News, is to continue the Mueller investigation, a position held by nearly 7 in 10 Americans, including 43 percent of Republicans.

What Pence is really saying is that a politically inconvenient thing should go away. There's not much more to it than that, and one need not read too far into things to get that message. What's striking, though, is how far that deviates from recent Republican attitudes toward investigations into their political opponents.

There's the Benghazi investigation, of course, which extended from the attacks in Libya in 2012 until about a month after the 2016 election. It was instrumental in affecting the 2016 election, not because it implicated Hillary Clinton in her role as secretary of state but because it exposed the private email server she used during that period, leading to the FBI investigation that reemerged right before Election Day.

But it wasn't just Benghazi. There was also the investigation into a failed 2009-2010 ATF program nicknamed "Fast and Furious," which involved selling guns to criminals in an effort to uncover trafficking networks but resulted in putting guns into criminals' hands with tragic results.

Republicans seized on "Fast and Furious" as a significant scandal in the early days of the administration of Barack Obama. Beginning in January 2011, shortly after Republicans regained control of the House, Republican members of Congress began pressing the administration hard on the issue. A preliminary report was issued that June.

That wasn't the end of the investigation. When Attorney General Eric Holder refused to provide documents related to the investigation, he was held in contempt by the House. That was in June 2012, about 18 months after Congress first started asking questions.

Among those voting to hold Holder in contempt? Pence, then a member of the House from Indiana.

The probe kept going. In July 2012, Republicans released another report on their investigation, part one of three. In September, the Department of Justice's inspector general released a report. The second part of the congressional report was released in late October 2012.

The third and final part? It came out last June in conjunction with a public hearing on the subject. Six years after questions began, questions continued.

Extricating politics from Congress's oversight role can be tricky. But clearly Republicans felt as though an extended dive into the Obama administration's handling of the ATF program was warranted. There were clearly partisan elements to the investigation, but also clearly issues that deserved more investigation.

The Mueller probe began about a year ago, picking up on an investigation that began in late July 2016. The overall Russia investigation, then, is a little under two years old. In that period of time, Mueller's team has already secured over a dozen indictments and four guilty pleas. The scope of the inquiry began at a much broader scope than the "Fast and Furious" investigation and has only grown since then. While it's been portrayed as partisan (often for partisan reasons), there's no indication that Mueller's leadership of the investigation is motivated by any partisan bias.

For Trump, it's inconvenient at best that the probe continues, just as it was inconvenient for Obama that the House kept poking around on "Fast and Furious." But that's not a reason to curtail an investigation.
As Bump goes on to note, if Pence were still in the House and Hillary Clinton had assumed the Presidency under a similar cloud it is extremely unlikely that he or any of his fellow Republicans would be calling for an end to investigations after less than a year. That fact can be established by the fact that even before the election, Jason Chaffetz, who at the time was the Chairman of the House Oversight Committee, said that he planned to begin investigations of Clinton, her time as Secretary of State, the Clinton Foundation, and Clinton's campaign as soon as the new Congress convened in January 2017. Somehow, I doubt that Pence would have objected if Chaffetz's investigations were still going on today, or if the F.B.I. had reopened investigations of Clinton's email server or the role of the Clinton Foundation and donations to the State Department while she served as Secretary of State. Indeed, he and other Republicans would most likely have been calling for the investigations to be expanded, not curtailed, and that they would have called for the appointment of a Mueller-esque Special Counsel to investigate Clinton because, of course, a Justice Department led by her Attorney General cannot be trusted to do the job on its own. And if by some chance, Clinton had done what Trump has done, it's rather obvious how Republicans like Pence would be responding.
Coincidentally, these remarks come a day after The Washington Post published a broadside from George Will that goes after Pence for the obsequiousness he has shown in the face of Trumpism:
Donald Trump, with his feral cunning, knew. The oleaginous Mike Pence, with his talent for toadyism and appetite for obsequiousness, could, Trump knew, become America's most repulsive public figure. And Pence, who has reached this pinnacle by dethroning his benefactor, is augmenting the public stock of useful knowledge. Because his is the authentic voice of today's lickspittle Republican Party, he clarifies this year's elections: Vote Republican to ratify groveling as governing.

Last June, a Trump Cabinet meeting featured testimonials offered to Dear Leader by his forelock-tugging colleagues. His chief of staff, Reince Priebus, caught the spirit of the worship service by thanking Trump for the "blessing" of being allowed to serve him. The hosannas poured forth from around the table, unredeemed by even a scintilla of insincerity. Priebus was soon deprived of his blessing, as was Tom Price. Before Price's ecstasy of public service was truncated because of his incontinent enthusiasm for charter flights, he was the secretary of health and human services who at the Cabinet meeting said, "I can't thank you enough for the privileges you've given me." The vice president chimed in but saved his best riff for a December Cabinet meeting when, as The Post's Aaron Blake calculated, Pence praised Trump once every 12 seconds for three minutes: "I'm deeply humbled. . . . " Judging by the number of times Pence announces himself "humbled," he might seem proud of his humility, but that is impossible because he is conspicuously devout and pride is a sin.

Between those two Cabinet meetings, Pence and his retinue flew to Indiana for the purpose of walking out of an Indianapolis Colts football game, thereby demonstrating that football players kneeling during the national anthem are intolerable to someone of Pence's refined sense of right and wrong.

(…)

Hoosiers, of whom Pence is one, sometimes say that although Abraham Lincoln was born in Kentucky and flourished in Illinois, he spent his formative years — December 1816 to March 1830 — in Indiana, which he left at age 21. Be that as it may, on Jan. 27, 1838, Lincoln, then 28, delivered his first great speech, to the Young Men's Lyceum in Springfield. Less than three months earlier, Elijah Lovejoy, an abolitionist newspaper editor in Alton, Ill., 67 miles from Springfield, was murdered by a pro-slavery mob. Without mentioning Lovejoy — it would have been unnecessary — Lincoln lamented that throughout America, "so lately famed for love of law and order," there was a "mobocratic spirit" among "the vicious portion of [the] population." So, "let reverence for the laws . . . become the political religion of the nation." Pence, one of evangelical Christians' favorite pin-ups, genuflects at various altars, as the mobocratic spirit and the vicious portion require.

It is said that one cannot blame people who applaud Arpaio and support his rehabilitators (Trump, Pence, et al.), because, well, globalization or health-care costs or something. Actually, one must either blame them or condescend to them as lacking moral agency. Republicans silent about Pence have no such excuse.

There will be negligible legislating by the next Congress, so ballots cast this November will be most important as validations or repudiations of the harmonizing voices of Trump, Pence, Arpaio and the like. Trump is what he is, a floundering, inarticulate jumble of gnawing insecurities and not-at-all compensating vanities, which is pathetic. Pence is what he has chosen to be, which is horrifying.
These remarks by Pence today only add to the list of the things that Will writes about in his column, and they essentially confirm everything that he said about the Vice-President. While it's understandable on some level that the Vice-President would be loyal to the President that selected him, the extent to which this Vice-President has been obsequiously loyal to the President even in the face of all the outrageous comments and other evidence that has mounted against Trump in the sixteen months since he became President. Whether it's the President's constant attacks on  Mexicans and Muslims, mocking disabled people, women such as Megyn Kelly and Carly Fiorina., the Access Hollywood tape, the credible accusations of sexual harassment and assault by more than a dozen women, or Trump's comments in the wake of the racist rally in Charlottesville last July, Pence has either been silent or has repeated the same nonsense he repeated in the Cabinet meeting that Will references above.'
Now, the Vice-President suggests that an investigation that is less than a year old has gone on long enough. He does this not because all the evidence has been uncovered but because the investigation itself, and the truths that it has already exposed, is politically investigation to his master. As Will says, one could almost excuse the way Trump acts because he's an old man who has gotten away with acting like this all his life so he sees no reason to change. Pence, on the other hand, is a supposedly moral man who, like other Republican's has sold his soul to the Trumpidian God. In some moral sense, that makes him worse than Trump and most certainly someone who should never be President in his own right.