What If Clinton Had Done What Trump Is Accused Of?
Imagine a world where Hillary Clinton was President and stood accused of the same things Donald Trump and his campaign are currently under investigation for.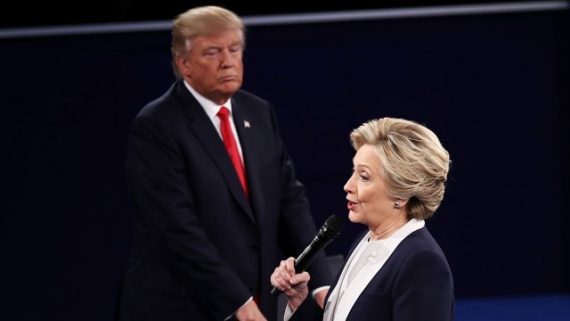 New York Times columnist Bret Stephens engages in a thought experiment:
 Imagine that President Hillary Clinton had agreed to release a partisan Democratic intelligence memo over the objections of Republicans in Congress and her own top F.B.I. officials that disclosure could harm national security.

Would conservative pundits and politicians:

(a) Praise President Clinton for abandoning her old habits of secrecy and standing strong on the side of transparency in government?

(b) Call for her impeachment on grounds that she had compromised national security for shamelessly self-serving political reasons?

Imagine, next, that the Clinton campaign had named as a foreign policy adviser a little known figure with scanty business or academic credentials but with strongly pro-Putin views and curious links to senior Russian officials. Imagine that this same adviser later testified to Congress that the Clinton campaign had asked him to sign a nondisclosure agreement after a trip he took to Russia during the height of the campaign. Imagine also that senior Clinton campaign officials at first denied and later had their memories "refreshed" about knowing him.

Would conservative pundits and politicians:

(a) Agree with Clinton administration spokespersons that, while the campaign had named him as an adviser, he had no role in anything and that his links to Russia were purely incidental?

(b) Agree with Democrats in Congress that the F.B.I. had no business whatsoever in surveilling him because a political dossier might have served as one basis of suspicion, and that his civil liberties had been seriously traduced?

(c) Note that his presence on the campaign was of a piece with Clinton's disastrous "reset" of relations with Russia under the Obama administration, and that it suggested a policy of appeasing the Kremlin at America's expense?

Imagine, finally, that after firing James Comey for insufficient loyalty, President Clinton had asked the deputy director of the F.B.I. how he had voted in the election in an Oval Office meeting. Imagine that after learning that he hadn't voted, she unleashed a campaign of public invective and belittlement aimed at his wife for having once run for state office as a Republican. Imagine, in this same connection, that the effort to oust the deputy director was only a warm-up to getting rid of the deputy attorney general, a well-regarded, straight-shooting Democrat who had appointed the special counsel looking into Clinton's Russia ties.

Would conservative pundits and politicians:

(a) Applaud President Clinton for taking a belated but necessary step to clean up a "politicized" Justice Department that had interfered against her at the end of the campaign, while also agreeing that the party affiliation of an F.B.I. official's spouse is a legitimate basis to suspect the official of disloyalty and partisan motives?

(b) Cast aspersions on the deputy attorney general for defending the work of the special counsel against the wishes of the president?

(c) Accuse the president of obstructing justice by smearing and effectively ousting upstanding public servants whose only sin was to do their jobs to the best of their abilities while, in one case, being married to a woman with political ambitions?
The answers to Stephens' questions are all rather obvious, of course. If Clinton had won the White House in November 2016, we had begun to hear about the same sort of allegations against her and her campaign that we've heard about Trump over the past fifteen months, and she had engaged in the same pattern of what seems to all the world like an effort to undermine and obstruct official investigations into the matter, the Republican Party would be screaming bloody murder. There would have been immediate calls from Republicans on Capitol Hill, from conservative pundits and media such as Fox News and other outlets, and from the base of the Republican Party for the appointment of a special counsel to investigate the matter since Clinton's own Justice Department obviously couldn't be trusted to investigate the matter fairly. If Republicans still held on to control of Congress, which likely would have been the case regardless of the size of any Clinton victory, there would have been called for the formation of Select Committees to investigate the matter, and we'd no doubt already be talking about Articles of Impeachment being drawn up against the newly elected President just as they had been brought against her husband. Even if the GOP didn't control Congress, they would be calling for investigations on a daily basis as would their base and the conservative media world. In fact, Stephens goes on to admit that he'd be joining in on those calls in his columns in this hypothetical universe.
We know all of this would be happening both because it would be entirely consistent with the hyperpartisan atmosphere on Capitol Hill and because of the way that Republicans acted back in the 1990s when Bill Clinton was President. Back then, Republicans spent much of the time after gaining control of the House in 1994 investigating various aspects of Bill Clinton's Administration in a manner which formed a model for the later investigations into the Obama Administration, many of which were of course directed at Clinton herself.   Indeed, more than one person has made the observation that the strategy of obstructionism and delay that characterized much of the strategy that Republicans on Capitol Hill  engaged in vis a vis President Obama since the day he took office had its roots in the confrontations, hearings, and conspiracy theories that typified much of the Bill Clinton Presidency and which, of course, reached its peak in an impeachment spectacle that now seems to be a foolish waste of time even according to many Republicans who were there at the time. Finally, as I noted, many of the investigations that have taken place since the GOP retook the House in 2010 involved Clinton in any case, including most prominently the myriad investigations into the September 2012 Benghazi attack so it would not exactly have been a surprise if Republicans reacted in the same way to the kind of hypothetical allegations that are part of Stephens' column.
In fact, it's likely that Republicans would have acted this way even if Stephens' scenario about what followed a Clinton victory had not played out. Even before Election Day in 2016, former Congressman Jason Chaffetz, who headed up the House Oversight Committee before stepping down from Congress last year, said that his committee would be investigating Clinton from Day One if she were to win the White House. The subject matter of what those investigations might have entailed are easy to imagine. Among the areas that the GOP most likely would have focused on are Clinton's email server, her handling of classified material, and the FBI investigation into that matter, the Clinton Foundation and the question of whether or not certain entities were given political favors while she served as Secretary of State, and lord only knows what conspiracy theory may have been derived from the election results. It's also likely there would have been yet more inquiries into the Benghazi attack because, well, it's become something of a Republican obsession that continues to come up even though Clinton lost the election and is unlikely to run for office again.
The point of Stephens' column, of course, is to point out the partisan hypocrisy of the Republicans on Capitol Hill who have taken to not only defending the President but also seemingly becoming willing accomplices in his efforts to undermine the investigations into Russian interference in the election and the question of contacts between the Russian government and people associated with President Trump during the campaign. To be fair, it's also largely accurate to say that many Democrats, as well as left-leaning pundits in the media, would likely be engaging in the same activity we're seeing from the right, but Stephens is focused here on his party and the fact that they have, as I've said before, largely become a party of Trump supporters, sycophants, sellouts and cowards. It's all rather pathetic, and one can't help but think that they will end up paying a price or all of this at some point in the future.