Are Today's College Students Dumber and Lazier?
The Wall Street Journal publishes a screed aimed at those about to graduate college.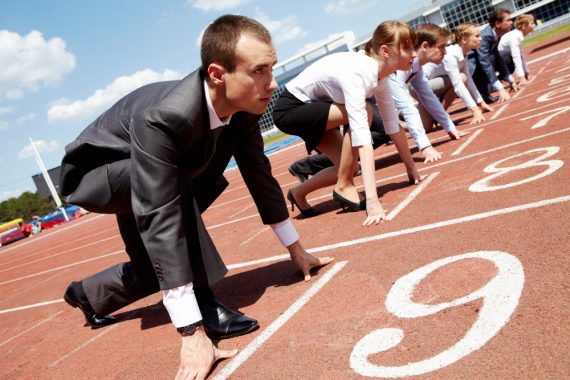 Mark Kleiman wonders "if Bret Stephens of the Wall Street Journal has any idea how mean, cranky, and stupid his ill-tempered, ill-mannered, ill-written open letter to the graduating class of 2012 makes him sound." My guess is not. Let's add ill-informed and ill-advised to the list while we're at it.
The content is predictable, following the form of many of the anti-Occupy screeds I've read over the last few months, and shockingly un-self aware.
Allow me to be the first one not to congratulate you. Through exertions that—let's be honest—were probably less than heroic, most of you have spent the last few years getting inflated grades in useless subjects in order to obtain a debased degree. Now you're entering a lousy economy, courtesy of the very president whom you, as freshmen, voted for with such enthusiasm. Please spare us the self-pity about how tough it is to look for a job while living with your parents. They're the ones who spent a fortune on your education only to get you back— return-to-sender, forwarding address unknown.
Things that are not the fault of the Class of 2012: grade inflation, degree debasement, the economy, the occupant of the White House, and their parents' spending habits.
Many people graduating from college this month were ineligible to vote in November 2008. Even those who were 18 and voted for Obama aren't responsible for a global economy that was already in the toilet when they were in high school. To degree to which Obama's policies contributed to the current situation is debatable; but even if you believe electing John McCain would have us all dining on filet mignon (doubtful) and that the 18-year-old vote was the difference (it wasn't) it's at best uncharitable to sneer at 21-year-olds for political calculations they made as teenagers.
No doubt some of you have overcome real hardships or taken real degrees. A couple of years ago I hired a summer intern from West Point. She came to the office directly from weeks of field exercises in which she kept a bulletproof vest on at all times, even while sleeping. She writes brilliantly and is as self-effacing as she is accomplished. Now she's in Afghanistan fighting the Taliban.

If you're like that intern, please feel free to feel sorry for yourself. Just remember she doesn't.
No doubt West Point cadets have chosen a harder path than the average college student. Then again, they have a guaranteed job with a middle class income waiting for them at graduation; the people you're sneering at don't.
Would it be too uncharitable of me to point out that military service is missing from Stephens' own resume? That he went to fancy schools (Chicago, LSE), quite possibly owing to a rich, successful father? And that he finished school at the height of the 1990s economy and landed a plum job right away? So, perhaps Stephens never had much reason to complain?
Unfortunately, dear graduates, chances are you're nothing like her. And since you're no longer children, at least officially, it's time someone tells you the facts of life. The otherfacts.

Fact One is that, in our "knowledge-based" economy, knowledge counts. Yet here you are, probably the least knowledgeable graduating class in history.

A few months ago, I interviewed a young man with an astonishingly high GPA from an Ivy League university and aspirations to write about Middle East politics. We got on the subject of the Suez Crisis of 1956. He was vaguely familiar with it. But he didn't know who was president of the United States in 1956. And he didn't know who succeeded that president.

Pop quiz, Class of '12: Do you?
Seriously?
Aside from the absurdity of generalizing about an entire age cohort based on one anecdote, judging them on the basis of their knowledge of fifty-six-year-old trivia is, well, odd.
I graduated college in 1987, which is closer in time to 1956 than today is to 1987. I'm pretty sure I knew who was president in 1956–although I'm not sure that I could have told you who was president in 1931, which is a more fair equivalent question. Nor, despite majoring in political science and minoring in history, am I confident I knew much about the Suez Crisis. (Granted, I wasn't hoping for a career writing about the Middle East.)
Many of you have been reared on the cliché that the purpose of education isn't to stuff your head with facts but to teach you how to think. Wrong. I routinely interview college students, mostly from top schools, and I notice that their brains are like old maps, with lots of blank spaces for the uncharted terrain. It's not that they lack for motivation or IQ. It's that they can't connect the dots when they don't know where the dots are in the first place.
Stephens and I are in rough agreement here. While the cliché is ultimately correct–most of the facts one is exposed to in college classes fade over time through lack of recall, so what's most important is the ability to make connections and ask questions–it's doubtless the also true that it's highly valuable to actually know things. The Google culture has given us the ability to look up details, further diminishing the motivation to memorize that was present in earlier generations. I do it myself dozens of times in a typical workday. But I also know a lot of basic facts which inform writing and allow me to make connections; I then use the Internet and other tools to fill in details.
But, again, Stephens is angry at 21- and 22-year-olds for a societal framework that they had nothing to do with creating.
Now to Fact Two: Your competition is global. Shape up. Don't end your days like a man I met a few weeks ago in Florida, complaining that Richard Nixon had caused his New York City business to fail by opening up China.

In places like Ireland, France, India and Spain, your most talented and ambitious peers are graduating into economies even more depressed than America's. Unlike you, they probably speak several languages. They may also have a degree in a hard science or engineering—skills that transfer easily to the more remunerative jobs in investment banks or global consultancies.
First, I'd note that Stephens is neither a scientist nor an engineer; his degrees are in government. As, in full disclosure, are mine.
Second, I don't know how many languages Stephens speaks. I do know that both of us, through sheer happenstance outside our control, are fluent in the one language that most matters–the one virtually everyone on the planet who isn't a native speaker chooses as their second language. I can also read and speak some German, although it's atrophied through non-use over the last two decades.
Which reminds me of Fact Three: Your prospective employers can smell BS from miles away. And most of you don't even know how badly you stink.

When did puffery become the American way? Probably around the time Norman Mailer came out with "Advertisements for Myself." But at least that was in the service of provoking an establishment that liked to cultivate an ideal of emotional restraint and public reserve.

To read through your CVs, dear graduates, is to be assaulted by endless Advertisements for Myself. Here you are, 21 or 22 years old, claiming to have accomplished feats in past summer internships or at your school newspaper that would be hard to credit in a biography of Walter Lippmann or Ernie Pyle.

If you're not too bright, you may think this kind of nonsense goes undetected; if you're a little brighter, you probably figure everyone does it so you must as well.

But the best of you don't do this kind of thing at all. You have an innate sense of modesty. You're confident that your résumé needs no embellishment. You understand that less is more.
Memo for Bret Stephens: CVs are supposed to be Advertisements for Myself. That's the whole point!
Do I get CVs from kids coming out of college and grad school that are a bit pompous? Sure. But, again, I don't blame that on the kids. They're told that the CV is supposed to list their accomplishments using a series of bullet points starting with a verb. You know most what kids coming out of college lack? Accomplishments. So, modeling their CVs on the examples in the books, they come up with laughable "achievements" about how getting coffee for you during their summer internship transformed the culture of the Wall Street Journal.
In every generation there's a strong tendency for everyone to think like everyone else. But your generation has an especially bad case, because your mass conformism is masked by the appearance of mass nonconformism.
Dude, you're not even 40. It's too early to be yelling at the kids to get off your lawn. There's not much evidence that this generation is much different from other recent generations.
It's a point I learned from my West Point intern, when I asked her what it was like to lead such a uniformed existence.

Her answer stayed with me: Wearing a uniform, she said, helped her figure out what it was that really distinguished her as an individual.

Now she's a second lieutenant, leading a life of meaning and honor, figuring out how to Think Different for the sake of a cause that counts. Not many of you will be able to follow in her precise footsteps, nor do you need to do so. But if you can just manage to tone down your egos, shape up your minds, and think unfashionable thoughts, you just might be able to do something worthy with your lives. And even get a job. Good luck!
I actually followed a similar path coming out of college. I don't recall individuality being a particularly prized quality among second lieutenants, although most of us had it. But all the kids you're talking to are hoping to get jobs, hopefully ones that they consider meaningful. Unfortunately–through no fault of their own–they're entering the work force at the worst time in decades. But I'm rather confident that some reasonable percentage of them will in fact "do something worthy" with their lives.
There's a seemingly irresistible temptation to see the past as a hardier time that the present. We imagine that those who went to college decades ago were uniformly studious scholars, thirsting for knowledge, while those in school now are spending all their time partying. Aside from societal differences–such as the elimination of the military draft and whether there's a war on, and the democratization of college entrance–it's mostly bunk. Plenty of those who graduated in the 1950s spent too much time partying and chasing girls, before getting more serious as they moved closer to graduation. And plenty of those in school now have their nose to the grindstone, hoping to better their circumstances.