Democrats Battling Over Party's Future
After seven years that mostly consisted of losing elections, there's a battle going on over which direction the party should head.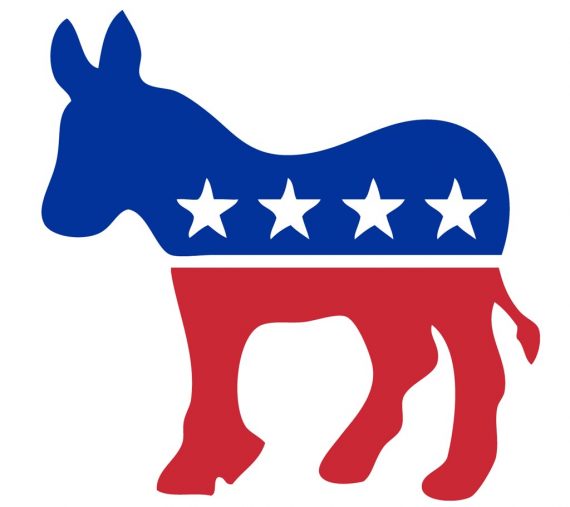 While much of the coverage of the primary races in 2016 focused on what was going on in the Republican Party as Donald Trump surprised critics, pundits, and politicians alike to win the Republican nomination over a field that included current and former Governors and Senators and political leaders such as Jeb Bush who had long been seen as formidable forces in the GOP, there was a battle going on in the Democratic Party. On the one side, there was, of course, Hillary Clinton, who represented the establishment of the party, had the backing of an overwhelming number of party insiders and elected officials and started out the campaign in such a strong position that it scared off serious challengers such as former Vice-President Biden and others who could have made the race difficult for her with appeals toward the minority voters and establishment politicians that largely made her primary win inevitable. The other side of the battle in the Democratic Party was represented by Bernie Sanders, who ironically isn't even officially a Democrat. In part because of his ability to draw large crowds and in part due to personal factors, Sanders did far better in the primary than anyone could have realistically expected when he entered the race. Because of Sanders' success, Hillary Clinton was forced to shift her own message to the left to such a degree that it arguably hurt her in the General Election. Nonetheless, the fundamental battle between the Democratic establishment represented by Clinton and the upstart progressives represented by Sanders became the defining
Since November, the battle inside the Democratic Party between progressives and the establishment continues, and there's every indication that it will continue well into the 2018 election cycle. Toward that end, forces on both sides are beginning to make their arguments for which the direction the party needs to take. In the short-term at least, inside party forces seem to think that they'll be successful by standing in opposition to President Trump, who remains very unpopular, and the Republicans. Progressives, meanwhile, continue to argue that the party needs to follow the example of Sanders and other politicians such as Elizabeth Warren and move to the left and adopt a platform decidedly to the left of center. Mark Penn and Andrew Stein, meanwhile, argue in today's New York Times that the Democratic Party needs to take a lesson from the Bill Clinton era and move back toward the center:
Central to the Democrats' diminishment has been their loss of support among working-class voters, who feel abandoned by the party's shift away from moderate positions on trade and immigration, from backing police and tough anti-crime measures, from trying to restore manufacturing jobs. They saw the party being mired too often in political correctness, transgender bathroom issues and policies offering more help to undocumented immigrants than to the heartland.
Bigger government handouts won't win working-class voters back. This is the fallacy of the left, believing that voters just need to be shown how much they are getting in government benefits. In reality, these voters see themselves as being penalized for maintaining the basic values of hard work, religion and family. It's also not all about guns and abortion. Bill Clinton and Barack Obama both won working-class voters despite relatively progressive views on those issues. Today, identity politics and disdain for religion are creating a new social divide that the Democrats need to bridge by embracing free speech on college campuses and respect for Catholics and people of other faiths who feel marginalized within the party.

There are plenty of good issues Democrats should be championing. They need to reject socialist ideas and adopt an agenda of renewed growth, greater protection for American workers and a return to fiscal responsibility. While the old brick-and-mortar economy is being regulated to death, the new tech-driven economy has been given a pass to flout labor laws with unregulated, low-paying gig jobs, to concentrate vast profits and to decimate retailing. Rural areas have been left without adequate broadband and with shrinking opportunities. The opioid crisis has spiraled out of control, killing tens of thousands, while pardons have been given to so-called nonviolent drug offenders. Repairing and expanding infrastructure, a classic Democratic issue, has been hijacked by President Trump — meaning Democrats have a chance to reach across the aisle to show they understand that voters like bipartisanship.

Immigration is also ripe for a solution from the center. Washington should restore the sanctity of America's borders, create a path to work permits and possibly citizenship, and give up on both building walls and defending sanctuary cities. On trade, Democrats should recognize that they can no longer simultaneously try to be the free-trade party and speak for the working class. They need to support fair trade and oppose manufacturing plants' moving jobs overseas, by imposing new taxes on such transfers while allowing repatriation of foreign profits. And the party seems to have forgotten that community policing combined with hiring more police officers worked in the '90s — and it will work again today. It can't be the party that failed to stop the rising murder rates in cities like Chicago.

Health care is the one area where the Democrats have gained the upper hand and have a coherent message about protecting the working poor from losing coverage. But the Affordable Care Act needs to be adjusted to control costs better, lest employer-sponsored health care become unaffordable. For now, the Democrats are right to hold the line in defending Obamacare in the face of Republican disunity.

(…)

Americans are looking for can-do Democrats in the mold of John F. Kennedy and Bill Clinton — leaders who rose above partisanship to unify the country, who defended human rights and equality passionately, and who also encouraged economic growth and rising wages. That is the road back to relevance, and the White House, for the Democrats.
Penn, of course, served as a pollster and political adviser for both Bill and Hillary Clinton while Stein's political career has included serving as Manhattan Borough President and President of the New York City Council. Both of them have long histories of being allied to the ideas of those who seek to steer the Democrats back toward the center rather than the forces that are seeking to move it further left. That being said, it strikes me that they are largely correct in their assessment of where the Democratic Party needs to go if it's going to bounce back. With the exception of the 2012 election, which saw the rather unsurprising re-election of a popular incumbent President during a time when the economy was in good shape, Democrats saw losses at the national and state levels during each of the elections during President Obama's time in office which ended up leaving Republicans in control of the majority of state legislatures and Governors mansions as well as unseating Democrats from the majority in both the House of Representatives and the Senate. Finally, of course, the GOP recaptured the White House with the most unlikely winning candidate modern politics has seen in quite some time. While one can argue that some of this is due to factors such as redistricting that has generally favored the GOP, it's also quite clear that Republicans were able to succeed electorally because Democrat had fallen out of favor with a large part of its base, white working class voter.
Penn and Stein are right about one thing, though. Even taking into account the probability that he will end up becoming less popular over the coming year, running against President Trump isn't going to be the panacea that many Democrats seem to think it will be, especially not in the short-term. For one thing, motivating voters takes more than just a "we're not as bad as the other guys" message, especially in a midterm election where the voters that Democrats rely on the most are less likely to turn out. For another, in addition to motivating their own base, such a message is likely to motivate supporter of the President to turnout as well, perhaps in numbers that will offset any increase we see among Democratic turnout for midterms. That means Democrats are going to have to find a way to get back the voter they lost over the past seven years. Penn and Stein's proposal that the party speak more to the issues that those voters care about, rather than the ideological crusades of the progressive, seems from the outside like a good place to start.