Trump To Sign Funding Bill, Declare 'National Emergency' At Border
The President will sign the bill to fund the government and avert another government shutdown, but in doing so he'll also lay the groundwork for another showdown with Congress.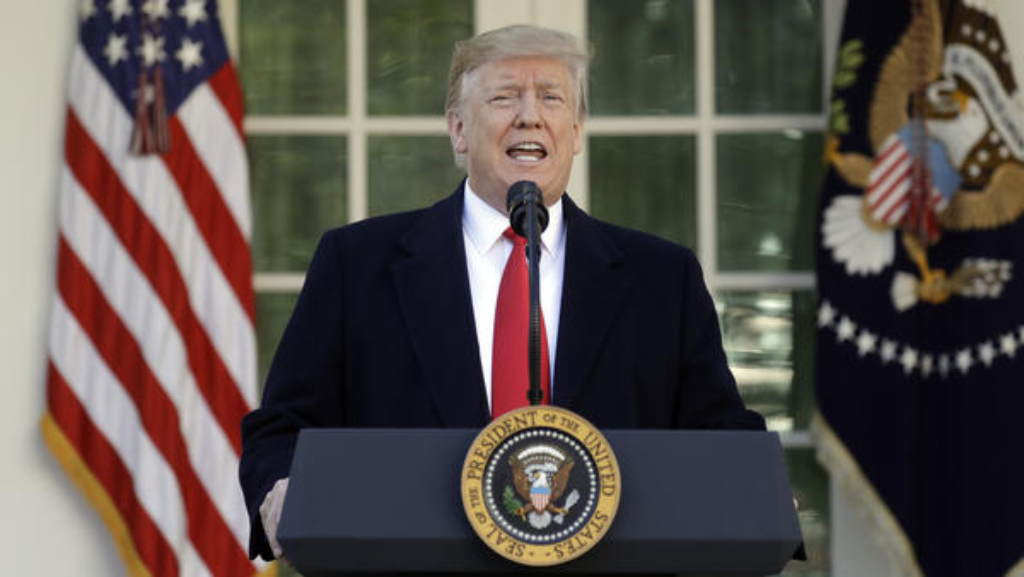 The government funding bill that was agreed to earlier this week was passed by Congress late last night and, at roughly the same time the White House announced that the President would sign the bill but that he would also be declaring a national emergency in order to obtain additional funding for his border wall, a move that seems guaranteed to create a confrontation with Congress and the courts:
WASHINGTON — President Trump will declare a national emergency as early as Friday to bypass Congress and build his long-promised wall along the nation's southwestern border even as he agreed to sign a spending package that does not finance it, White House officials said Thursday.

The announcement came just minutes before voting began on the spending measure, which then cleared both houses, ending a two-month war of attrition that closed much of the federal government for 35 days and threatened a second shutdown on Friday. The Senate passed it 83 to 16, and the House followed later in the evening, 300 to 128.

But if he declares a national emergency to access billions of dollars for his wall, Mr. Trump could instigate a constitutional clash over who controls the federal purse and test the bounds of presidential authority in a time of divided government. Democrats and some Republicans instantly condemned the move, with some vowing to challenge it through legislation and lawsuits.

The president's plan would combine money included in the spending package for fencing along the border with funds that he can divert from other programs using traditional presidential discretion on top of still other money he would tap by declaring an emergency.

Altogether, an administration official said, Mr. Trump would be able to dedicate about $8 billion for barriers, more than the $5.7 billion that Congress refused to give him.

"President Trump will sign the government funding bill, and as he has stated before, he will also take other executive action — including a national emergency — to ensure we stop the national security and humanitarian crisis at the border," said Sarah Huckabee Sanders, the White House press secretary. "The president is once again delivering on his promise to build the wall, protect the border and secure our great country."

Mr. Trump's announcement capped hours of last-minute drama as he came under pressure on Thursday morning to not sign the spending legislation from conservative figures like Laura Ingraham, who denounced it on Twitter as a "monstrosity" and a "Total SCAM!"

A balky president was concerned that signing the measure could impose restraints on his ability to tap other funds and was urged by his chief of staff, Mick Mulvaney, to tell Republican leaders to instead pass a short-term bill to keep the government open while reopening negotiations, according to a Republican briefed on the situation.

Such a move would have unraveled the delicate bipartisan balance favored by Senator Mitch McConnell, Republican of Kentucky and the majority leader, who wanted to move beyond the wall fight. In a telephone conversation on Thursday, Mr. Trump asked Mr. McConnell whether the spending measure included any hidden provisions or "land mines," and the senator reassured him it did not, according to a person familiar with the call.

Similarly, Kirstjen Nielsen, the homeland security secretary, and White House lawyers told him that he could still move money around, and Ms. Nielsen said that the spending package was actually better than a short-term measure. Mr. McConnell argued that it was a win over Speaker Nancy Pelosi.

Ultimately, Mr. Trump was persuaded to sign the bipartisan spending measure after all, and at least some close to the president doubted that he was ever really wavering and instead was just enjoying the suspense.

But Mr. McConnell chose not to take a chance, rushing to the floor and interrupting a colleague's speech to announce Mr. Trump's decision, in effect locking it in before he could change his mind.

In agreeing to end the spending fight for now, however, Mr. Trump essentially started a new one with his vow to declare a national emergency, one that crosses party and ideological lines as liberals and conservatives alike objected to what they called presidential overreach.

Seven Senate Democrats, including four announced or possible presidential candidates, immediately introduced legislation intended to block Mr. Trump from diverting money from disaster relief for the wall. Some House Democrats, including Representative Jerrold Nadler of New York, the chairman of the Judiciary Committee, began endorsing a joint resolution to essentially nullify a national emergency declaration.

A parade of liberal advocacy organizations sent out pre-written statements promising to challenge any such declaration in court as "an outrageous abuse of power" by an "unstable and increasingly autocratic" president, as one of the groups, Public Citizen, put it.

"The president is doing an end run around Congress," Ms. Pelosi told reporters. She suggested that Mr. Trump was setting a precedent for future Democratic presidents to act on issues like gun control — precisely the scenario that scares Republicans.

"You want to talk about a national emergency, let's talk about today," Ms. Pelosi said, reminding Mr. Trump that it was the anniversary of the shooting massacre last February at Marjory Stoneman Douglas High School in Parkland, Fla. Seventeen students and staff members were killed. "That's a national emergency. Why don't you declare that emergency, Mr. President? I wish you would."
Many Senate Republicans also spoke out in opposition to the idea of declaring a national emergency:
About a half-dozen Senate Republicans quickly spoke out against the move, as well. "I don't think this is a matter that should be declared a national emergency," said Senator Lisa Murkowski of Alaska. "We as legislators are trying to address the president's priority. What we're voting on now is perhaps an imperfect solution, but it's one we could get consensus on."

Senator Susan Collins of Maine said such a declaration was "of dubious constitutionality," while Senator Marco Rubio of Florida called it "a bad idea." Senator Rand Paul of Kentucky said, "We have a government that has a Constitution that has a division of power, and revenue raising and spending power was given to Congress."

Still, other Republicans backed Mr. Trump, including an ally, Senator Lindsey Graham of South Carolina, as well as Senator Shelley Moore Capito of West Virginia, who faces re-election next year. "He feels that declaring a national emergency gives him that flexibility that he wants and needs, so I'm supportive of that," Ms. Capito said of the president.

"For goodness' sake, we tried for 35 days in December and January, right, to get the Democrats to do what everyone knows needs to happen except Democrats," said Representative Jim Jordan, Republican of Ohio. "I support the national emergency declaration 100 percent."

Among the Republicans who privately warned Mr. Trump against an emergency declaration was Mr. McConnell, who expects that House Democrats will pass a resolution terminating it in a form that the Republican leader cannot block from a floor vote. At least five or six Republican senators are likely to vote against the president, making a majority along with the Democrats, and potentially forcing Mr. Trump to veto it.
In reality, of course, there is no 'national emergency' at the southern border, and it seems unclear how the Administration is going to sell this claim without looking utterly ridiculous to everyone but the President's most ardent supporters. As numerous reports have indicated net migration from Mexico has reversed to the point where more people have been leaving the United States to return home than have been trying to get into the United States either legally or illegally. Additionally, illegal border crossings are far lower than they were a generation ago. As for the Central American caravans that Trump has complained about, those people have generally presented themselves at designated ports of entry so that they can properly make their asylum claims pursuant to both Federal law and international treaties to which the United States is a signatory. Additionally, contrary to Trump Administration claims, the majority of importation of illegal drugs occurs at either designated ports of entry or via the nation's airports and seaports. To the extent that there is extensive drug running across the border, much of it is conducted via tunnels that would bypass any border wall this President would build.  It's also worth noting that one of the largest and most significant sources of illegal immigration comes not via illegal border crossing, but through people who either overstay the length of their visa or violate the terms of their visa by working when they are here under a tourist or student visa. Additionally, the largest sources of these visa overstays is not Mexico or Central America, but nations such as Canada. A border wall would, of course, do nothing to combat this issue. The Administration has also claimed, without evidence, that terrorists have crossed into the United States via the southern border. The fact is, though, that there has been no instance of a terrorist attack on the United States that was committed by someone who came into the United States illegally. As Fox News Sunday host Chris Wallace established in an interview with White House Press Secretary Sarah Huckabee Sanders in January. In short, there is no factual basis for the declaration of a national emergency.
Despite this, the idea of using a national emergency to get funding for a border wall that Congress declined to fund is not a new one, of course. As early as the beginning of January when the government shutdown was still in its early days, the White House was floating the idea. At the time, the President was almost immediately hit with opposition from fellow Republicans such as Florida Senator Marco Rubio and others who argued that such an action would be beyond the President's Constitution and, of course, Congressional Democrats stood universally opposed to the idea as they do today. As the shutdown went on and Congress continued to prove recalcitrant in agreeing to provide any funds for the President's wall, it seemed as though the President was moving toward taking that radical step but eventually the White House sent signals that they were backing away from the idea and that, if necessary, the President would seek to use Executive Branch powers short of an emergency declaration to fund the wall if necessary. That announcement came in the face of polling that showed that the American public opposed the idea of declaring an emergency and reports that Senate Majority Leader Mitch McConnell was warning the President that he risked a rebellion from Republican Senators if he took the step of declaring an emergency.  Yesterday, of course, McConnell abandoned that position and said that he would support a national emergency declaration.
The most immediate result of the President's decision to declare a national emergency will be a new confrontation with Congress that could end up badly for the President. Basically speaking, the President's power to declare "national emergency" is governed largely by the National Emergencies Act of 1976. If Trump does intend to act pursuant to this law, that would set off a process in Congress that could lead to the President being prevented from acting at all. Pursuant to Section Five of the act, the House of Representatives has the right to repudiate the President's declaration of an emergency via an immediate vote that the President would have no authority to stop. The resolution would then be sent to the Senate, which would be required to hold a floor vote on the declaration of an emergency within 15 days after receiving the resolution from the House. This would come to the Senate in the form of a "privileged resolution," which means that Senate Majority Leader Mitch McConnell would be powerless to prevent a vote on the matter. Approval of the resolution would require just a simple majority in both chambers, which seems as though it would be easy to get given the public statements of Republicans in the Senate. The resolution would then go the President, who would most likely veto it and thus send the matter back to Congress, which will have the option of trying to override that veto. In order to do so, of course, there would need to be a 2/3 majority in the House and the Senate, which would require significant Republican support in both chambers. In the House that would mean at least 78 Republicans joining all the Democrats in overriding the veto. In the Senate, it would require at least 20 Republican Senators joining all of the members of the Senate Democratic Caucus in overriding the veto. While that seems unlikely at this point, it's not entirely out of the question. Trump using his emergency powers to attempt to make an end run around Congress would most certainly lead many Republicans in both the House and the Senate to object and this could lead to a sufficient number of defections from Republican ranks to approve the resolution and nullify the President's attempt to make an end-run around the Constitution, the Rule of Law, and Congress. At the very least, the move would also set up a significant confrontation between the Executive and Legislative Branches.
In addition to this legislative challenge, there will also inevitably be legal challenges, I have addressed those previously and will be addressing them in another post later today rather than adding to the length of this one. Suffice it to say though, that President Trump will have problems with the Judicial Branch with this decision just as he will with the legislative branch.