As Shutdown Continues, Trump Inches Closer To Declaring 'National Emergency'
The government shutdown has now entered historic territory, and the Trump Administration is moving closer to a "national emergency" or other extra-legal means to get money for his wall.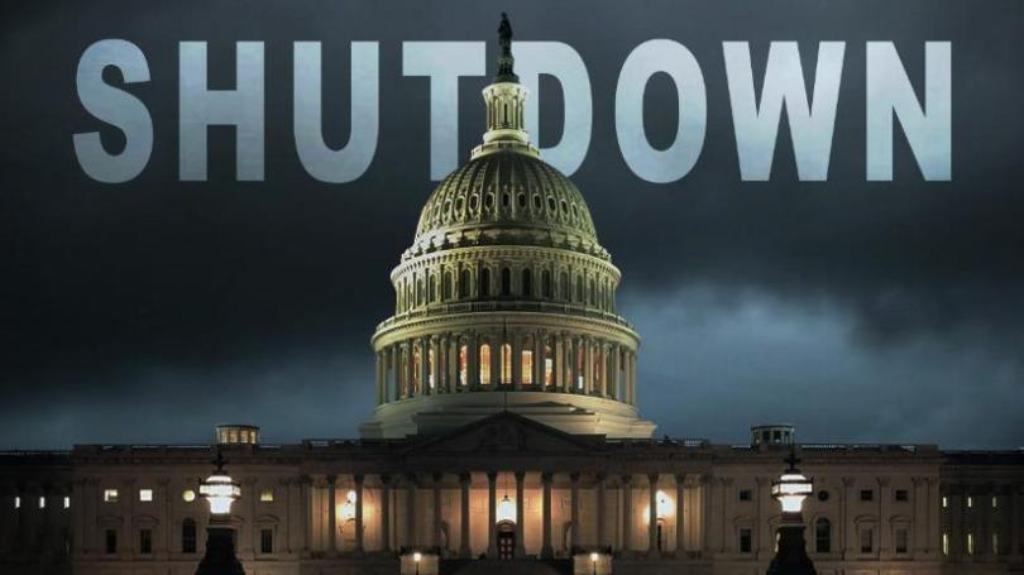 As the government shutdown heads into record-breaking territory, surpassing the three-week long shutdown of December 1995 to January 1996 of the Clinton/Gingrich Era assuming, as seems likely, it lasts through the end of today, the White House seems to be inching closer to making an end run around Congress and the Constitution and declaring a "national emergency" to get his wall built or otherwise finding a way to divert funds allocated by Congress for other purposes, including disaster relief, to pay for construction of the wall
McALLEN, Tex. — President Trump traveled to the border on Thursday to warn of crime and chaos on the frontier, as White House officials considered diverting emergency aid from storm- and fire-ravaged Puerto Rico, Florida, Texas and California to build a border barrier, perhaps under an emergency declaration.

In a sign of growing unease about the partial government shutdown, some Senate Republicans came off the sidelines to hash out a deal that would reopen the government as Congress worked toward a broader agreement tying wall funds to protection for some undocumented immigrants and other migrants.

But before those negotiations could gain momentum, they collapsed. Vice President Mike Pence and other members of Mr. Trump's team let it be known privately that the president would not back such a deal.

"It kind of fell apart," said Senator Lindsey Graham, Republican of South Carolina, who was among those Republicans seeking a deal.

But Mr. Trump's advisers, including his son-in-law and senior adviser, Jared Kushner, have urged him to try to find other approaches than declaring a national emergency. Mr. Kushner's role was first reported by The Wall Street Journal.

The advisers have warned him of a range of possible negative outcomes, particularly the risk of losing in court, people familiar with the discussions said.

Aides have suggested that Mr. Trump would be giving a dysfunctional Congress a pass from fulfilling its duties if he makes an aggressive move. And some of his more conservative advisers have suggested a national emergency declaration is a form of government overreach that is antithetical to conservative principles.

As the shutdown neared Day 21 — the second longest in history — Mr. Trump used a visit to a border facility in McAllen, Tex., to blame the protracted shutdown on Democrats, charging that their opposition to a wall was responsible for brutal crime and violence.

"You'll have crime in Iowa, you'll have crime in New Hampshire, you'll have crime in New York" without a wall, he warned.

"We could stop that cold," he added.

Mr. Trump also repeated his demand for the money from Congress while saying that Mexico would somehow provide funds indirectly for the wall, a contradiction of what he said in December when he wrote in a Twitter post, "I often stated, 'One way or the other, Mexico is going to pay for the Wall.' "

"I didn't say they're going to write me a check for $10 billion or $20 billion," Mr. Trump said on Thursday. "If Congress approves this trade bill, they'll pay for the wall many times over. When I say Mexico's going to pay for the wall, that's what I mean."

It was among the bewildering statements that underscored his often contradictory attempts to force Democrats to capitulate. Mr. Trump renewed his threat to declare a national emergency and build his wall without congressional approval.

"We can declare a national emergency," Mr. Trump said. "We shouldn't have to."

(…)

The implosion of the congressional deal left lawmakers bracing for Mr. Trump to declare a national emergency. Senior Democrats were exploring both legislative and legal options to challenge the move.

The president is allowed to divert unspent money from projects under a national emergency. But a senior administration official who spoke on the condition of anonymity to describe confidential discussions, questioned the legality of using Army Corps funding, saying it would be subject to restrictions under the Stafford Act, which governs disaster relief. The official said the process was as much a political exercise intended to threaten projects Democrats valued as a pragmatic one.

"That would be a travesty," Representative Peter A. DeFazio, Democrat of Oregon and the chairman of the House Transportation and Infrastructure Committee, said in an interview.

"It's all speculative at this point," he said, alluding wryly to Mr. Trump's penchant for abrupt announcements at all hours of the day and night. "Until we get a tweet at 2:30 tomorrow morning, we won't know."
More from Politico:
President Donald Trump on Thursday gave the strongest signal yet that he will declare a national emergency in an effort to secure billions of dollars for a border wall, as negotiations on Capitol Hill to reopen the federal government continue to flounder.

The possible move by Trump would almost certainly trigger an immediate response from House Democratic leaders, who could pursue both congressional and legal avenues to try to halt such unprecedented action. It's one of the few options left at the table after Trump rejected the work of Senate Republicans hoping they can craft a procedural framework that would allow the government to reopen and then immediately turn to an immigration debate.

An emergency declaration by Trump could also end the partial government shutdown if congressional leaders agree to reopen shuttered agencies and let the border wall drama play out in the courts.

"If we don't make a deal with Congress, most likely I will do that. I would actually say I would," Trump told Sean Hannity in an interview at the southern border that aired Thursday night on Fox News. "I can't imagine any reason why not," he said, adding that "we are going to see what happens over the next few days."

Earlier, the president told reporters outside the White House on his way to McAllen, Texas, that he had an "absolute right" to declare the emergency.

Vice President Mike Pence closed off the move by Sen. Lindsey Graham (R-S.C.) and other GOP senators to come up with an agreement to end the shutdown, showing how hard it is to get the White House on the same page as other Republicans. Pence publicly shot down the idea and also privately relayed to Senate Republicans that Trump will not reopen the government until he gets a solution on the wall.

Graham said he was "depressed" by the move, but then later endorsed the idea of Trump declaring a national emergency even after raising questions of whether Congress would vote to disapprove of such a move.

"It is time for President Trump to use emergency powers to fund the construction of a border wall/barrier. I hope it works," he said in a statement.

But not all Republicans are supportive of the idea.

"I would advise against that as a bad precedent," said Sen. Chuck Grassley (R-Iowa).

During a visit to the border, Trump told reporters that he would be open to a larger deal on immigration that would help young immigrants — "We want to help the Dreamers," he said — though he declined to link it directly to reopening the government.

"But I would like to do a much broader form of immigration, and we could do immigration reform, it'll take longer, it's been complex, it's been going on for 30, 35 years, talking about immigration reform," Trump said. "Before we do that, we have to create a barrier. That we can do very quickly."

Graham and a small group of Senate GOP colleagues pitched getting the congressional committees to work on a potential trade — Democrats agree to billions of dollars in funding for Trump's border wall in exchange for temporary protections for immigrants protected under the Deferred Action for Childhood Arrivals and Temporary Protected Status. Under that idea, the government would have reopened while Congress fights out the wall battle.

But Democrats were never read in on the proposal, and Pence signaled Trump wouldn't go along with it either.

"I think the president feels that we're waiting to hear from the Supreme Court about DACA," Pence told reporters in the Capitol on Thursday afternoon. "We're confident the Supreme Court will find DACA to have been unconstitutional. And at that time, [Trump] believes there will be an opportunity for us not only to address the issue affecting the Dreamers, but also a broader range of immigration issues."

Pence reiterated that there must be money for Trump's wall project in an agreement to fund the government: "No wall, no deal."
With no deal or prospect of a deal in sight, it's hard to say where things proceed from here. While it's theoretically possible that Congress itself could get together and pass some form of legislation that would call the Presidents bluff, and survive an expected Presidential veto, the odds of that happening any time soon are fairly low for reasons that seem rather obvious. Meanwhile, House Democrats continue to pass bills that would open various parts of the government not impacted by the border wall debate in an effort to force Republicans in the Senate to act. So far at least, though, Republicans in the Senate have bitten and there hasn't been a sufficient amount of pressure on Senate Majority Leader Mitch McConnell to move off of the position he's taken that he will not put a bill on the floor that the President has not agreed to, preferably in writing. Given the extent to which the White House burned McConnell just prior to the shutdown started when the Senate unanimously passed a measure that temporarily funded the government without funding the wall only to see the President turn around and pull the rug out from under him days later after coming under criticism from the likes of Ann Coulter and Rush Limbaugh, one can understand McConnell's position now. At some point, though, one is going to have to wonder whether it's still worthwhile for him to effectively sit on the sidelines, especially as members of his own caucus become more and more restless as the days go on.
Given this, the idea that this is going to be over in a week, two weeks, or even a month seems like a fanciful dream at this point. Even the stories about Federal workers, furloughed and otherwise, going without pay, and the other ways in which the shutdown is impacting everyday life not only for people who work for the Federal Government or depend on Federal workers in some way or another are not having an impact on either Congress or the President. Soon, we will see Federal Courts facing a funding shortfall in coming days as the efforts to rely on money from fines and other sources come to an end. The shutdown is also having an impact outside the Federal Government as Federal contractors and businesses that rely on Federal workers are starting to feel the pinch. Finally, people who rely on food stamps and early tax filers looking to get their refunds from the Internal Revenue Service are likely to be impacted as the shutdown goes on. The longer the shutdown goes on the more this impact will spread, and yet nothing seems to be moving Republicans, who are primarily responsible for this debacle from moving off their current position.
All of this leads to the threat from the White House and the President that we will soon see either a declaration of a "national emergency" or some other means to divert Federal funding from its intended purpose toward a border wall in a manner that allows the President to claim "victory." In the first regard, as I explained in detail earlier this week, it seems clear that a "national emergency" declaration under these circumstances would be illegal and in any case would be tied up in the courts for years before finally being resolved. This is especially true given the fact that the President has essentially admitted that he would be declaring a "national emergency" because he can't get his with Congress. This is politics, not the kind of crisis that would justify a "national emergency" under existing Federal law, and it's likely that a Federal Court, and likely even the Supreme Court, which has on its books the precedent set in  Youngstown Steel & Tube Co. v. Sawyer343 U.S. 579 (1952), would view it in the same manner. In any case, the fact that any "national emergency" declaration would be tied up in court for perhaps the balance of Trump's first term in office means that it would do nothing toward getting the wall built.
As for the second proposal to use money that Congress has allocated to the Defense Department to build the wall, even though Congress has not explicitly organized such an action. As with the idea of a "national emergency," while there are arguably some provisions of law that might permit this, the balance of Federal law says exactly the opposite, For example, this action would seem to directly violate long-standing Federal laws regarding the Federal budget such as the Federal Budget And Accounting Act and the Congressional Budget And Impoundment Act of 1974. The first law basically restates the Constitutional fact that Congress controls the purse strings and that the Executive Branch cannot spend money in a manner not authorized by Congress. The second strengthened those laws and limited the ability of the President to do things like refuse to spend allocated funds or use funds in an unauthorized manner. What all this means is that this move, which would fall short of declaring a "national emergency" would also end up in Court and would likely result in any action taken by the Trump Administration put on hold for the foreseeable future.
Perhaps this is what the President wants. Take an obviously illegal action, get it stopped for the foreseeable future by the Courts, and then tell his supporters he did what he could to get the wall. At that point, he could sign a clean budget bill and get the government reopened. The damage he would do to Constitutional norms and the Rue of Law in the meantime don't seem to matter to him at all, but that's hardly surprising.