U.S. Catholic Bishops Identify Hundreds Of Abusive Priests
Two new reports identify hundreds of Catholic Priests who have been credibly accused of abusing children over the past decades.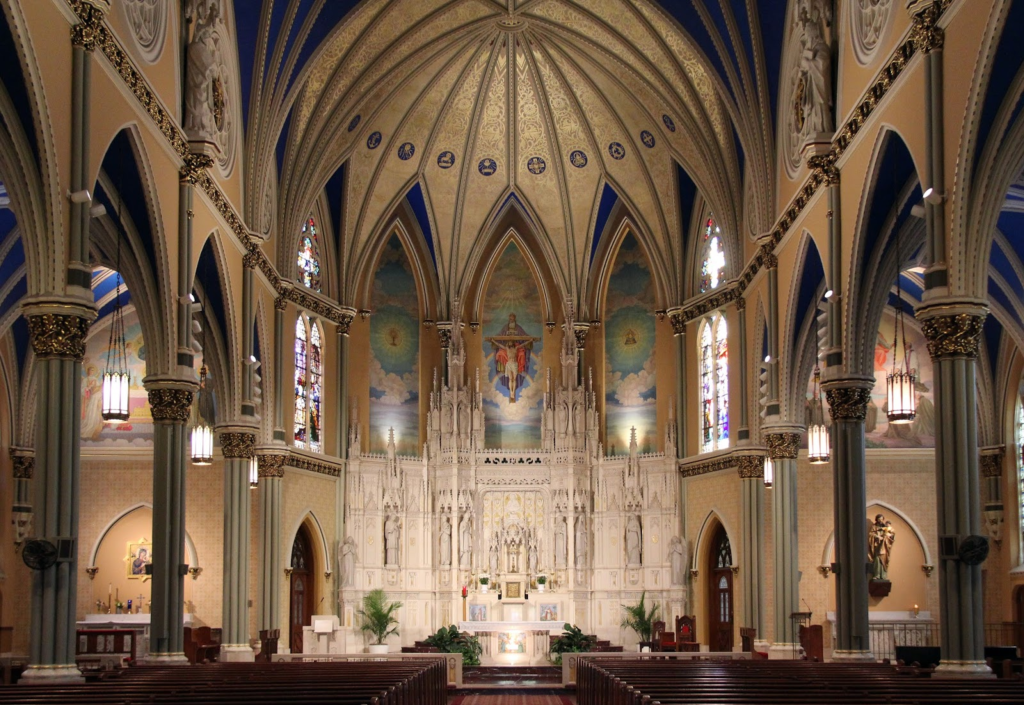 Two new reports are highlighting the issue of abuse by Catholic Priests and the extent to which it has been covered up over the years. These reports come in the form of reports from dioceses in the New York City area that show hundreds of priests who were accused of having abused children during their tenue, many of whom have long since passed away.
First up, Catholic Bishops in New Jersey released a list of Priests from nearly all of the state's diocese who have been accused of abuse:
Roman Catholic bishops in New Jersey on Wednesday named nearly 200 priests who have been found credibly accused of sexually abusing a child. The disclosure is just the latest reported in recent weeks by dioceses and religious orders across the country as law enforcement officials examine the church's response to an epidemic of abuse.

As with many of the other lists published, most of the priests identified by the New Jersey bishops are dead, and the accusations involve alleged abuse that happened decades ago.

The list of names included Theodore McCarrick, the former cardinal who stands to be one of the highest-profile Catholic figures in modern times to be defrocked, and a parish priest who was the first to be criminally charged as part of the New Jersey attorney general's investigation into clergy abuse.

The bishops in New Jersey have followed dozens of their colleagues in the United States in deciding to publish the names of suspected abusers after a grand jury report in Pennsylvania last summer outlined seven decades of accusations and inflamed broader tensions in the church over its handling of abuse.

The disclosures have typically named no more than a few dozen priests at a time. Even so, the lists stitch together into what has become one of the fullest pictures yet of the breadth of the problem and offer a snapshot of the depths of the anguish and anger it has caused.

The lists released on Wednesday cover the five dioceses in New Jersey, reflecting a failure by the church that Cardinal Joseph W. Tobin, the archbishop of Newark, said "betrayed" victims and their families.

"I beg your forgiveness," Cardinal Tobin wrote in a letter accompanying the list of 63 priests accused in the Newark archdiocese. "It is our sincerest hope that this disclosure will help bring healing to those whose lives have been so deeply violated."

Cardinal Tobin, who also leads the New Jersey Catholic Conference, said last year that the state's dioceses — Trenton, Camden, Paterson and Metuchen, in addition to the Newark archdiocese — would together release the names of accused priests.

The diocese in Camden named 56 priests and one deacon who have been credibly accused of abuse; Trenton named 30 priests; Paterson named 28 priests and one deacon; and the Metuchen diocese identified one deacon and 10 priests, including two who are the subject of law enforcement investigations. One of them, Patrick Kuffner, was suspended last year after three people accused him of abusing them as children when he was a teacher at a Staten Island school.

The other priest, Thomas P. Ganley, was charged last month with multiple counts related to the sexual assault of a child in what was the first criminal case brought by a state clergy abuse task force formed last year by Attorney General Gurbir S. Grewal of New Jersey.
Several days later, the Brooklyn Diocese, which covers the outer boroughs of New York City, which basically means Brooklyn and Queens, published a list of some 100 Priests who have been accused over the years:
The Roman Catholic Diocese of Brooklyn on Friday named more than 100 priests who have been credibly accused of sexually abusing a child. It was one of the largest disclosures yet in a torrent of lists recently published by the church as its handling of the problem has drawn the scrutiny of law enforcement officials.

The diocese is also one of the largest in the nation, its domain encompassing Brooklyn and Queens in New York City, an area with 1.5 million people who the church says identify as Catholic.

The disclosure covers decades of allegations involving priests who had served in the diocese's many neighborhood parishes, as well as its schools, including Cathedral Preparatory, Christ the King, St. Francis Preparatory and Archbishop Molloy high schools. Advocates who track abuse cases said it also roughly doubled the number of suspected abusers they had been aware of in the diocese.

The list contributes to a growing sense of the vastness of a sex abuse epidemic that has plunged the Catholic Church into scandal and inflamed a crisis in confidence among its followers. Church officials have employed the disclosures as a way to acknowledge failures and mend ties with Catholics whose relationship with the church has been tested over its handling of sex abuse.

"We know this list will generate many emotions for victims who have suffered terribly," the Most Rev. Nicholas DiMarzio, the bishop of Brooklyn, said in a statement accompanying the disclosure.

"For their suffering, I am truly sorry. I have met with many victims who have told me that more than anything, they want an acknowledgment of what was done to them. This list gives that recognition and I hope it will add another layer of healing for them on their journey toward wholeness."

Bishop DiMarzio followed dozens of other bishops in the United States in publishing the names of suspected abusers after an explosive grand jury report in Pennsylvania last summer that worsened tensions in the church by documenting seven decades of accusations.

On Wednesday, the bishops of the five Catholic dioceses in New Jersey released the names of nearly 200 priests who had been credibly accused.

And last month, the Jesuit province covering the northeastern United States identified 50 accused priests, including many who had served in the order's schools in New York City.

The bishops in Hartford, Kansas City, Mo., and most of the 15 dioceses in Texas were among the others who named accused priests in the past month.

But the Brooklyn diocese's disclosure has surprised advocates by the sheer number included, as it stands as one of the largest yet from an individual diocese. The archdioceses in Los Angeles and Boston are among the few others that have identified more accused priests.

More than anything, church officials in Brooklyn said the disclosure reflected the expanse of the diocese, both in demographic size and in history. The diocese said the list covers its 166-year existence, and that the suspected priests made up not even 5 percent of the clergy who served during that time.

"It is probably not everyone, I hate to say it, but it sounds like a robust list compared to some others," said Terry McKiernan, the president of BishopAccountability.org, which tracks cases of alleged clerical abuse. "Brooklyn is a really large diocese. It's larger than some archdioceses."
The list from New Jersey hit home for me in particular due to the fact that one of the Priests on the list had served for a time at my parent's home Parish, the one I attended and received the Sacraments from as a child from 2nd through 8th grade. Two other names on the list included a Priest who taught at the local Catholic High School, which closed in the mid-1980s, and another who served at the Parish in a town neighboring my hometown that my parents sometimes went to when I was young at times that Mass times at our home Parish were inconvenient for some reason. None of these names were familiar to me, though, and the Priest who had served at my parents Parish was not ordained until 1985, making it likely that he was not there until after I had moved from New Jersey to go to law school in 1990. This person is one of the two Priests currently under investigation by the State of New Jersey, while many of the other Priests on the lists have died. In any case, it was the first time that any of these allegations had implicated anything or anyone familiar to me so it was somewhat of a shock, as it was for friends back home with whom I shared it.
In any case, these latest revelations from New York and New Jersey are just the latest development in what has been something of a second wave of revelations regarding clergy abuse that has hit the Catholic Church over the past year or two. To a large degree, it started with a report issued in August by a Pennsylvania Grand Jury regarding sexual abuse by Catholic clergy in that state and the role that Church hierarchy played in covering up those reports by methods such as moving Priests from one Parish to another, or otherwise reassigning them to duties where they would be outside the jurisdiction of local authorities. After several years of investigation, the Grand Jury uncovered more than 300 instances of Priests involved in the abuse of as many as over 1,000 children over the years that the investigation covered. The report found cases of abuse that covered nearly all of the state's diocese and included actions or omissions by several Bishops and other Church authorities. The most prominent name on that list was Donald Wuerl, who had been the Bishop of Pittsburgh before being promoted to become Archbishop in Washington, D.C. Wuerl was later elevated to Cardinal. Eventually, after pressure from several quarters, Pope Francis accepted Wuerl's resignation, although he remains in his position pending appointment of a successor. Most recently an investigation by law enforcement in Illinois led to the discovery of more than 500 Priests who had been accused of at least one instance of abuse of a minor. None of those instances were reported to law enforcement at the time they were made public. Just based on these numbers alone, that makes for more than 1,000 Priests nationwide who have been credibly accused of abuse. No doubt, the actual number is higher.
These developments led a number of other states to open investigations similar to the one in Pennsylvania and the Department of Justice in Washington has also begun a nationwide investigation. As part of that investigation, the Department has notified Church officials around the country to ensure that any documents in their possession or control regarding the scandal are preserved for possible future subpoenas. This notification, which puts the subject of an investigation on notice and could be grounds for future charges of obstruction if it is not complied with, was sent to all 145 diocese and 32 diocese in the United States, a strong indication of just how sweeping the Federal investigation is likely to be and that it is likely to be an investigation that lasts for a considerable period of time. At the same time, the U.S. Conference of Catholic Bishops directed its members to launch their own internal investigation and, while the Vatican has tried to keep those reports from being made public before being reviewed by Rome, it appears that many of the Bishops have decided to go ahead and release the reports anyway.
All of this comes in advance of a conference scheduled to begin in Rome between the Pope and other Vatican officials and the Bishops from a;; over the world regarding these investigations and what can and should be done to address them. At least publicly the officials around Pope Francis are saying that it is the Pope's intention that the conference and whatever follow up comes from it will find a way to deal with the issue "decisively." At the very least, it seems clear that such a result can only be just and complete if it includes a complete open records policy on the part of the Diocesan leaders and the Vatican that allows both the general public and law enforcement to have access to these records, and an agreement to waive any relevant civil statutes of limitation that would prevent victims of abuse from seeking compensation from the church in appropriate circumstances. Additionally, there must be a commitment that any future allegations of abuse will be immediately reported to law enforcement and that the accused Priest will be made available to law enforcement rather than moved around and hidden away as has happened in the past. Finally, although this is a matter for Catholics rather than the general public, the Church will have to follow its own advice when it comes to seeking penance from acts of wrongdoing. Only then can they begin to repay for what they've done.