Why Romney's "47 Percent" Comments Matter
It may not be the one thing that costs him election, but Mitt Romney's remarks about the "47 percent" are still a problem for his campaign.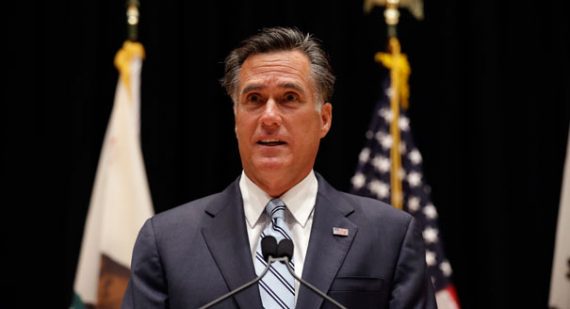 It's been just a bit over twelve hours since the video of Mitt Romney's "47 percent" remark hit the web but there's already been plenty of commentary from both sides of the political aisle about what this "means" for the election, and the future of the Romney campaign in particular. As I noted in my post last night, Josh Barro is of the opinion that this is the end of the road for Romney and that he's going to lose the election. Chris Cillizza, meanwhile, takes a longer view and puts this video at the end of what has been a rather unfortunate three weeks or so for Romney:
Consider what has happened to Romney since the Democrats concluded their convention in Charlotte earlier this month:

* The release of a Romney polling memo that seemed decidedly defensive over the idea of a convention bounce for the incumbent.

* A too-quick statement regarding the tumult in Libya that polling suggests was not looked on favorably by the voting public.

* A Politico story laying bare strife within the campaign that hit Sunday night.

And now comes this video tape featuring Romney offering a blunt assessment of his economic worldview to a group of wealthy donors — an assessment that is more candid, more calculating and more conservative than the GOP nominee has been in public.

Taken individually, none of the incidents referenced above are that big a deal in the constant swirl of politics. Taken together, they paint an image of a campaign in disarray and a candidate not ready for primetime. Context always matters in politics and the context in which this videotape has landed is just plain awful for Romney's campaign.
William Kristol points out another reason why Romney's remarks are rather stupid:
It's worth recalling that a good chunk of the 47 percent who don't pay income taxes are Romney supporters—especially of course seniors (who might well "believe they are entitled to heath care," a position Romney agrees with), as well as many lower-income Americans (including men and women serving in the military) who think conservative policies are better for the country even if they're not getting a tax cut under the Romney plan. So Romney seems to have contempt not just for the Democrats who oppose him, but for tens of millions who intend to vote for him.
I'm not sure that Romney's remarks will cause any of those supporters to either change their minds or stay home, but Romney can't really take that risk, can he?
Ed Morrissey pushes back against the idea that this is  doom for the Romney campaign:
I'm not going to argue that it's good for Romney.  This is what comes from candidates attempting to become political analysts on the campaign trail.  Newt Gingrich made this same mistake during the primaries, and it caused him headaches as well.  Candidates need to stick to their message, and shrug off questions about strategy; that's for staffers to leak to the media.  When candidates forget that, they end up producing sound bites that sound like this, or like Howard Dean's reality-defying 2004 "Yeargh!" moment in Iowa.

(…)

Of course, sometimes perception outruns facts, and the perception of Romney as out of touch with the working class has already been advanced by Team Obama.  The problem with the whole "the election is over" analysis is that it defies history — and recent history at that.  Almost exactly four years earlier, in another fundraiser secretly taped by an attendee, a major-party nominee made the same mistake as Romney and offered some political analysis of why large numbers of voters were probably unreachable in an election.  The nominee — some also-ran named Barack Obama — told his urbane San Francisco crowd of supporters that people in the hinterlands were xenophobic and clung bitterly to their religion and guns in hard times, and would be difficult to win over.  In fact, Obama made oblique references to that argument prior to that tape, occasionally talking about the handicap of having a "funny name" would be with some voters.

That is almost exactly the same kind of argument Romney made, only in the context of government assistance.  How'd that work out for Obama?  Not too bad, as I recall.
Well, not exactly. As you might recall, that "bitter clingers" tape came out just a few weeks before the Pennsylvania primary, the only real contest in the month of April between himself and Hillary Clinton. At that point, Clinton was still hanging on in a tough fight against Obama and, while it did look as thought Obama would win the nomination in the end, that was by no means certain. By pretty much everyone's estimation, an Obama win in the Keystone State would've been the final straw for the Clinton campaign and would cause Democratic superdelegates to line up behind Obama to put an end to the race. If Clinton won, then it would guarantee that the race would go on until the final primary in June, and the possibility of a Clinton victory would become just a little bit less unlikely. Clinton was already leading in the polls in Pennsylvania before the "bitter clingers" tape was released, but her lead began to expand once it became public and she ended up beating Obama 54.6% to 45.1% (although the two nearly equally divided the delegates). It's not unfair to say that Obama's off the record remarks had a real influence on the outcome of the race in Pennsylvania, injected new life into Hillary Clinton's campaign, and guaranteed that the race for the Democratic nomination would continue to the final primary.
So, it's rather incorrect to say that the "bitter clingers" remark had no effect on Obama at all. Yes, he still went on to win the nomination and the Presidency and the comment had little impact beyond Pennsylvania other than as a conservative talk radio talking point. However, it did have impact on the race. Obama was just fortunate that the tape came out in the middle of the primary season rather than at some point later in the election cycle. Mitt Romney doesn't have that luxury, though, because his equivalent to the "bitter clingers" remark came out fifty days before the General Election.
Political scientist John Sides points out at his blog that "gaffes" rarely have a significant impact on an election, and when you look at the evidence both from this year and other elections you see that he's correct. However, I tend to think that these types of things do matter to the extent that they reinforce narratives about a candidate. "Bitter clingers" hurt Obama in Pennsylvania because it reinforced the image that the Clinton campaign had been pushing throughout the campaign that he was out of touch with the working class and Americans who live in places like Western Pennsylvania. The "47 percent" remark has the potential to hurt Romney because it reinforces the narrative that the Obama campaign, its SuperPACs, and the campaign surrogates have all been pushing since the beginning of the summer that Mitt Romney is an out of touch rich guy who has no concern for the little guy.
An additional problem for Romney is that these comments create yet another distraction for his campaign. He's had several of them over the past few weeks. He's tried to explain why his convention speech didn't bother to mention the Afghanistan War, or the troops. His campaign spent most of last week defending itself from a hasty and inopportune comment about the attacks on our diplomatic outposts in Egypt and Libya. Yesterday, they spent most of the day pushing back against reports of internal campaign dissension and trying to roll out a refocusing strategy that seemed entirely out of focus. Now, they've got this video to deal with and, according to the people who released it, the probability that more of what he said will be made public over the coming days. There are now 49 days left until Election Day, and 15 days left until the first of three Presidential Debates. Every day that the campaign is distracted from its central message is a lost day, and the Romney campaign cannot afford many more lost days right now. Romney lost a news cycle last week because of his campaign's press release, he's on the verge of losing another one because of his own words. He's behind in the polls and he has an incredibly narrow path in the Electoral College. So, while they may not be the thing that causes him to lose the election, the "47 percent" remarks are a problem because they prevent the campaign from getting out the message they think they need to get out to win the election.