Mitt Romney: Half Of Americans Are Hopeless Losers That I Don't Need To Worry About
So, Mitt Romney opened his mouth again.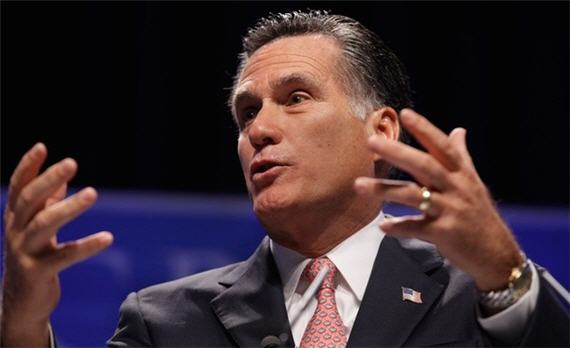 In a surreptitiously videotaped talk with major donors in Los Angeles, Mitt Romney said that nearly half of Americans are dependent on government and will vote for President Obama regardless of what he says:
Mitt Romney described almost half of Americans as "dependent upon government" during a private reception with donors earlier this year and said those voters will likely support President Obama because they believe they are "entitled to health care, to food, to housing, to you-name-it."

The blunt political and cultural assessment by the Republican presidential candidate offers a rare glimpse into Mr. Romney's personal views as the campaign enters its final 50 days. Liberals quickly condemned the remarks as insensitive and Mr. Obama's campaign accused him of having "disdainfully written off half the nation."

The recordings surfaced even as Mr. Romney sought to retool his campaign message amid internal campaign sniping and calls from Republicans outside the campaign for him to be more specific about how his policies will fix the nation's economy.

The video clips raised the possibility that his campaign would once again be sidetracked by Mr. Romney's own words, a problem that has plagued the former Massachusetts governor since his hard-fought battle with Republican rivals during the nominating contests earlier this year.

The video of Mr. Romney making the comments was posted on the Internet Monday afternoon by Mother Jones, a liberal magazine, which said it had obtained the recording and had confirmed its authenticity. The magazine said it was concealing the identity of the person who took the video and the location and time of the recording.

(…)

In one video segment, Mr. Romney described how his campaign is writing off "47 percent of the people" who will vote for Mr. Obama "no matter what." He adds that those people "are people who pay no income tax" and says "so our message of low taxes doesn't connect."

Mr. Romney said that "my job is not to worry about those people. I'll never convince them they should take personal responsibility and care for their lives."

The comments by Mr. Romney were more stark than usual, though he typically talks in public about supporters of Mr. Obama wanting big government to take care of their problems. He often accuses Mr. Obama and his supporters of wanting to bring a European-style socialism to the United States.

In the videos, Mr. Romney says that his campaign is concentrating on the "5 to 10 percent in the center" whom he describes as "thoughtful" when it comes to deciding who to vote for.

Jim Messina, Mr. Obama's campaign manager, said in a statement Monday evening that it was "shocking" that Mr. Romney would "go behind closed doors" to describe nearly half of the country in such terms.

"It's hard to serve as president for all Americans when you've disdainfully written off half the nation," Mr. Messina wrote.

Gail Gitcho, the communications director for Mr. Romney, said in a statement that Mr. Romney is "concerned about the growing number of people who are dependent on the federal government, including the record number of people who are on food stamps, nearly one in six Americans in poverty, and the 23 million Americans who are struggling to find work."
Here's the video:
There are 47 percent of the people who will vote for the president no matter what. All right, there are 47 percent who are with him, who are dependent upon government, who believe that they are victims, who believe the government has a responsibility to care for them, who believe that they are entitled to health care, to food, to housing, to you-name-it. That that's an entitlement. And the government should give it to them. And they will vote for this president no matter what…These are people who pay no income tax…..[M]y job is is not to worry about those people. I'll never convince them they should take personal responsibility and care for their lives.
Romney is correct that there are about 47% of Americans who don't pay Federal Income Taxes, but as Kevin Drum reminds us, there's a very good reason that:
Is it true, as Mitt Romney says, that 47% of Americans don't pay federal income tax? Yes! That's mostly because they're either poor, elderly, or take advantage of tax credits for low-income workers. Details here. But why do these people pay no income tax? Ezra Klein breaks it down into Twitter-sized chunks:

Rs have spent years cutting income taxes and increasing things like the Child Tax Credit. This means fewer people pay income taxes.
So whenever you hear a stat like "47% don't pay income taxes," remember: Reagan and Bush helped build that.
These tax cuts for the poor were partly in order to make further tax cuts for the rich political palatable.
But now that fewer people pay income taxes as a result of GOP policies, they're being called lazy and dependent.
And thus the GOP's tax cuts are being used to make a case that the rich are overtaxed and that the less-rich are becoming dependent.
Which thus leads to a policy agenda of tax cuts for the rich and cuts to social services for the non-rich.
That pretty much sums it up. These people don't pay income taxes because they don't earn enough money to pay income taxes, thanks largely to policies that Republicans themselves proposed and passed into law. Moreover, as I've noted before, this entire argument ignores the fact that these people do, in fact, pay taxes. If they are working, they pay Social Security and Medicare taxes. They pay state and local sales taxes. If they own property, they pay property taxes. The only reason they don't pay income taxes, or in some cases pay very little income taxes is because of policies that Republican Presidents and Congresses supported. Indeed, the Earned Income Tax Credit, which is the primary reason that most low income pay zero net incomes taxes, is based on an idea that Milton Friedman proposed back in the 1970s called the negative income tax. The more important point, of course, is that you cannot get blood from a stone. Poor and lower middle class people don't earn a heck of a lot money to begin with, and the added tax revenue the government would get by increasing their tax burden is infinitesimal compared to the costs that the taxpayers themselves would incur.  It's also worth noting that the vast majority of this 47% that Romney speaks of are in predominantly Republican states.
Policy arguments aside, though, one has to wonder if this is going end up becoming yet another distraction that will drive the news cycle this week and cause the Romney campaign to yet again lose the week because of a really dumb mistake. Josh Barro, for one, thinks Romney lost the election with this comment:
This is an utter disaster for Romney.

Romney already has trouble relating to the public and convincing people he cares about them. Now, he's been caught on video saying that nearly half the country consists of hopeless losers.

Romney has been vigorously denying President Obama's claims that his tax plan would raise taxes on the middle class. Now, he's been caught on video suggesting that low- and middle-income Americans are undertaxed.

(That one is especially problematic given the speculation about what's on Mitt's unreleased pre-2010 tax returns.)
Conor Friedersdorf compares this to Obama's 2008 "clinging to guns and religion" moment:
[I]t also reminds me of Barack Obama's infamous statement during the 2008 election that rural voters "get bitter, they cling to their guns or religion." Those words were also said to donors at a private event, and broadcast only when a secret recording was made public. Rural voters aren't 47 percent of the electorate, but folks who like guns or religion are a rather large demographic.

These sorts of remarks do double damage.

They needlessly insult some people whose votes the candidate would like to win. And beyond the particulars of what is said, they remind voters that candidate's public persona is phony and affected.

Four years ago a lot of people felt they got a glimpse of "the real Obama." They certainly saw a side of him that he hid when speaking to general audiences, as opposed to urban liberal supporters.

People will react the same way when they see this Romney tape. They'll decide, first of all, that he thinks a surprisingly broad swath of America is composed of losers who won't take responsibility for themselves. As damning, they'll see that the Romney of debates, speeches, and TV commercials speaks differently than the Romney who gets together with his moneyed backers.

On some level, Americans know politicians are phonies.

But you can't help liking a candidate less when you see that there really are rooms full of rich people where he seems to level with everyone much more than he does with the average American. You think, His opponent is right — he really is hiding his true opinions!
Marc Ambinder, who is back to regular political blogging at The Week, also thinks Romney made a fatal error:
Let's disregard the factual inaccuracies here, and there are many to disregard. It should be axiomatic that presidential candidates never, even in private, ever insult half of the American people. It should be double-mega axiomatic that he never do so in a room full of people.

Barack Obama, during the primary season in 2008, referred to rural voters who are "bitter" and "cling" to their guns and religion because they had deep economic anxieties. The remarks hurt Obama in the subsequent Pennsylvania primary, and Republicans (like VP nominee Paul Ryan) still use them today to bash the president as insensitive and out of touch. There is a grain of truth in these charges, which is why they've stuck.

This video is far worse on its face. Obama was, in a patronizing way, trying to explain why voters in certain areas voted against their economic interests. Romney is simply insulting half of the country in a way that right-wing talk radio show hosts do out of habit. If there is linguistic coding in his speech it is not very subtle: He's playing on the resentment that many conservatives have for the Obama coalition, and the idea that those who receive government aid don't deserve it; those who receive our money are moochers. And they of course happen to be disproportionately black and brown. (Disproportionately, maybe, but a majority are white; of the people he actually describes, half probably actually vote for Republicans. Think down-scale whites and seniors. Whoops!)

Does Romney believe this? Was he playing to the crowd? It sounded like he really believed it.
As if to prove Ambinder's point, conservatives seem to absolutely love Romney's comment, which he apparently considers too inflammatory to actually say in public:
"Dammit! I'm just now seeing these Romney secret videos," RedState founder and CNN contributor Erick Erickson said on Twitter. "We need that guy on the campaign trail!"

"In the battle of caught-on-tape scandals, I'll take Romney's (accurate statement) over Obama's (promising Putin) any day," Brady Creemens, a writer for the Right Sphere, tweeted, referring to a hot mic Obama promise of post-election "flexibility."

Creemens continued, "Oh, Romney doesn't much care for those who benefit from the system without contributing? Good. Me neither. I think I'll vote for him."
There are more back-slapping, high-fiving reactions at the link, but I'm sure you can figure out what they all say without even looking.
Politically, I cannot see how this works to Romney's advantage at all. As Marc Ambinder pointed out, he's basically just pissed off pretty much half of the American population in an election year in which he is trailing the incumbent President with less than half the vote. Not just that, though, his statement was also an implied judgment on the people who voted for the President in 2008, a not insignificant number of whom he is going to need to persuade to vote for him if he's going to have any chance of winning in states like Virginia, Ohio, and Iowa. It's a monumentally dumb thing to say, which is why we've never heard Romney say anything like this in public.
It's public now, though, and I cannot see how this doesn't hurt the Romney campaign. For one thing, it's going to be the talk of the day in political circles at least for tomorrow, and possibly longer depending on how the campaign handles the fallout from this. Just as, last week, the news cycle got eaten up by Romney jumping on top of the riots in Egypt and Libya and making a statement that the majority of Americans now view negatively, this week could end up being eaten up by Mitt Romney essentially saying that half the American population is sitting fat and happy, living off the government dole, and not really his concern.  Additionally, the comment simply reinforces the meme that the Obama campaign has been building all summer about Romney that he's a detached rich guy who can't relate to the average American, and doesn't care about them. It was a dumb thing to say, it was wrong on the facts, and I think Romney's going to pay a price for it.
Update: In an obviously hastily arranged late night press conference, Romney responded to this story:
I don't think he helped himself.