Would Trump Nominate Ted Cruz To Fill Scalia's Supreme Court Seat?
Future Supreme Court Justice?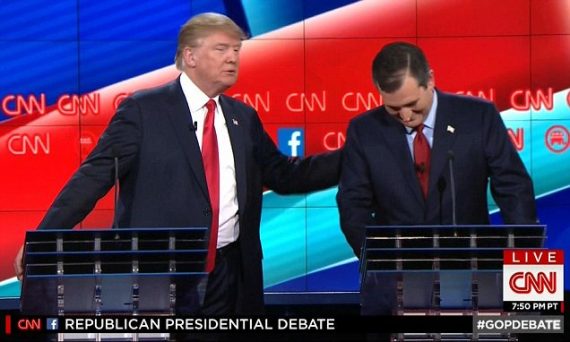 With the election of Donald Trump and Republicans maintaining control of the Senate, we can now say for sure that Merrick Garland will not become a Supreme Court Justice and that the strategy that Mitch McConnell and Senate Republicans decided on in the wake of the death of Justice Antonin Scalia to refuse to consider any nomination until a new President was elected has worked As a result, the current Supreme Court Justice will be selected by a Republican President and, most likely, approved by a Republican Senate. It's only natural then that, in addition to all the speculation about who will fill Cabinet positions and top White House positions such as Chief of Staff, there's already early speculation about potential Trump Supreme Court appointments. Earlier in the campaign, Trump had submitted a list of conservative Judges that he said he would consider for a Supreme Court vacancy, a list that came most from groups such as the Heritage Foundation and other sources. In September, the Trump campaign released a second list of potential SCOTUS appointments that included Utah Senator Mike Lee. Lee, however, quickly shot down the idea of accepting an appointment to the high court and, it turns out that he voted for Independent Evan McMullin for President so he's likely not on the good side of anyone in the Trump Administration right now. This leaves the identity of Trump's first Supreme Court nomination, which one imagines will come early in the Administration, up in the air. Well, South Carolina Senator Lindsey Graham of all people is suggesting another name, Texas Senator and former Presidential candidate Ted Cruz:
South Carolina Sen. Lindsey Graham, a former presidential primary foe of Ted Cruz who once joked about the Texas senator's murder, now says he should be considered for a seat on the nation's highest court.

"I would put Ted Cruz on that list. I would suggest that President Trump look within the Senate," Graham told reporters at a Veterans Day event in Greenville, South Carolina. "There is some talent there. There is no stronger constitutional conservative than Ted Cruz."

The floating of Cruz, who once served as a Supreme Court clerk, seems to complete Graham's evolution when it comes to the firebrand senator who has irked many Senate Republicans.

"If you killed Ted Cruz on the floor of the Senate, and the trial was in the Senate, nobody would convict you," Graham joked in February.
Graham does have something of a history of joking around when it comes to Cruz, as his comment from February shows, but the idea of putting Cruz on the high court is one that has been suggested in recent days by other pundits and one which might have a certain amount of political logic from the point of view of Trump and his advisers. As the Presidential campaign showed us, Ted Cruz has had no problem at at all with being a thorn in the sides of political rivals and there is likely some concern among Trump loyalists that Cruz could seek to rebuild his conservative bona fides by being a thorn in the side of a Trump Administration that on many issues ranging from infrastructure spending to the Affordable Care Act may be interested in taking what might be considered a less than conservative. Additionally, it would largely eliminate the potential, as unlikely as it might seem at the moment, that Cruz might try to challenge Trump for the Republican nomination in 2020. From Cruz's perspective, there's the fact that his Presidential campaign has damaged to some extent his political image back home in Texas and that he could face a well-funded challenge from someone backed by former Governor Rick Perry and others who have come to view Cruz as problematic for Texas Republicans going forward. Finally, there's the well-known fact that Cruz has few friends in the Senate even among its more conservative members due to his frequent attempts to use Senate rules and procedures to advance his own political interests over the long-term interests of Senate Republicans. Putting him on the high court would be a convenient way to take care of all those problems at once.
There's no question that a Justice Ted Cruz would be among the Supreme Court's most conservative members, but with the election result being what it was the reality of the situation is that whomever gets appointed to fill Scalia's seat is going to be a conservative of one variety or another in any case. As far as experience goes, there's little question that Cruz has the legal experience necessary to serve on the nation's highest Court, and his appointment would please many conservative organizations just as much as it would cause Democrats to cringe. Democrats could, of course, attempt to use the filibuster to try to block such a nomination, but it's far less likely that they'd use it to block a member of the Senate, and if they did then there'd be nothing stopping Senate Republicans from following in the footsteps laid by Harry Reid back in November 2013 and eliminating the filibuster for Supreme Court nominations just as it has been eliminated for Cabinet and other Executive Branch appointments, Ambassadorships, and Judicial nominations below the Supreme Court level. Especially if it meant getting rid of Ted Cruz for the foreseeable future.