60% Of Voters Wouldn't Even Consider Voting For Sarah Palin For POTUS
According to two new polls, Sarah Palin has absolutely no chance of beating Barack Obama in 2012. So, why does it look like she's going to run anyway?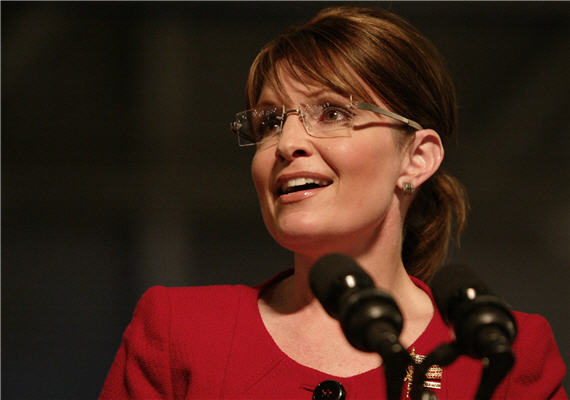 According to a new ABC News/Washington Post poll:
Sarah Palin has played a prominent role in defining Republican Party politics this year but still faces sizable obstacles if she decides to run for president in 2012, according to a new Washington Post-ABC News poll.

Six in 10 voters say they would not even consider voting for the former Alaska governor if she launches a White House bid, and she loses badly to President Obama in a hypothetical 2012 general election test.

Despite her high profile, amplified this fall by her campaign appearances and endorsements and her new reality TV program, "Sarah Palin's Alaska," Palin has not made demonstrable progress in overcoming opposition to her possible candidacy. If anything, she has slipped over the past year.

A slim 8 percent of all registered voters say they would definitely vote for Palin for president, while 31 percent say they would consider doing so. Fully 60 percent say they definitely would not. Among all Americans, 59 percent say they would not vote for her, up from 53 percent in November 2009.

Even among Republicans, Palin has detractors, with 29 percent saying they would definitely not back her candidacy. Her highest support comes from Republican women and conservative Republicans. Even so, only about one in five in each group say they would certainly support her presidential bid.

Neither does Palin enjoy wide support among independents: 62 percent say they definitely would not vote for her. Among moderates, 66 percent write off her prospective candidacy.

In a hypothetical head-to-head general election matchup against Obama, the president prevails by 13 percentage points over Palin among registered voters, 53 to 40 percent. Palin draws 78 percent of Republicans in that test, while Obama enjoys support from 89 percent of Democrats. Independents break widely – 56 percent to 35 percent – for the incumbent.
This comes on top of two recent polls that show Palin trailing Obama by 22 points, and showing that she remains the most polarizing political figure in the United States. Add that together with this: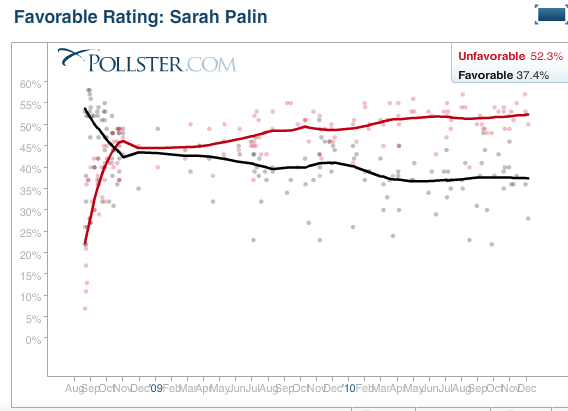 and you've got an impossible situation that any rational politician would take as a fairly strong argument for not getting into the race. Palin, however, has never done things that rational politicians do, which is why so many pundits think that she really will run despite the fact that the polls show that she cannot possibly win.
President Obama has his own electoral problems for sure, and the GOP has a decent chance of beating him in 2012. As long as they don't nominate the one candidate who has absolutely no chance of winning.
But nobody would be dumb enough to do that, would they?