Andrew Cuomo's Celebrity Challenger Clearly Going Nowhere
New York Governor Andrew Cuomo's celebrity challenger doesn't appear to be going anywhere.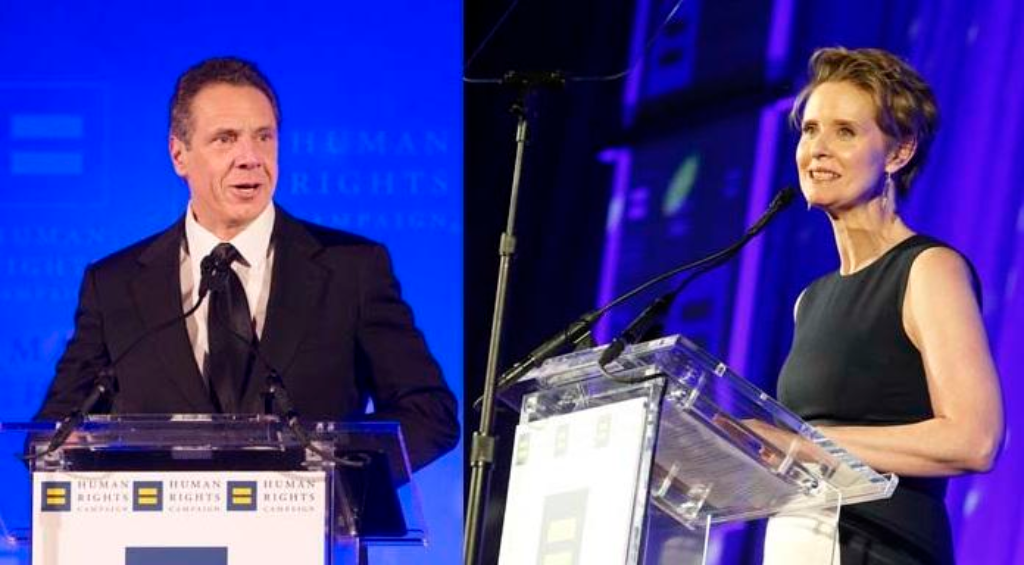 Despite the hype that the entry of former Sex And The City actress Cynthia Nixon into the race for Governor garnered, it's quite apparent that her challenge to Andrew Cuomo for the Democratic nomination is going nowhere:
ALBANY — With exactly three months to go until the Democratic primary for governor, the two-term incumbent, Andrew M. Cuomo, has slightly stretched his sizable lead over his Democratic rival, the actress Cynthia Nixon, according to a new poll.

Mr. Cuomo, 60, holds a 35-point advantage among likely voters over Ms. Nixon — 61-26 percent — according to the Siena College poll released on Wednesday. His lead over the Republican candidate, Marcus J. Molinaro, is narrower: 19 points, 56 to 37 percent, though Mr. Molinaro, the Dutchess County executive, is little known by most voters, the poll found.

Ms. Nixon had trimmed Mr. Cuomo's lead to 31 points in an April poll by Siena, continuing a steady rise in voter surveys since declaring her candidacy in March. But the last month has seen Mr. Cuomo's glossy coronation as the party's preferred candidate at the state convention in late May, forcing Ms. Nixon — making her first run for public office — to begin petitioning to challenge him on the Sept. 13 ballot.

There were some off-putting findings for Mr. Cuomo, including a 44 percent unfavorability rating, a tie for the highest result found by Siena's pollsters during the governor's seven-plus years in office. Only 40 percent rank his performance as governor as "excellent" or "good" while 59 percent rate it as "fair" or "poor."

Fifty-one percent of voters, however, approved of his performance as governor, an uptick of 2 points from the April poll. Ms. Nixon has an equal favorable and unfavorable rating: 31 percent.
These numbers are largely consistent with what we've seen in this race from the start. As noted, on the same day that Nixon entered the race, an earlier version of the Sienna poll showed the incumbent Governor with 66% of the vote compared to 19% for Nixon. Similarly, a Quinnipiac poll released about a week later gave Cuomo (64%) a 43 point lead over Nixon (21%) statewide and a 36 point lead among New York City Democrats, which have been the primary focus of Nixon's campaign. While Nixon has inevitably improved on those numbers somewhat overtime, there has never been any indication that she was likely to come close to being a serious challenge for the incumbent Governor. The poll released today only seems to confirm that further.
Jazz Shaw, who lives in upstate New York, comments:
The big mystery is… why? Cuomo is about as old-school establishment Democrat as they come at a time when the Berniecrats are supposed to be surging. Some of his closest aides and big-time donors are either in jail, on trial or under federal investigation. He's about as lovable and cuddly as a cactus.

Nixon, on the other hand, looks to have the perfect 2018 resume for progressives. She's gay. She's a woman. She's a darling of the Hollywood crowd. And did I mention she's gay? What's not to love, Democrats? How can you be shutting her out this badly, aside from the fact that she's an actress with absolutely zero qualifications for the job asking to run one of the largest economies in the nation?
Viewed from a distance, the answers to these questions seemed simple. Notwithstanding her celebrity Nixon is a candidate without any political experience, and without any experience in government whatsoever, who is taking on the relatively popular Governor of a deeply blue state in which the Cuomo name clearly still carries some degree of cachet. While it can't really be said that Cuomo's tenure as Governor has been marked by many notable accomplishments, those that he has achieved have been ones that would clearly be popular among Democrats. For example, Cuomo was a driving force behind the effort to legalize same-sex marriage via legislation several years ago, and he has also managed to adapt to the shifting tides inside the Democratic Party between the mainstream of the party and the "progressive" wing that Nixon has been clearly seeking to appeal to during her campaign. Additionally, for Democrats looking to hold on to the Governor's mansion in November Cuomo is clearly a sure-thing in the face of any Republican challenge while Nixon is a relative unknown on the political stage who arguably may not be able to withstand a Republican challenge as strongly as a Democrat should in a state like New York. Finally, her rather blatant effort to base her campaign almost exclusively on appealing to the progressive wing of the party likely means that more mainstream Democrats are put off by her candidacy even before getting to the doubts inherent in nominating a candidate who has never run for office before. Keeping in mind the caveat that anything can happen between now and Election Day, it seems clear that Cuomo has this race in the bag.
In an ordinary election, of course, a candidate as far behind in the polls as Nixon wouldn't get much press attention at all but, as I've stated before, the fact that she's campaigning in what is basically the cradle of American mass media, combined with her celebrity status, means that she's getting more attention than would otherwise be the case. Also playing a role in the attention the race is drawing is the potential impact it could have on the race for the Democratic nomination for President in 2020. Cuomo has been on the short list of Presidential candidates. In advance of the 2016 race, for example, Cuomo's name was mentioned several times as a potential candidate for the Democratic nomination. Early on, though, Cuomo said that he would not run if Hillary Clinton sought the Democratic nomination, and he later became one of Clinton's earliest supporters when she did step into the race in 2015. Assuming that he is re-elected in New York this year, there's likely to be significant national attention focused on Cuomo, much as it was on his father Mario Cuomo as a potential challenger to George H.W. Bush in 1992. Back then, the elder Cuomo seemed poised to have a clear path to the Democratic nomination if he did run. Instead, the elder Cuomo famously spent the weeks before the filing deadline for New Hampshire's primary "deciding" what he was going to do, to the point where on the final day there was a jet waiting on a runway in Albany should he have decided to run. Mario Cuomo earned the title "Hamlet on the Hudson" for his indecision that year, and while the elder Cuomo said before he passed away that he didn't regret his decision, one has to think that his father's experience is in the back of Andrew Cuomo's mind. If the Presidential suitors come knocking, Of course, the fact that he will be coming off a reelection fight this year may cause Cuomo to second-guess getting into another race two years from now, but whatever he decides to do it seems unlikely that Andrew Cuomo will follow in his father's footsteps in that regard.