Former 'Sex And The City' Star Enters New York Governor's Race She Will Most Likely Lose
A famous name enters the race to challenge Andrew Cuomo, but it's unlikely she'll have much of an impact.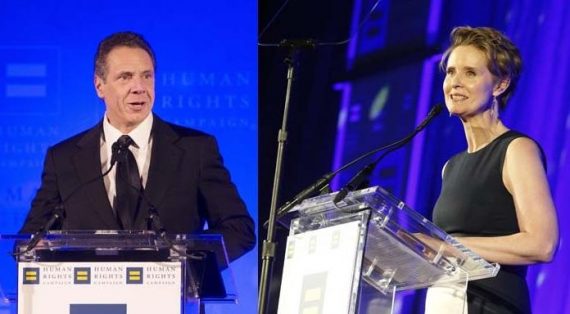 Cynthia Nixon, the actress best known for playing Miranda Hobbes on the long-running HBO show Sex And The City, has entered the race to challenge Andrew Cuomo for the Democratic nomination for Governor, a race she will most assuredly lose:
The actress Cynthia Nixon officially jumped into the race for governor of New York on Monday, setting off what promises to be a tumultuous six months as she challenges Gov. Andrew M. Cuomo in this year's Democratic primary.

Ms. Nixon, 51, has never before run for elected office and has chosen a huge undertaking for her first bid: seeking to unseat a two-term incumbent (and son of a three-term governor) who is sitting atop more than $30 million in campaign cash.

The contest will likely become one of the marquee Democratic primaries in the nation, as Ms. Nixon is widely expected to challenge Mr. Cuomo from the political left. Her campaign immediately cast Mr. Cuomo as a "centrist and Albany insider," and some of her initial rhetoric on inequality echoed Senator Bernie Sanders.

"We are now the most unequal state in the entire country, with both incredible wealth and extreme poverty," she said in a video posted on Twitter announcing her candidacy.

Splashed across the top of her website are more hints of her campaign's coming focus. One of the five categories — along with "Meet Cynthia" and "Donate" — is a hashtag: #CuomosMTA, a term used often by critics of the governor for New York's faltering subway system run by the Metropolitan Transportation Authority. Scenes of her riding the subways are also spliced in her opening ad.

Ms. Nixon, best known for her work in the "Sex and the City" franchise, is expected to lean heavily on her star power and ability to draw media attention in ways that most traditional challengers could not.

Within 18 minutes of posting her announcement video on Monday, she was the No. 1 trending topic on Twitter in New York, and then nationwide 20 minutes after that. Her video topped 1 million views on Twitter alone by the evening.

But her campaign may test the appetite of New Yorkers for a celebrity leader in the age of President Trump, a deeply unpopular figure here among Democrats. While Ms. Nixon has been an education activist for many years her fame could cut both ways in the coming months.

Mr. Cuomo has downplayed the challenge in recent days, even as his political operation has busily sought to burnish his progressive credentials.

"I'm not nervous about whoever runs," Mr. Cuomo said last week. "There'll be people who run. That's called elections, and that's fine."

If elected, Ms. Nixon would become the first female governor, and the first openly gay governor, in New York history.

"Our leaders are letting us down," she said in the announcement video.

"Something has to change," she said in the ad. "We want our government to work again, on health care, ending mass incarceration, fixing our broken subway. We are sick of politicians who care more about headlines and power than they do about us. It can't just be business as usual anymore."

The language on her website was more aggressive. There, she accused Mr. Cuomo of "inhumane budgets" and of "selling New York off to the highest bidder."

(…)

A powerful figure known for his long memory, Mr. Cuomo is expected to consolidate much of the institutional support across the state, from labor unions to business leaders to major donors. (Last week, before Ms. Nixon officially entered the contest, the New York arm of the National Organization for Women endorsed the governor.)

For Ms. Nixon, that likely means she must run an insurgent campaign, and early indications are she will focus on digital organizing. She has tapped as campaign manager Nicole Aro, a former digital strategist for the AFL-CIO.

Tim Tagaris, who served as digital fund-raising director for Mr. Sanders' presidential campaign, has also signed on to help Ms. Nixon, according to two people familiar with the situation.

In addition, Bill Hyers and Rebecca Katz, two former strategists for Mayor Bill de Blasio, have been advising Ms. Nixon's campaign.

Mr. Cuomo and Mr. de Blasio have sparred for years, and the mayor is close to Ms. Nixon, who aggressively endorsed his initial candidacy in 2013. Ms. Nixon's wife, Christine Marinoni, recently stepped down from a post in the de Blasio administration.

Mr. Cuomo has yet to build out his campaign team, despite his sizable treasury. His campaign manager from his 2010 and 2014 races, Joseph Percoco, was convicted on bribery charges last week in a federal trial.

Still, he has vast resources at his fingertips. Last week, the state Democratic Party bought $100,000 in television ads touting Mr. Cuomo's efforts on gun control. The party later said Mr. Cuomo's campaign covered the cost.
Nixon's announcement came on the same day that a poll was released that showed her far behind the incumbent Governor in the race for the Democratic nomination, and showed Cuomo far ahead of his potential Republican challengers:
Gov. Andrew M. Cuomo is entering his re-election campaign with a commanding lead over both his Republican rivals and a possible Democratic primary opponent, the actress Cynthia Nixon, according to a new poll from Siena College.

The survey shows Mr. Cuomo ahead of Ms. Nixon among Democratic voters by 66 percent to 19 percent. He leads her by a wide margin among every subgroup in the survey: men and women, moderates and liberals, black, white and Latino voters, upstate and New York City residents.

Best known for her role in "Sex and the City," Ms. Nixon entered the contest only Monday, after the poll had been completed, but had said she was exploring a bid and had been in contact with political strategists with experience running progressive campaigns. A longtime education activist in the state, Ms. Nixon has the benefit of name recognition, and yet remains broadly unknown to voters, with 60 percent saying they had no opinion of her.

The poll showed Mr. Cuomo with a two-to-one advantage over both his potential Republican challengers, State Senator John DeFrancisco and Marc Molinaro, the Dutchess County executive, who is expected to formally declare his candidacy at the beginning of April.

Mr. Cuomo had a 52 percent approval rating in the survey, essentially unchanged from a month earlier.

The survey was conducted as the two-month corruption trial of one of Mr. Cuomo's former top aides, Joseph Percoco, ended in a guilty verdict last week. Mr. Cuomo and his team regularly emphasized that the governor himself was not charged with wrongdoing in the case.

The State Democratic Party also spent $100,000 last week, while the poll was being conducted, on a television ad in the New York City area promoting Mr. Cuomo's record on gun control.

"Mostly, this survey provides the governor with good news," said Steven Greenberg, who conducted the poll.

Mr. Greenberg noted that Mr. Cuomo's job-approval rating did slide to 42 percent, with the percentage of New York voters who said he was doing a poor job rising to 25 percent, equaling the high in a Siena College poll.

Since his 2014 re-election, Mr. Cuomo has tacked to the left politically, passing an increase in the minimum wage, paid family leave and other measures as his political operation has tried to rebrand him as a progressive after a first term in which he emphasized governing from the political center.

In the poll, more New Yorkers, 46 percent, rated Mr. Cuomo as a "liberal" than in any past survey. That is more than double the 21 percent who said in February 2011, his second month in office, that he was a liberal.

(…)

Over all, Mr. Cuomo's standing heading into his re-election year appears to have slightly deteriorated from four years ago.

In March 2014, a Siena College survey had 49 percent of New York voters saying they intended to vote to re-elect Mr. Cuomo, with 41 percent saying they preferred an alternative.

This month's poll showed a 48-percent-to-46-percent split on the same question.
In the end, it seems likely that Cuomo will easily defeat Nixon in the Democratic primary in September, and that he will easily win re-election over whomever the enfeebled New York Republican Party ends up nominating in the General Election in November. If he manages to do so, he will match the mark established by his father Mario Cuomo and former Republican Governor George Pataki in being elected to three terms in office. It's worth noting, though, that Cuomo did face some headwinds in his bid for re-election four years ago. In that election, he was also challenged by a relatively unknown candidate named Zephyr Teachout, a Fordham University Law Professor who challenged Cuomo for the Democratic nomination in 2014. Like Nixon, Teachout began the race far behind Cuomo in the polls but managed to snag 34% of the vote in the Democratic primary, far more than anyone expected she would. While Teachout's candidates did cause something of a stir at the time, it's worth noting that Cuomo still managed to win the primary with more than 60% of the vote, which is consistent with where the polls stand now, and he won the General Election by more than half a million votes. Nonetheless, the extent to which Teachout was able to challenge Cuomo in the primary four years ago is one of the many reasons that we've seen Cuomo tack to the left politically in his second term rather than govern as the more centrist politician he's been known to be over the years.
Notwithstanding the poll, there have been those who have thought the Cuomo might be more politically vulnerable than he appears to be, even if that vulnerability doesn't manifest itself during the coming re-election fight. Many of the headlines coming out of Albany over the past four years, for example, have dealt with allegations of corruption among top-ranking officials being indicted and convicted of serious crimes in a series of trials that have exposed many of the dirty little secrets that were part of the regular business in Albany for years. That process began prior to the 2014 election when Cuomo established a commission to investigate allegations of corruption in state government only to disband that same commission a year later. This led to a series of investigations by Preet Bharara, the former U.S. Attorney based out of Manhattan that resulted in indictments and convictions of several people close to Cuomo, including Sheldon Silver, the former Speaker of the New York Assembly, and other top officials, although it's worth noting that Silver's conviction was overturned by the Second Circuit Court of Appeals due to errors in the jury instructions. During the course of this investigation, there was much speculation that Bharara was attempting to work his way up the ladder and that he was focused on potential charges against the Governor himself. Those charges never materialized, though, and Bharara ultimately ended his investigation in June 2016. Nonetheless, the years of investigation and trials did prove to be something of a shadow over Cuomo's second term.
The biggest significance of the 2018 race in New York, of course, is the potential impact it could have on the race for the Democratic nomination for President in 2020. Even before he was elected Governor of New York, Cuomo has long been on the short list of Presidential candidates. Early on, though, Cuomo said that he would not run if Hillary Clinton sought the Democratic nomination in 2016, and he later became one of Clinton's earliest supporters when she did step into the race in 2015. Assuming that he is re-elected in New York this year, there's likely to be much national attention focused on Cuomo, much as it was on his father Mario Cuomo as a potential challenger to George H.W. Bush in 1992. Back then, the elder Cuomo seemed poised to have a clear path to the Democratic nomination if he did run. Instead, the elder Cuomo famously spent the weeks before the filing deadline for New Hampshire's primary "deciding" what he was going to do, to the point where on the final day there was a jet waiting on a runway in Albany should he have decided to run. Mario Cuomo earned the title "Hamlet on the Hudson" for his indecision that year, and while he has said that he doesn't regret his decision, one has to think that his father's experience is in the back of Andrew Cuomo's mind. If the Presidential suitors come knocking, I doubt Andrew Cuomo will spend much time deciding whether or not to answer the door.